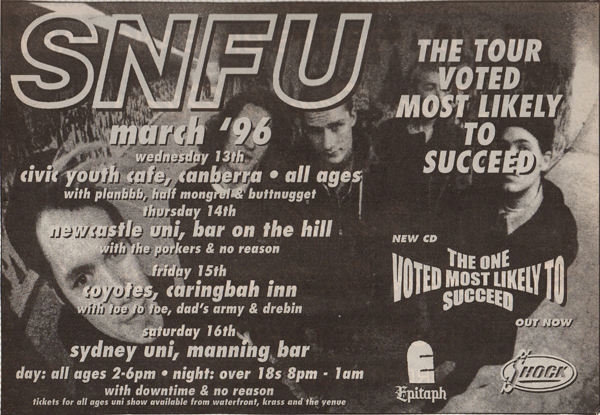 March 1996 lay witness to the maiden voyage of SNFU (Society's No Fucking Use) from Vancouver, Canada to the shores of Australia. The band had recently reformed and were riding high on the newfound popularity of punk rock having signed a 3 album deal with Epitaph records. It was through the first Epitaph sampler Punk-o-rama that I heard SNFU with a track off the Something Green and Leafy This Way Comes album.
While I was aware of the punk rock historical signifcance of the band, I hadn't heard their earlier pre break up records released on BYO Records, as quite simply no one I knew had copies of them. Being pre-internet file sharing days it wasn't exactly possible to download the back catalogue before the band toured. Funnily enough later in 1996 I lived with some Canadians in Jindabyne when I did my first snow season and they had with them the whole SNFU catalogue. Only then did I truly grasp the significance of the band's popularity in Canada.
The week before this tour started, a friend of mine picked up their latest Epitaph release The One Voted Most Likely To Succeed and I was blown away. Fast, funny, melodic and overall brilliant, the album still stands up as a mid 90s punk rock masterpiece.
Coincidentally there is a song on the record titled "Eric's Had A Bad Day". The intro to the song "hey kids this one is fresh and it's new it's SNFU" is done by Eric Thurcolson who was the bassplayer of Vancouver hardcore legends STRAIN and also hosted a radio show in Vancouver called "Flex Your Head". In 1999 I would travel to Vancouver and appear on Eric's radio show playing a bunch of Australian hardcore records. Eric would tell me that the song wasn't actually about him as he'd never broke his jaw skating, but he had some bad days that were close to that of the song's lyrics.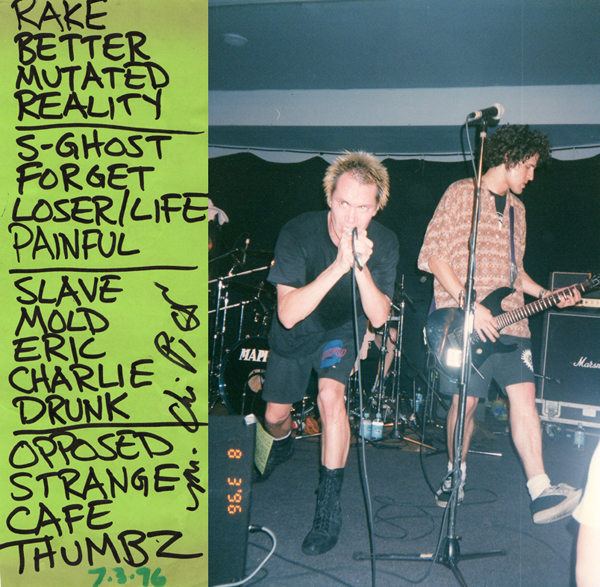 SNFU must have flown in to Sydney on Thursday the 3rd or the day before perhaps, as they played the first show of the tour on their way to Melbourne and Adelaide at the Wollongong Youth Centre. Toe To Toe also played this show so I willingly went along to check it out. From memory there wasn't a real lot of people there, but punk rock was still a fairly new initiative for Wollongong and I really don't think many people really knew who SNFU were.
The photos in this post are from that show and in the pic above you'll notice the green setlist that I got Mr. Chi Pig to autograph taped to the foldback. For someone who didn't know a hell of a lot of their back catalogue I sure acted like a fanboy, but that was a true testament to the convincing show the band put on.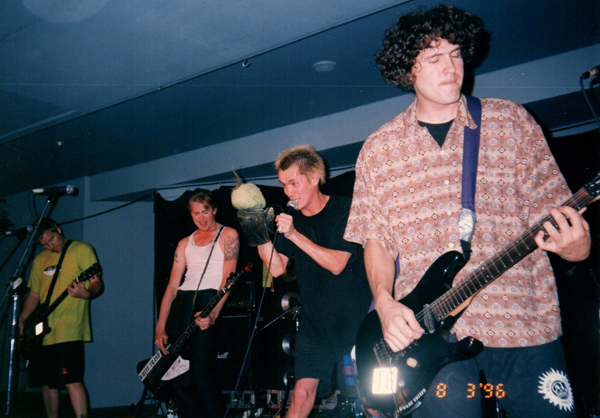 Mr Chi Pig was the ultimate show man and was quite mesmerising to watch. He was like no other frontman I had ever seen. Full of energy and with a never ending collection of stage props, it was hard not to be entertained. In the two photos above and below, he is singing to and with a hand puppet. He also had a pair of gigantic hands, a rubber steak, a rubber chicken and a bag full of other surprises.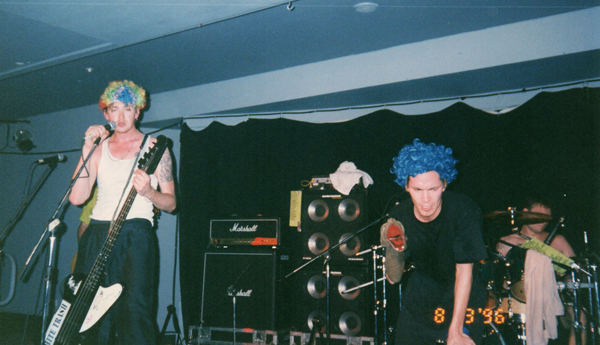 The bass player had the lowest strung bass I'd ever seen, exemplified by the fact he was incredibly tall too and looked real awkward but played really well. The oddity of it all really added to the spectacle that Mr Chi Pig was creating. I was truly blown away by the performance and made an effort to see them again on this tour when they returned to Sydney at Coyotes.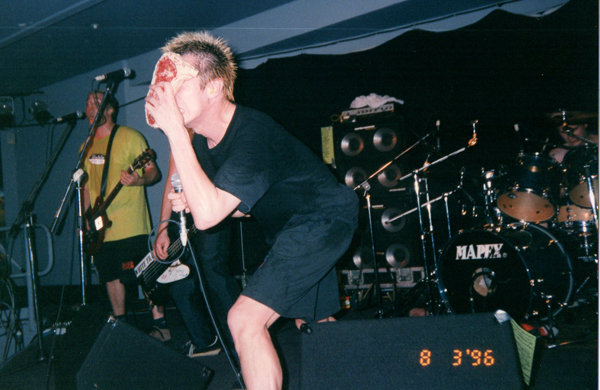 While I didn't film any of their shows, the set below was filmed by Matt Rees on a Sydney harbour cruise on what was their last show of their first Australian tour. I think Frenzal Rhomb and Downtime also supported and as usual SNFU played for close to an hour.
SNFU would later return to Australia the following year as support for Bad Religion's first ever tour. Incidentally by this point Epitaph head honcho Brett Gurerwitz had left Bad Religion to concentrate on handling the label and was replcaed by Brian Baker. SNFU were a late addition to the tour as shown on the flyer below, where they have been omitted. At the All Ages Metro show in Sydney, SNFU blew Bad Religion off the stage with their energetic performance. I recall being real bummed with Bad Religion as I had waited forever for them to tour. From memory I don't think they played badly, I just think the microphone-stand assisted performance of Greg Graffin failed to match the stage dynamics of Mr Chi Pig.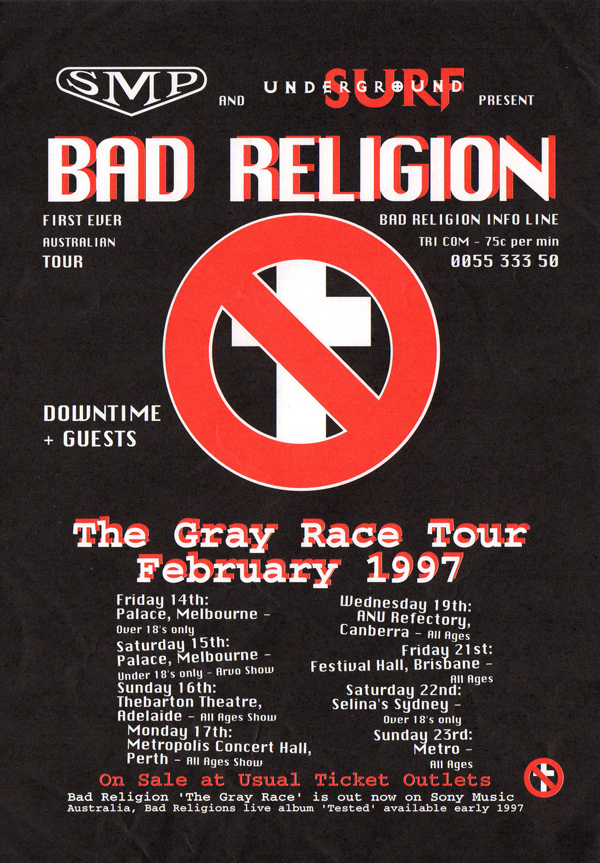 Recently I watched a real interesting documentary on the SNFU frontman called Open Up And Say... Mr Chi Pig that I highly recommend. The documentary chronicles the life and times of Mr Chi Pig and his battle with drug addiction and mental illness. The band was a real outlet for his personality and literally saved his life many times over. Mr Chi Pig looked nothing like when I had seen him last and his lifestyle had really aged his mind, body and spirit. It really was quite sad to watch.
For a band who seemed moderately successful, Mr Chi Pig basically has nothing to his name. Considering they were on Epitaph in the mid 90s, which was basically a licence to print money, Mr Chi Pig explains that they barely broke even from their recording and promotional costs.
SNFU have recently reunited again with a new lineup and released a new album on Cruzar Media. More info on that over here. It seemes Mr Chi Pig has his life together for now which is a good thing, as a personality like his will always be in need of an appreciative audience. Punk rock sure needs more charismatic characters like Mr Chi Pig to break up the blandness.