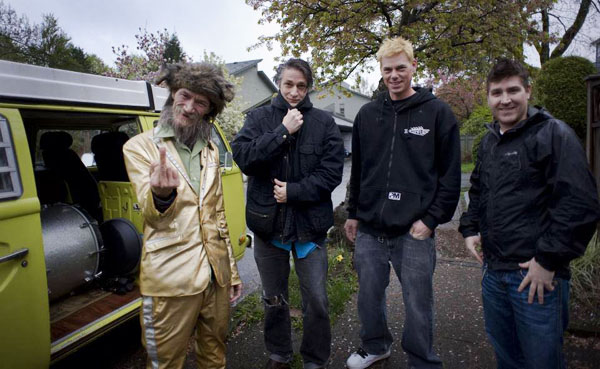 In 1982, S.N.F.U would embark on journey of endless touring, 9 full length records , over 5000 shows and several e.p's . From the beginning the band was boasted as one of the best live acts in the world. Never knowing when to quit, enigmatic front man Mr Chi Pig claims "I'm gonna do this until I die".
True to his word S.N.F.U is set to release their 10th studio album 31 years after forming.

Sticking to the template of always having seven word titles for their records S.N.F.U will be releasing " NEVER TROUBLE TROUBLE, UNTIL TROUBLE TROUBLES YOU" on Cruzar Media on September 24th with a preoroder limited edition version available in August.
You can stream the first track "Voodoo Doll Collector" below.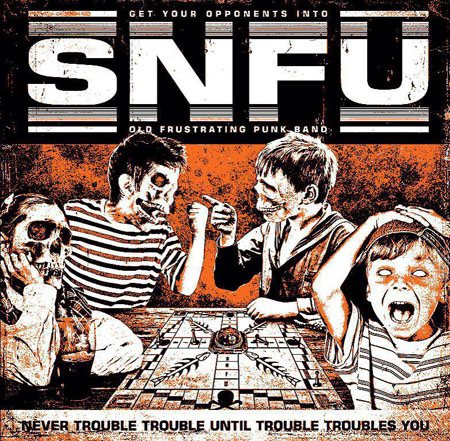 This is the cover of our limited edition pre-order only record.
So we had this idea ,while we were finishing the new record, what if we made some limited edition versions of the record that we could send out before the official release? We thought 2000 copies , based on the first run of our debut album ( And no one else wanted to play ) that we had to pull because, well , we stole the cover art. Those records are now highly sought after collectors items.
We could make very special, one time only printing cover art. We could also add a digital download version of the record , stickers, and autographs. Could we find enough fans to buy 2000 copies of the cd and coloured vinyl? If so we could pay back our wonderful new label (Cruzar Media) and not have to work off a debt for several years. We have some experience in this department. If so we could also afford to rent vans and gear to tour the world again without leaving our jobs and accruing huge amounts of debt to spread our art.
So based on some successful crowd funding campaigns we admire ( Protest The Hero, Josh Freeze) we thought maybe, just maybe enough people would be interested in this. We would get our freedom from debt, and our fans would get a very special piece of our history, our first record in ten years with collectors edition never to printed again art work( and other goodies). Our wonderful new label could be paid back and thanked for all their hard work making this record finally happen for us . Win, Win, Win. The record would also be mailed out to participating fans in August , a month before the rest of the world gets to hear it. The official release is September 24, 2013. To anyone wanting to support us in our campaign please visit www.cruzarmedia.com to order and thank you so much for the gift of freedom , something we have yet to achieve in our 30 year career. The LP is 45$ and cd 25$ but don't fret, the official release in September is regular price. This is for the hardcore collector and fans that want a special peice of SNFU history!
We do have the best fans on earth! 1...2... S.N.F.U Mr.Chi Pig, Jon Card , Ken Flemming, Sean Colig, and Kerry Cyr.