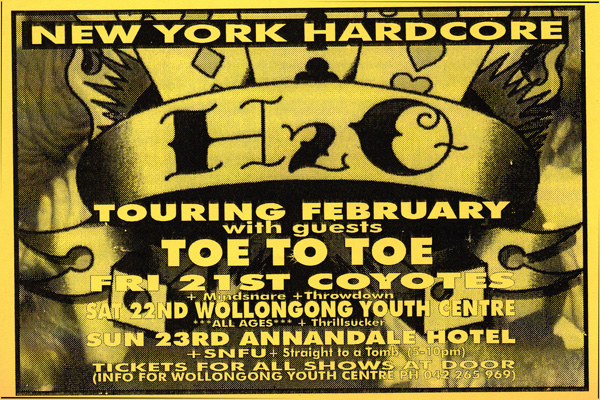 February of 1997 saw the maiden visit by New York's H2O to Australia. In 1996, H2O had just released their debut "Self Titled" CD through Blackout Records and the tour of Australia was before the band signed to Epitaph to release "Thicker Than Water". Looking back now it seems a little strange that the band came out here as early as they did as they hardly had a following.
None of my friends really knew who H2O were, but we were told they were a New York hardcore band so we figured they'd sound like Sick Of It All, Madball or Agnostic Front probably. We all planned to go anyway as Mindsnare and Toe To Toe were playing the show at Coyotes in Caringbah and Straight To A Tomb and SNFU were also playing the Annandale show. SNFU were currently in the country as support for the first Bad Religion tour for "The Gray Race". SNFU had also previously toured the year before in 1996, but that's another Looking Back feature in itself.
For Toe To Toe this was their first shows back after a lineup reshuffle losing guitarist Justin Owen and drummer Matt Lodge for replacements Bruz and Mic D'Mills. This lineup would go onto record the legendary Tao record, which we also did a recent looking back feature on over here.
Not much was really known about H2O in hardcore circles other than the fact that singer, Toby Morse was Sick of It All's roadie. This in itself legitimised the tour, that and the fact that H2O were strongly promoted as a New York hardcore band. The H2O lineup on this tour included Franklin Rhi on bass formerly of Shelter, 108 and Crown Of Thornz, which I found out after the fact. Franklin would later return as a part of the first Cro Mags lineup that toured Australia. You have to remember that back in 1997 one couldn't simply jump online and download a touring band's album or stream a few songs to check them out or look up information about the band like you can now.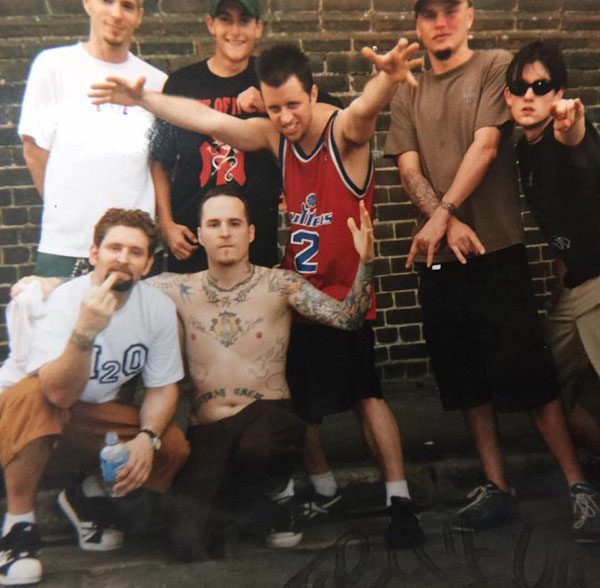 In Sydney at the time H2O cds were available at Waterfront or at Krass, as I don't think Resist had opened just yet. The week of the show I remember Matt Walker from Not For You bought a copy and told me it wasn't hardcore sounding at all, more pop punk. He sounded real bummed with his purchase. Nevertheless I chose not to believe him and went along expecting a NYHC mosh fest.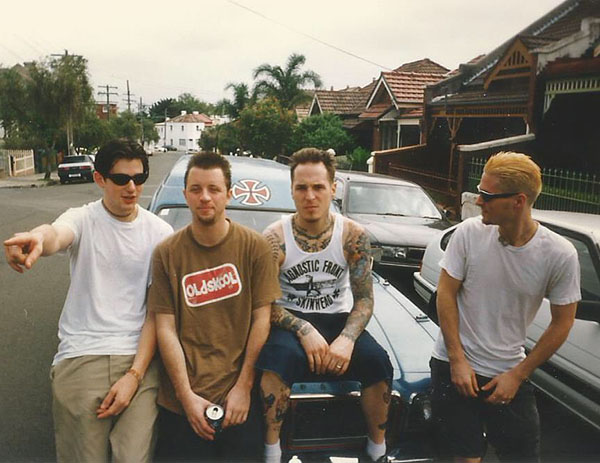 (H2O seated on Nigel from Mindsnare's Valiant panel van in Melbourne)
I too recall being real bummed when they started to play. This was nothing like Madball more like Pennywise. Mind you I thought they put on a good show and were entertaining enough. Regardless I filmed the Coyotes show of the tour which you can watch below. A fight erupted mid set that from memory had something to do with someone picking on Julian from Straight To A Tomb and a few Sydney heads jumped in to help out. You can see the band stop the set a couple of times to try and sort things out.
Their set included a lot of covers and snippets of songs to keep the crowd entertained and interested. Included was a CroMags cover of "Hard Times" along with the intro to Age Of Quarrel, Minor Threat's "Salad Days" , 7 Second's "Walk Together, Rock Together" and even some U2 to round things out.
Years later I learned to just accept H2O for the way they sounded and moved on from the initial dissappointment of that first tour. The band would return a few different times with 28 Days and Day Of Contempt with probably a ten year gap before their recent Soundwave appearance.