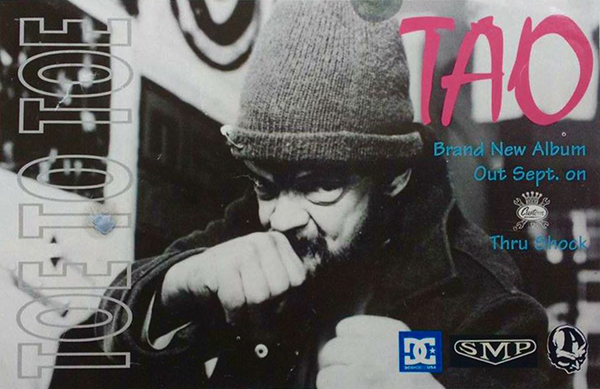 Recently we ran a poll asking you to vote for your favourite Toe To Toe release over the years. With a back catolg that includes some classic 7 inch releases EPs and full lengths, it was unaminously decided that the 1997 album "Tao" was the winner. In second place was the band's debut 7inch "Slap Of Reality" followed by the "No Gods" EP.
As the band is set to hit the road this month in celebration of their 21 year existence, we caught up frontman Scott Mac for a step back in time about how "Tao" came to be.
Photos by Ryan Willmott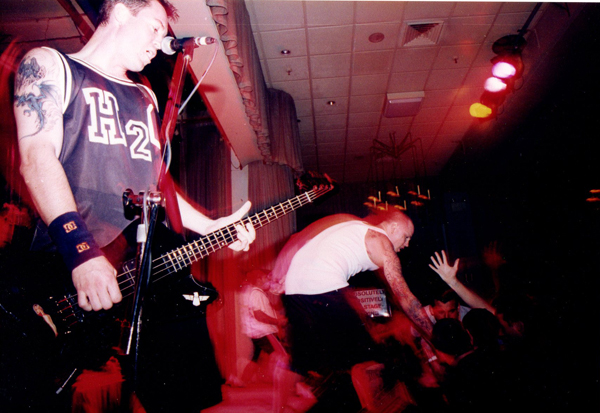 "Tao" boasted a new look lineup that included Brendan Newham of Cronulla band Drebin on guitar and new drummer Mic D'Mills. Mic was previously in a metal band wasn't he? How did the two of them come to be in the band?
I had known Mic for many years, he was a solid as hell drummer playing in a metal band at the time. Our then drummer Matt 'Spider' Lodge, decided twelve days out from our first European tour that he wouldn't be attending the tour. Mic put his hand up one day at Zen studios and he slotted straight in, I think he was the first drummer in TTT that could actually count.
With the other bloke he was a kid from Cronulla playing around in some bands down that way, Justin (Owen) was leaving after we did the European tour, so he slotted straight in.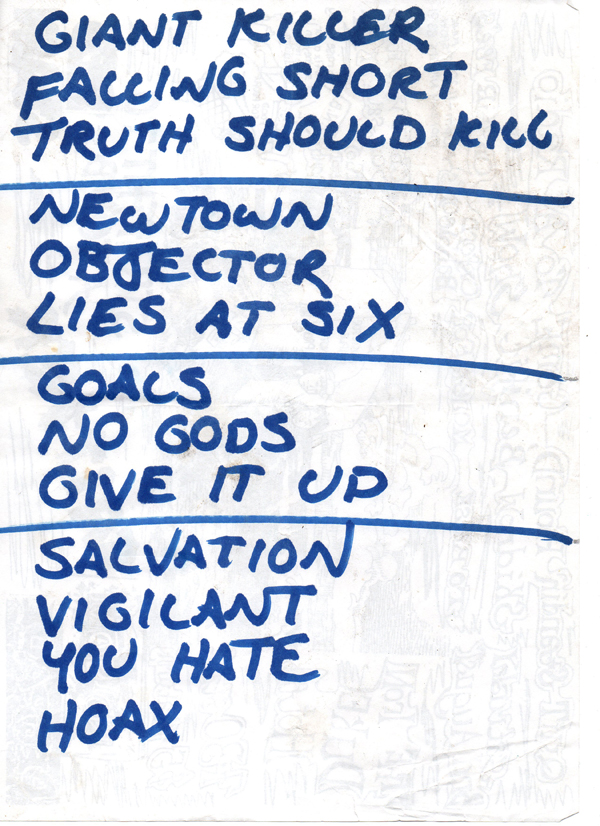 (Pre Tao release setlist - "Salvation" and "Newtown" morphed into other songs.)
"Cutting Cancer" is credited as written by Toe To Toe and former guitarist Justin Owen (No Gods / Mindsnare Split). I'm guessing this was a track that was initially conceived before his departure?
Yeah a few songs that were on TAO had been floating around for a while. Made the album easier to record when songs are tried and true from the live workouts they get.
A number of the tracks that appeared on "Tao" were being played live long before they were recorded. Can you recall writing the songs at practice? How often would the band practice in those days?
Practice in them days was intense and often, always riffs and ideas floating about. I think we were all pretty much doing TTT close to full time.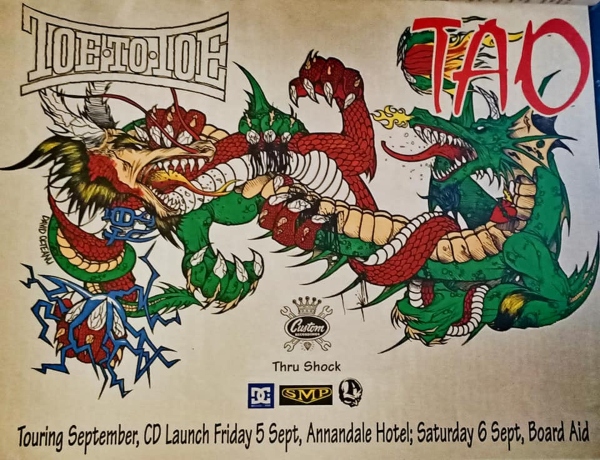 "Tao" was recorded at Sydney's Q Studio's by Lachlan Mitchell in the Winter of 97. What can you recall of being in the studio for this recording?
Funny times, arguments secretly recorded for later play backs, to remind us of how stupid we could be, long down times for me waiting to do vocals. Think I downed a case of Coopers in one sitting, but Lachlan was a champion to work with and definitely picked up on our sense of humor straight up.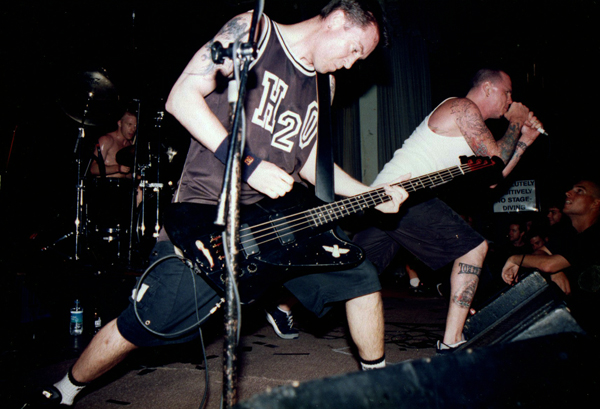 The sound quality was definitely a big step up for Toe To Toe in comparison to previous efforts. Was this due to a difference in funding this time around?
Yeah dollars make a big difference, we were well rehearsed and well directed by Lachlan. It was our first release on Shock so we had about 3 times our normal budget.
Tao, itself is a Chinese philosophical concept that relates to the order of the universe. I gather you felt connected to this ideal?
Yeah it was my start of getting right into TAOISM and lots of Eastern philosophy.
When you dive into it, it's a great headspace to be in.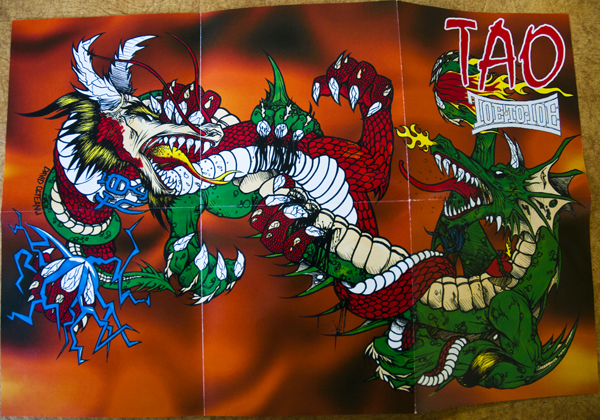 Artwork for "Tao" was handled by Dave Oltneau. Were the fighting dragons on the cover his take on Tao or was it an idea communicated from the band?
Basicallly Dave and I used to hang out all the time, before his rise to the rock star realm of tattooing, now I can't get him to call me back, we both bounced ideas off each other to come up with the art work.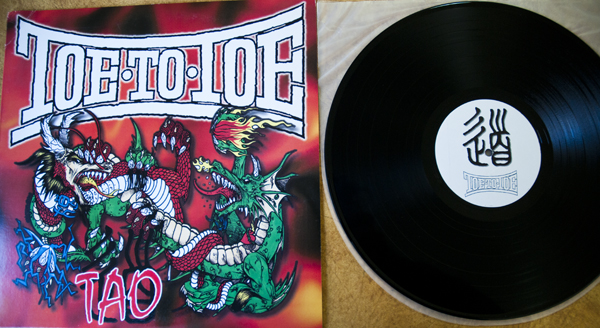 "Tao" was released in late 1997 through Custom Recordings on both CD and LP. Do you remember any of the pressing numbers for the CDs and LPs?
Ha-ha no idea, I like to make a record forget about and not listen to it again and let it die a natural death.
Would you agree that this was THE release for the band that really exposed you to a whole new audience outside of the hardcore punk scene?
Well we were chipping away and working hard and Tao was the right album at the right time for us, playing a few festivals didn't hurt us either.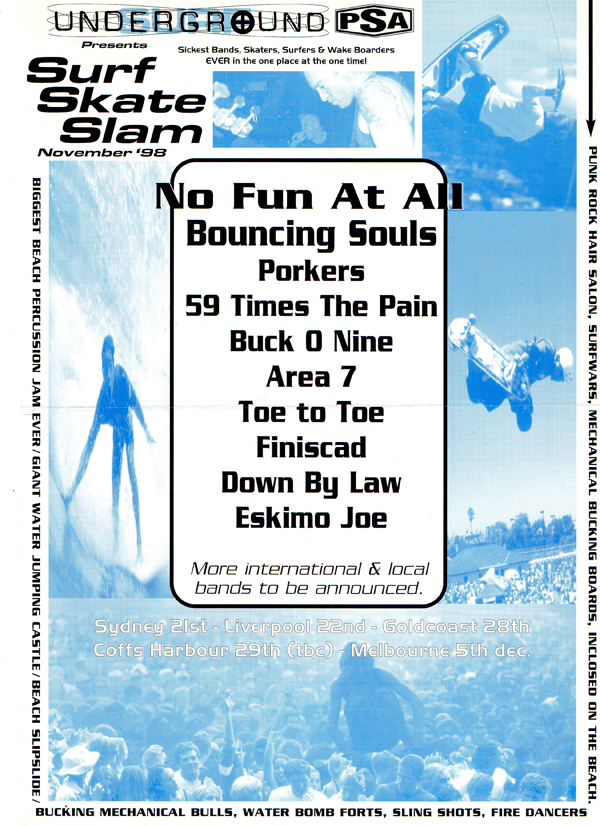 Toe To Toe was always a well supported band in Sydney, but crowd sizes noticeably increased with the release of "Tao". Was this the case interstate as well?
Yeah I'd say so. Adelaide was always good for us and the great state of Queensland.
It was on the back of "Tao" that the band made it to Japan to play with Madball for the first time which would later lead to a USA tour as well wasn't it?
Japan with Madball yes, they were about to tour Australia and we were in line for the support, we managed to convince them to let us play the shows in Japan and the rest is history. We still tell stories and have a laugh about that tour every time we catch up with Madball.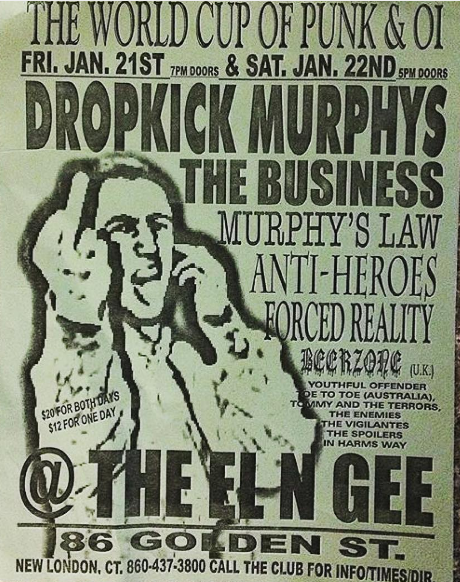 Did "Tao" ever get an international release?
Canada I think
"Tao" was later re-released by Resist Records in 2010 along with updated artwork and a CD booklet that easily fit back in the case. It was out of print and unavailable for quite a while wasn't it?
No that was released by SOLD OUR SOULS with the "Consolidated" album all on the one disc, Dave Oltneau again supplying the art for the cover.
Does it surprise you that it remains the fave TTT release for most people?
Yeah I'm not sure, I'd rather talk to people about other stuff than TTT. But it's cool that the album has held its own for so long.
Is it your fave TTT release? How does it rate for you?
I don't have a favorite as such, more songs I'm proud of then whole albums I just measure the stuff I do by if it is shite or not and so far I don't have any that I hate.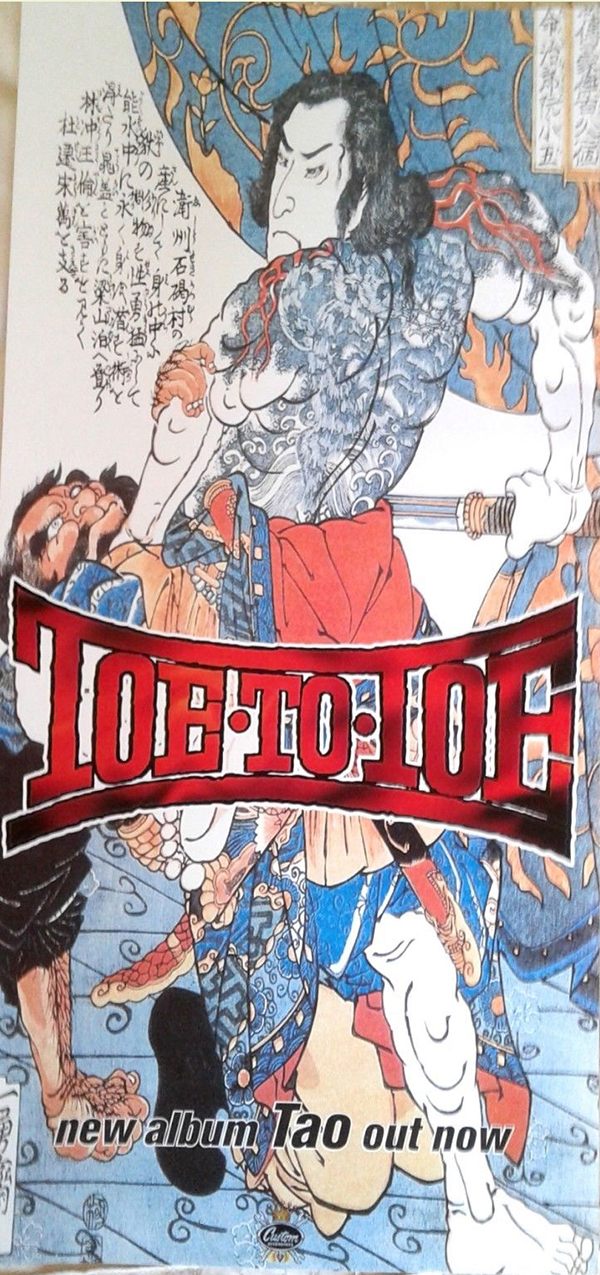 Full poll results below...