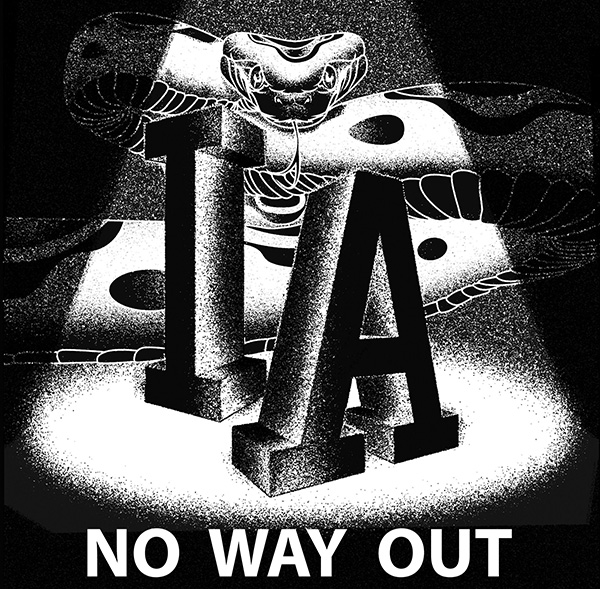 Safe Inside Records has announced the release of a double LP discography for Internal Affairs titled "No Way Out".
FUCK YEAH has been the official slogan of LA Hardcore band Internal Affairs since day one. This was the figurative reaction to their rage-fueled live performances and served as the band's literal mantra, printed on several pieces of their merch throughout their time in the scene. Internal Affairs partnered with Safe Inside Records in 2020 to release NO WAY OUT, the career-spanning discography that will encapsulate all of the band's studio recordings from their inception in 2003 to their dissolution in 2009.
Having previously released music with Malfunction Records and Deathwish Inc, NO WAY OUT features all of the tracks you know and love from the band, which have since been remastered by Nick Jett of Terror, who is also front man and Corey's co-conspirator in the band Piece by Piece.
The double long-playing gatefold record is rounded out with stunning visuals from artist Linas Garsys and in depth booklet by Jonathon Buske, whose colorful history outside of collaborating with this band includes AFI, American Nightmare, Trash Talk, and the Nerve Agents (among many others).
This release has all of the earmarks of a classic California hardcore time capsule and is surely not one to be missed.
Track Listing:
01. Stop Trying (Split with Allegiance 2004)
02. Nothing (Split with Allegiance 2004)
03. You Don't Know Me (Split with Allegiance 2004)
04. Rage (Split with Allegiance 2004)
05. Come Get It (Split with Allegiance 2004)
06. Intro / Heroes (Casualty of the Core 2003)
07. Casualty of the Core (Casualty of the Core 2003)
08. Your Jam (Casualty of the Core 2003)
09. Internal Affairs (Casualty of the Core 2003)
10. Mistakes (Casualty of the Core 2003)
11. Go Away (Casualty of the Core 2003)
12. Hide (Casualty of the Core 2003)
13. Cop Out (Casualty of the Core 2003)
14. What Do I say (Casualty of the Core 2003)
15. Waste Of Time / Come Get it (DEMO 2003)
16. That's Right (This is For You) (DEMO 2003)
17. You Lose (DEMO 2003)
18. No Way Out (DEMO 2003)
19. Nothing (DEMO 2003)
20. When Tigers Fight (DEMO 2003)
21. You're Dead (Self Titled 2005)
22. Enough (Self Titled 2005)
23. Revenge (Self Titled 2005)
24. Pride (Self Titled 2005)
25. What Will I Say (Self Titled 2005)
26. Loyalty Not Royalty (Self Titled 2005)
27. Life's Blood (Self Titled 2005)
28. Failure (Self Titled 2005)
29. Time and Time again (Self Titled 2005)
30. Imposter (Self Titled 2005)
31. See With My Eyes( Self Titled 2005)
32. Never Again (Self Titled 2005)
33. No More (Self Titled 2005)
34. No Heart (Self Titled 2005)
35. BST (Self Titled 2005)
36. My Mind (Self Titled 2005)
37. #2 (Deadly Visions 2007)
38. Reality Check (Deadly Visions 2007)
39. Still Alive (Deadly Visions 2007)
40. No Good Game in Hardcore (Deadly Visions 2007)
41. Fuck Yeah (Deadly Visions 2007)
42. Deadly Visions (Deadly Visions 2007)
43. Faith (Deadly Visions 2007)
44. Stage Potato (Deadly Visions 2007)
45. Judgement Day (Deadly Visions 2007)
46. Refuse (NTB / NA Split Tracks 2006)
47. Real Deal (NTB / NA Split Tracks 2006)
48. Guilty (Evil Egyptians 2008)
49. When Lightning Strikes (Evil Egyptians 2008)
50. Snakeskin (Evil Egyptians 2008)
51. Night breed (Evil Egyptians 2008)
52. Live Tracks (Positive Numbers 2004 DVD)