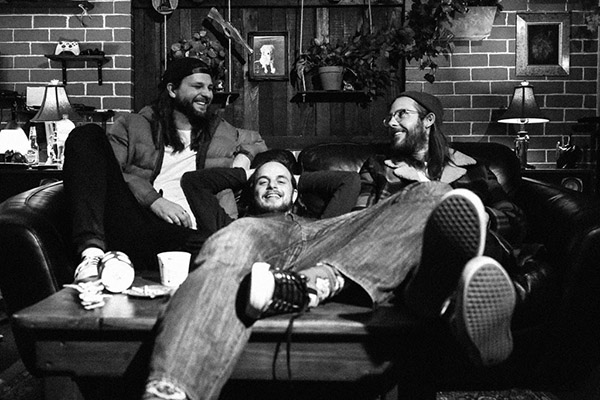 Off the back of their utterly addictive debut single 'Loser', Melbourne's newest alt rock trio LOSER are the gift that keeps on giving. The band have just announced that their debut EP 'Restless Noise' will be released later this month, on James Tidswell's label Domestic La La.

'Restless Noise' is everything you could hope for; packed full of 90s alt-rock nostalgia while still feeling fresh and relatable. Opening track and new single 'Phase Me' was the first LOSER song written, the song that formed the band. It sounds instantly familiar, with a riff that will circle in your head for days...
Title track 'Restless Noise' is a racket of angsty introspective vibes, about "lack of sleep and losing your mind", sitting nicely up against the much more laid-back, Weezer-esque 'Vacation'. The bands catchy debut single 'Loser' comes next, carrying themes of isolation and conflict between what you feel is right within yourself, and what everyone else is telling you. Closing out the EP - grungy, bass-driven anthem 'Some Say' was written by bassist Craig Selak and is about "personalities in the music industry, and those people who will burn anyone to get successful". He says "it's never what it seems."

LOSER is Tim Maxwell (Apart From This/Grim Rhythm), Chris Cowburn (The Smith Street Band) and Craig Selak (The Bennies). Forming a close friendship after many years of playing on the same line-ups, Chris and Craig were keen to get involved when Tim showed them a few demos he had been working on.

Domestic La La sprung onto the scene late last year, the brainchild of Violent Soho's James Tidswell, in partnership with Unified Music Group. The label included LOSER's debut single 'Loser' on a split 7" as part of their Record Club series, with a limited pressing of 100 selling out in just 24 hours.

"I've been a fan of what these guys have done separately, so I was excited when I heard they were going to make music together" says Tidswell. "After hearing the EP I was totally blown away! LOSER have created something really special and I'm so stoked to put it out on Domestic La La."

Following the release of a nostalgic 90s VHS-inspired video clip, 'Loser' quickly picked up momentum on national radio, with a full rotation add to triple j, a rage add for the video, and the band spending a week as feature artist on triple j Unearthed. Coupled with a Luca Brasi support slot in Launceston and a sold out hometown headline show - LOSER are doing anything but losing.
Tracklisting
1. Phase Me
2. Restless Noise
3. Vacation
4. Loser
5. Some Say