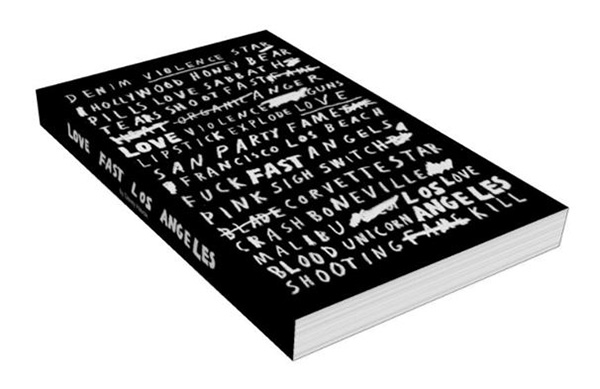 AFI vocalist DAVEY HAVOK has announced a February 6th release date for his new novel Love Fast Los Angeles.
The book, which follows Havok's first novel, 2013's Pop Kids, is available for pre-order by clicking http://lovefastlosangeles.com/
"Love Fast Los Angeles was written and edited all over the world, and in the skies above it, but the majority of it was tapped out in a West Hollywood coffee shop," says Havok. "The owners and managers were kind enough to let me squat while sapping their wireless. I began writing it immediately after Pop Kids was finished. I was easily inspired to keep that world alive out of love for the writing process, for the pop kids themselves, and by the impact of the very real culture they represent. After taking a pause for Broadway, whilst hiding in a hole below my friend's garage in the Hollywood Hills, I was encouraged to return to the manuscript by my dear friend and publisher."
Love Fast Los Angeles tells the story of Alvin, a party photographer. His controversial, taste-making site has brought fortune and fame to hundreds, including the wild girls of the hit reality series "All F's." With a fiery, freshly broken heart, Al attempts to enact his vendetta against a former online teen heartthrob while struggling to gain the affection of disaffected socialite, Sky Monroe. In this millennial love story filled with fast cars, pop stars, outrageous poseurs, lavish parties, golden guns, designer drugs and drag queens, dark Hollywood looms behind a blinding spotlight, directing all. Here celebrity is God, irreverence is revered, and obsession takes the wheel to run every red light in this pop-fueled noir.
"Initially I'd considered Score's older brother to be the protagonist and the setting to be Los Vegas," tells Havok. "When I recognized the unique character of the young party photographer, I knew Alvin had to voice this tale. I felt it would be fun to tell a modern love story below a harsh spotlight. With LFLA, as with Pop Kids, I've repeatedly experienced its moments come to life around me, if not identically, very close - it's rather unnerving. In fact, just yesterday I was told of a young lady about town who speaks with Sky's exact faux accent. This is already happening again in the very early stages of writing the third novel. No matter how extreme, life seems to match or outdo my characters.
Also, I am thrilled to have Sean From Texas illustrating. Despite his Southern moniker, his art perfectly represents the tone of the book, and an omnipresent facet of Hollywood culture. I was a fan of Sean's before we met. Around 1am on the first night of our friendship, he gave me one of my favorite tattoos. In return, I tattooed 'The Devil Loves Me,' on his butt. Shortly after, I asked him if he'd be interested in a collaboration. I couldn't envision the physical copies of this book without his artwork. I was elated when he said yes to the project. I believe five years will have passed between the release of Pop Kids and LFLA. During the interim I have co-written and released, Burials, XTRMST, Material, Blood, DREAMCAR… and the 4th Blaqk Audio (I shan't be responsible for leaking that title yet.) I'm diligently working on a third book in hopes of having it released in less than a decade."