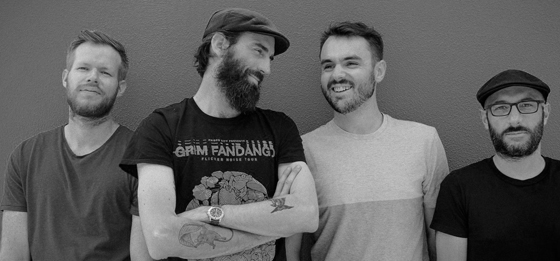 Lincoln le Fevre & the Insiders are back with a new record, and in the evergreen words of poignant nu-metal poets, Staind, it's been a while.

New album Come Undone has been officially slated for release via Poison City Records on July 21. It accompanies a residency in Newcastle this month and precedes an official album launch at Melbourne's home of punk rock, The Reverence Hotel on July 22.

The Insiders are also happy to reveal a second track from the album: Undone - a gorgeous yet gritty singalong punctuated by le Fevre's caramel vocals. The new material accompanies a recent video for Useless Shit, which heralded the long-awaited announcement of new music from the Melbourne-based quartet.

Australian tour dates in August are expected to drop shortly, but for now, drown yourself in some of the warmest songwriting to emerge from south of the 'Straight in years.
In the depths of a South Hobart winter some ten years ago, Lincoln le Fevre & the Insiders started writing songs that would soon become 2008's debut album 30-Watt Heart. The band quickly cultivated a local and national following with le Fevre's unique kind of bullshit-free punk-country storytelling, equally capable of airpunching singalongs and crowd-silencing emotion.
If 2012's album Resonation was a masterful exercise in emo-country, dwelling on life in a small-time town, then this year's upcoming release Come Undone is a supercharged record on what's left on leaving. This July, The Insiders are set to introduce a bunch of these new tracks recorded in late 2016 with producer Mike Deslandes (The Nation Blue, Hoodlum Shouts) at the controls.
Lincoln le Fevre has toured extensively both with the band, and as a solo artist, most recently playing punk-rock mega festival The Fest in Florida, USA, and coming home to his signature 'couch residency' to capacity audiences.
LINCOLN LEFEVRE SHOW DATES:
Sunday June 18- Lass O'Gowrie, Newcastle
with Jamie Hay and Jen Buxton
Sunday June 25- Lass O'Gowrie, Newcastle
with Holly Ball and Jason Lowe
Saturday July 22- The Reverence Hotel, Melbourne
with The Bennies, Mere Women, Rad Island, Baseball, Bench Press