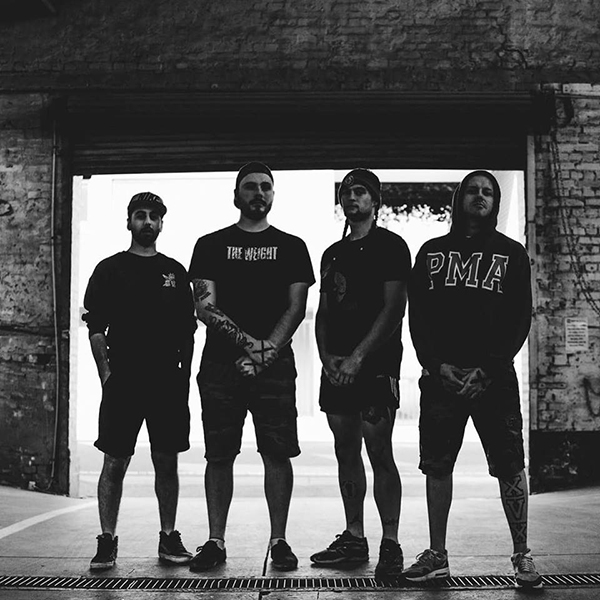 Adelaide youth crew hardcore band, ALL IN have announced the release of their debut 7 inch titled "Set The Pace". We caught up with frontman Baron for a chat.
At what point did ALL IN form and how did it all come together?
I had an itch to start something I felt was missing in Adelaide and the Australian Hardcore scene. Hardcore with urgency and hope. Hardcore Punk with a positive moral compass. PMA. I reached out over social media to see if anyone was on my wave length n Jesse came beaming back like a searchlight, young blood with an old soul. We connected over a passion for Straight Edge and Positive Hardcore. Luke n I had been friends through an Animal Rights group, he is such a fun guy and I knew he was into Hardcore, so roped him into learning bass. We started writing our demo songs with Marko on drums n played our first show "Alleyway Crew" style, illegally in the top level of a parking lot opening for our friends Stolen Youth in June 2016.
Marko didn't really gel with what we had going on. So, it wasn't long till Zotti was recruited. I had previously jammed with Zotti in a go-nowhere pop punk band that I had forgotten about until I kept hearing him playing next door with a Grind Core band. Zotti fit in with precision and here we are.

Would readers recognize the members from any other bands?
I (Baron) played bass for The Brews many years ago and I think Zotti played drums in Spacebong briefly.
In your own words, how would you describe the sound of ALL IN?
It's Hardcore Punk. It's Youth Crew. We're not trying to reinvent the hardcore wheel. We're just playing our part, playing what we love. Definitely encapsulating that early 00's sound for fans of two stepping and pile ons.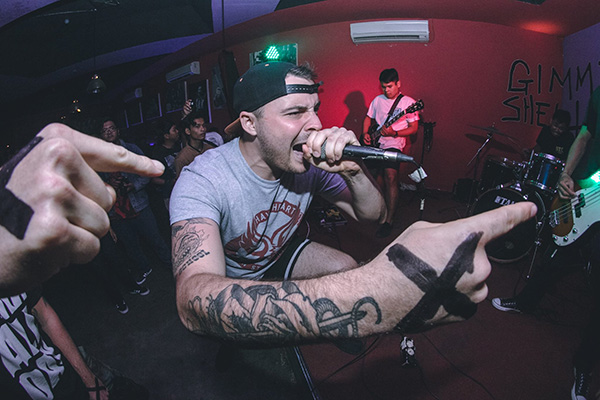 What bands are influencing the sound of ALL IN?
Youth Of Today, Carry On, Mindset, In My Eyes, The First Step, Betrayed, Champion.
What would be a dream line up of bands to play with?
The bands I just listed... haha, but maybe lets also add; H2O, Gorilla Biscuits, Sick Of It All, Madball, Cro-Mags, Good Riddance, Operation Ivy, Strike Anywhere, Ignite
And because it's always fun to play with your friends, add; Thrashboard, Stolen Youth, Faitheather, Strikes, No Wasted, FromKids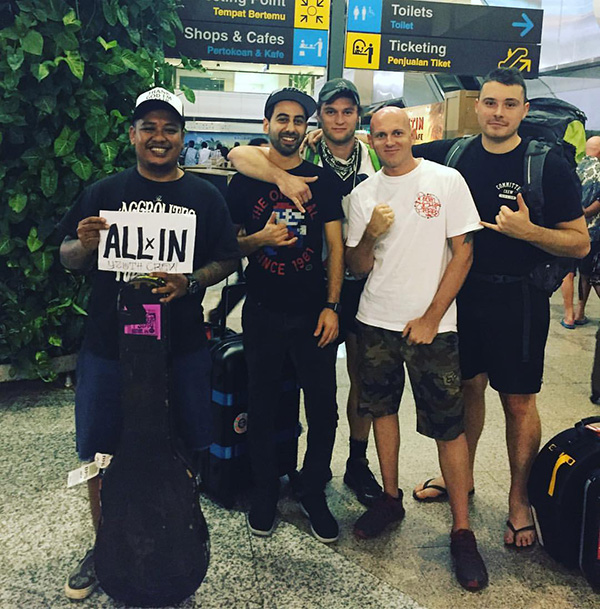 You guys toured Bali earlier this year. How did the tour come about and how was the experience?
Basically, I had planned to holiday there and catch up with some old Balinese friends of mine. I knew Bali had some rad bands that I had seen on previous trips and some of my Balinese friends play in some great punk bands. So, I did a little of digging on social media and found an amazing scene of Hardcore n Youth Crew bands thriving in Bali and Indonesia. I thought why not get the boys on board n make the most of it, we had originally planned to tour most of Indo but not releasing it would be the month of Ramadan, it restricted a lot of places to play shows except Bali. So we ended up with 5 shows around the island in just under 2 weeks and it was a blast.
The positive and welcoming nature of the Balinese people is illuminated by the Hardcore scene. Those kids, those bands, are what hardcore is about through n through, Unity, Passion n Heart, n most of all Fun. Having kids that have never heard or seen you play before going off at the first gig and by the 3rd show stealing the mic off you and singing along to your songs. Nothing short of mind blowing. We felt a true connection with their scene and made some great friends with the bands we played with. STRIKES, FROMKIDS, NO WASTED. Just to name a few.
You're about to release your debut 7 inch "Set The Pace" soon, where and how did the recording come together?
We recorded with our good friend Marcel "Moose" Cuthbertson at the Blast Furnace here in SA, who we did our demo with in mid 2016. We felt really comfortable in the studio with Moose the first time around and he knows the sound n style of hardcore we play, so it was only natural to work with him again. We had majority of these songs written over 12 months before its release but worked with Moose over the Winter of 2017 before and after our Bali shows to get what we really wanted out of them.
You've also unveiled your own record label Set The Fire, what's in store for the future of the label. Will it just be ALL IN releases or other bands too?
Set The Fire Records is really more of a Hardcore community collective. Started as a small label by friends in Jakarta has now grown to have chapters in the U.S.A, Japan and now Australia. STF Jakarta offered to release our new EP throughout S.E Asia and the idea just grew through conversation to base a chapter here. Along with ALL IN we also have a release from THRASHBOARD coming early 2018 and STRIKES in the near future.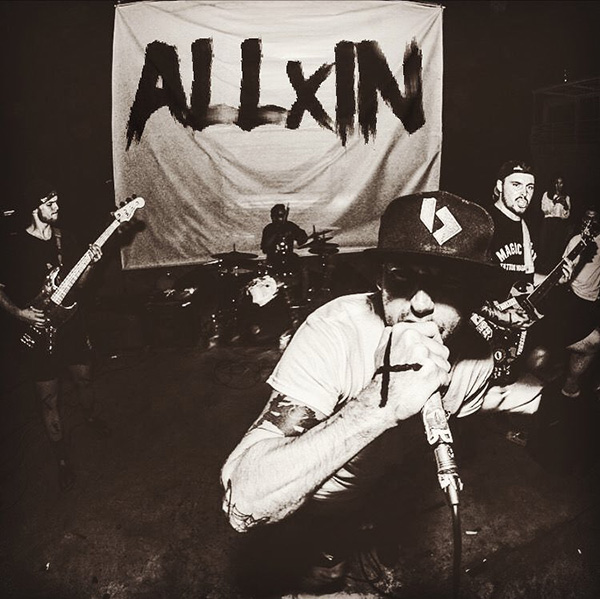 What else is in store in the foreseeable future for ALL IN?
Can't Stop, Won't Stop.
The 7 inch Pre Orders are live now, once they drop in early Jan '18 we're taking them on the road with us and you'll catch us up the east coast over the first half the year.
We'll be recording again within the next 4 months for a split 7inch.
Indonesia we'll be back for a full tour in August, with hopes to add some more of SE Asia and Japan to the leg.
How can people get in touch or keep up with what's happening with ALL IN?
Social media baby
Insta: @allxin618
@setthefirerecordsau
FB: https://www.facebook.com/ALLxIN
https://www.facebook.com/setthefirerecordsau
https://setthefirerecordsau.bandcamp.com/

Email: This email address is being protected from spambots. You need JavaScript enabled to view it.
This email address is being protected from spambots. You need JavaScript enabled to view it.