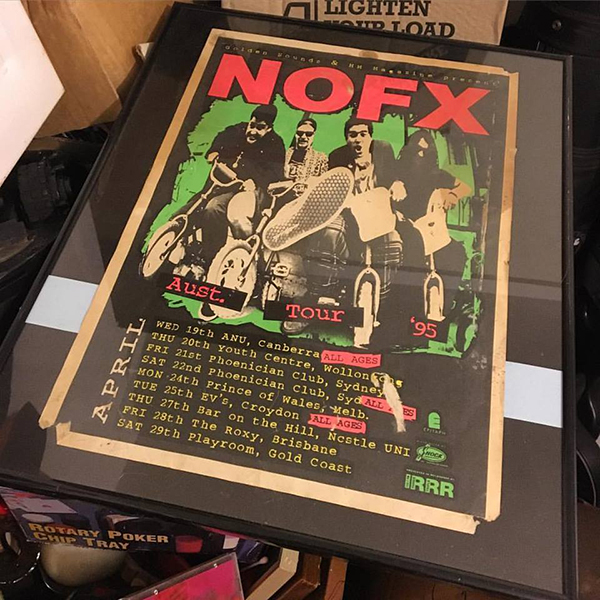 Currently in the country and whipping up one hell of a controversary are NOFX. By now you've surely heard about or witnessed Fat Mike's kick to the head of an overly eager fan at the Sydney Enmore Theatre show. But did you know that the year 1995, marked the very first NOFX tour of Australia? Over an 11 day period in April of that year, NOFX played 9 shows up and down the East Coast from Brisbane to Melbourne.
In 1995 NOFX were still a largely unknown band to people outside of the tight-knit Australian punk and hardcore scene. Their music had started to appear on the soundtracks to surf/skate/snow movies and videos for "Bob" and "Leave It Alone" were featured on Rage. The 1994 release of breakthrough album, Punk In Drublic the year previous to them touring, had really helped them build the infancy stage of their Australian fan base.
One of the smartest marketing ploys Fat Mike did on this tour, was to sell copies of the first Fat Wreck Chords compilation "Fat Music For Fat People" at the merch desk for a mere $5. Unheard of pricing in 1995 for a 14 song compilation that featured the likes of Good Riddance, Propaghandi, Strung Out, NOFX, Rancid, Lagwagon and Face To Face. Every second person who attended those NOFX shows left with a copy of that compilation, and it definitely helped introduce Australian punk fans to new bands they'd never heard of before.
Ironically it was through an Epitaph compilation from 1992 titled, More Songs About Anger, Fear, Sex and Death, that I first became acquainted with NOFX, as it featured a few tracks from S&M Airlines and Ribbed alongside the likes of Bad Religion, Pennywise, Dag Nasty and Insted. In the days before the internet, the compilation was one of the most powerful tools in discovering new bands.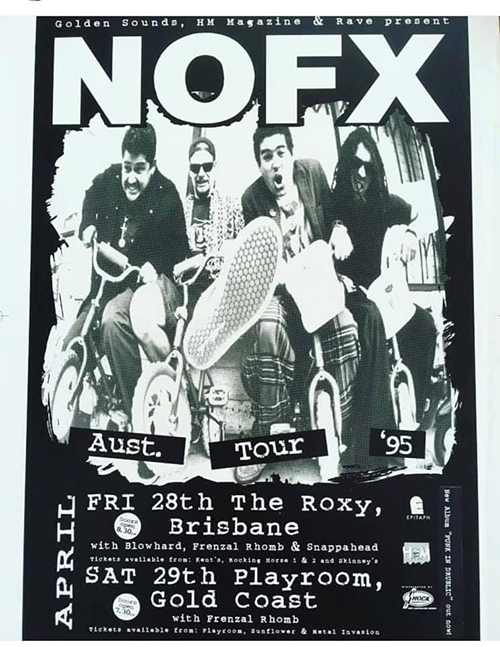 NOFX April 1995 Australian Tour Dates

Apr-19 ANU Canberra
Apr-20 Youth Centre Wollongong
Apr-21 Phoenician Club Sydney
Apr-22 Phoenician Club Sydney
Apr-24 Prince Of Wales Melbourne
Apr-25 EV's Croydon
Apr-27 Bar on the Hill (University of Newcastle) Newcastle
Apr-28 The Roxy Brisbane
Apr-29 Playroom Gold Coast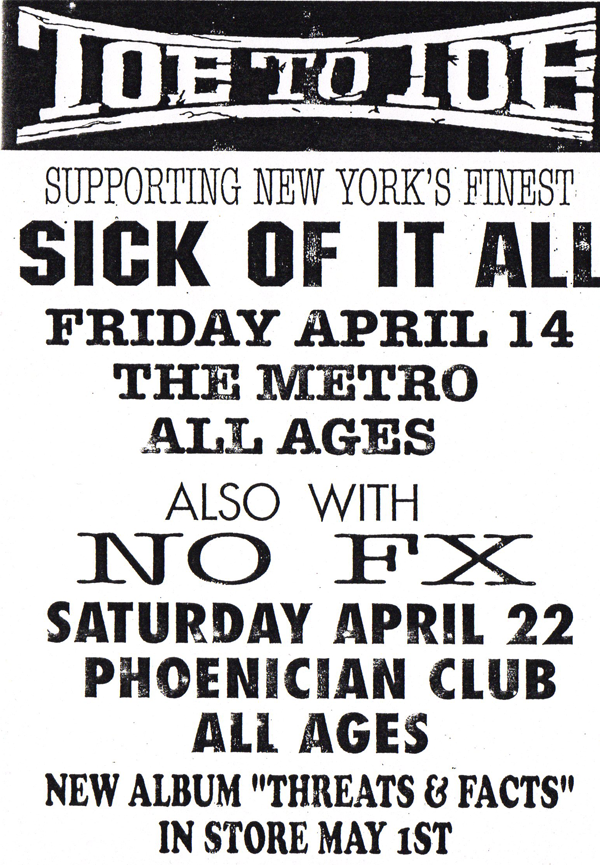 In Sydney, NOFX played two shows at the now non-exsistant Phoenician Club. The club was a great split level venue that housed an 800 person capacity. The bottom level was a dancefloor, while upstairs was rowed seating. The drop between both levels had to be around 10-15 feet, yet that didn't stop people from stage diving off the top level, onto the at times, unsuspecting people below. While it was a bit of a 'holy shit' moment to witness, in reality it was quite a stupid thing to do. In the footage below you can hear NOFX address the issue between songs.
Unfortunately the Phoenician Club was shut down after the ecstasty overdose of a young schoolgirl named, Anna Wood at a rave hosted by the club in October of the same year. In the aftermath of the moral panic that followed, then Premier Bob Carr bowed to public pressure to close down the venue. Like that would solve the problem of drug use, you idiot! Ceasefire later wrote a song about the whole affair titled "Drug Hypocrisy".
NOFX played two shows at the Phoenician Club, an Over 18s show on the Friday night, followed by an All Ages show on Saturday afternoon. Back in 1995, there weren't a lot of punk and hardcore bands in Australia, so both genres often played together. The All Ages show lineup consisted of NOFX, Frenzal Rhomb, Toe To Toe and Gilgamesh, while the Friday night show lineup consisted of Bodyjar and Lawnsmell (I think). The Frenzal support on the All Ages show was what springboarded the band's international career, as Fat Wreck Chords released the 4 Litres EP, soon after.
Toe To Toe live at the Phoenician Club...
In my humble opinion, this tour was perfectly timed, as it really showcased NOFX at their peak, playing tracks from their best albums. Setlists for most of the tour were largely made up of tracks from Ribbed, The Longest Line, White Trash and the newly released, Punk In Drublic.
NOFX @ The Phoenician Club, April 21 Setlist:
1. Linoleum
2. Showerdays
3. The Longest Line
4. Punk Guy
5. Bob
6. Cheese / Where's My Slice?
7. Life O'Riley
8. Don't Call Me White
9. My Heart Is Yearning
10. Perfect Government
11. Please Play This Song on the Radio
12. The Moron Brothers
13. Straight Edge
14. Liza and Louise
15. The Quass
16. Dying Degree
17. Kill All The White Man
18. Bleeding Heart Disease
19. Leave It Alone
20. The Malachi Crunch
21. Stickin' in My Eye
22. Johnny Appleseed
23. She's Gone
24. Vanilla Sex
25. Green Corn
26. The Brews
27. Buggley Eyes
Watch the Phoenician Club April 21st NOFX show below..
And from Matt Rees' collection...
And the show from the 22nd as well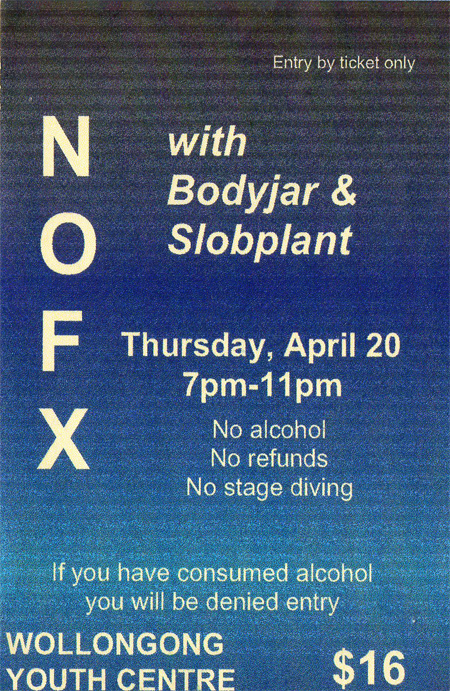 Also below is some mediocre footage from the NOFX Wollongong Youth Centre show. It was great to see the band in a relatively small room with only 120 or so people in attendence. At the time I was living roughly halfway between Sydney and Wollongong, which proved very handy for tours like this. The Wollongong scene was still very small, so crowd size was always a lot smaller than what you'd get at a Sydney show.