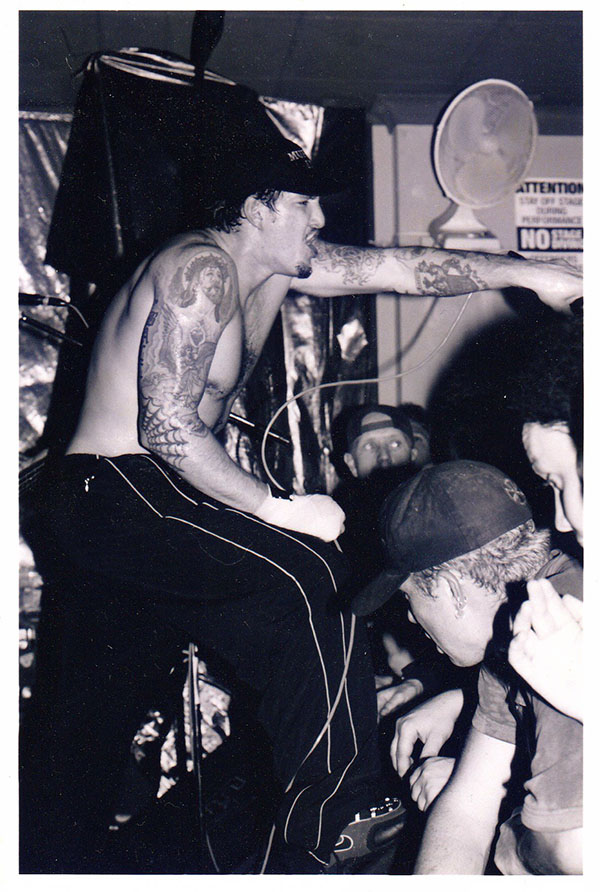 Freddy at the Iron Duke Hotel, Sydney - photo by Elissa Fletcher
The 1998 Australian tour of New York Hardcore legends Madball, was easily one of the most anticipated of the late 90s. Madball had become as equally important as their NYHC peers, Agnostic Front and Sick Of It All, and given both bands had already made their way to Australia, it was expected that Madball would eventually do so too.
Madball had recently released "Look My Way" months beforehand and pretty much every person in the Sydney scene had a copy of their previous album "Demonstrating My Style" or "Set It Off". These were essential hardcore staples in the late 90s and still stand the test of time today.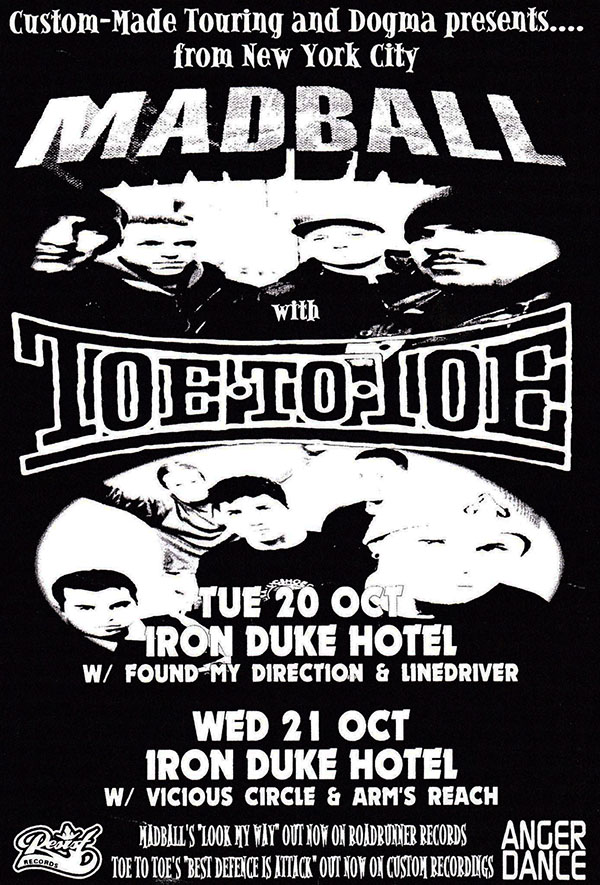 Madball played two nights midweek in a row at the Iron Duke. This probably makes no sense to kids today, but that was how starved the Australian scene was for international hardcore bands at the time. The first night they headlined and the second night they played under locals Toe To Toe. Both bands had previously played together recently on a Japanese tour and had already formed a mutual respect and kinship. This was around the "Tao" era of Toe To Toe and the band were an absolute powerhouse live and capable of packing venues on their own. In the video below, you'll hear Freddy credit Toe To Toe as "one of the best fucking bands I've ever seen in my life" and accolades don't come much higher than that.
Unfortunately Madball had recently downsized from a five piece with Stigma and Matt Henderson retiring from guitar in Madball with former Dmize / 25TaLife guitarist Rob Rasario (Beto) now handling all guitar duties. Once they hit the stage none of that shit mattered anyway, as all eyes were transfixed on frontman Freddy Criercon. Menacing, over brimming with confidence and quite staunch looking, Freddy was the real deal tough guy, who walked the talk. The band sounded amazing, as they rattled off hit after hit from their catalogue.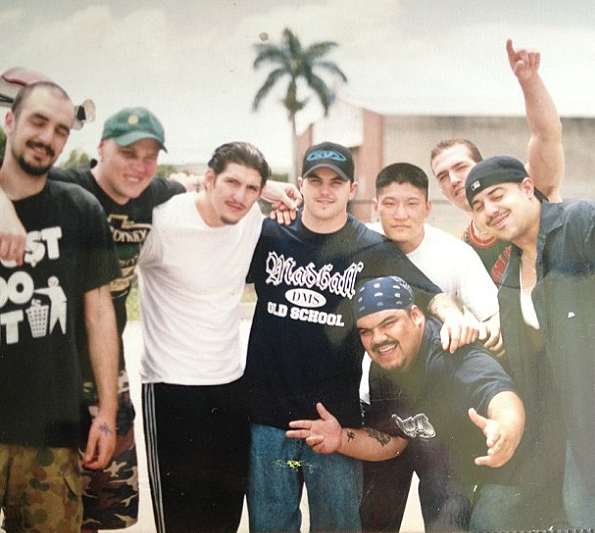 Madball and Toe To Toe together in Brisbane - photo courtesy of Scott Mac
Also playing in Sydney at the same time was Slayer on their "Diablous in Musica" tour. On the first night of Madball's Iron Duke appearances, Slayer were playing at the Entertainment Centre about 20 minutes drive away. To have two awesome bands like Slayer and Madball playing at opposite ends of Sydney on the same night was unheard of in 1998. Some friends and I decided we couldn't let this opportunity pass and decided to go see Slayer and hoped that we'd be able to swing past the Duke on our way home and catch some of Madball's set as well. Fortunately Entertainment Centre shows started relatively early, so as long as traffic was on our side, it was worth the risk.

Slayer was amazing live, like watching a tennis game of one metal anthem after another complete with duelling guitar solos and I'm totally grateful to have seen the brilliance of Jeff Hanamen live and in the flesh.
Metal Vince (a well known local music enthusiast and huge supporter of Australian metal and hardcore, who's real name is Guy) was also present at the Slayer show too. I spotted him a couple of rows back from the stage on the dance floor. When the lights dimmed and the crowd roared, Metal Vince unfurled this massive home made banner attached to two broom handles that simply read SLAYER, and held it aloft. The people behind him who now had their vision obscured were pissed. I could only laugh. All hail Metal Guy!
As soon as the final note wailed from SLAYER, we were out the door and into the car park. At 10:30 on a week night in Sydney, traffic isn't so punishing and we walked into the Iron Duke literally at the same time as Freddy hit the stage. Mission accomplished and what a fucking night that was indeed!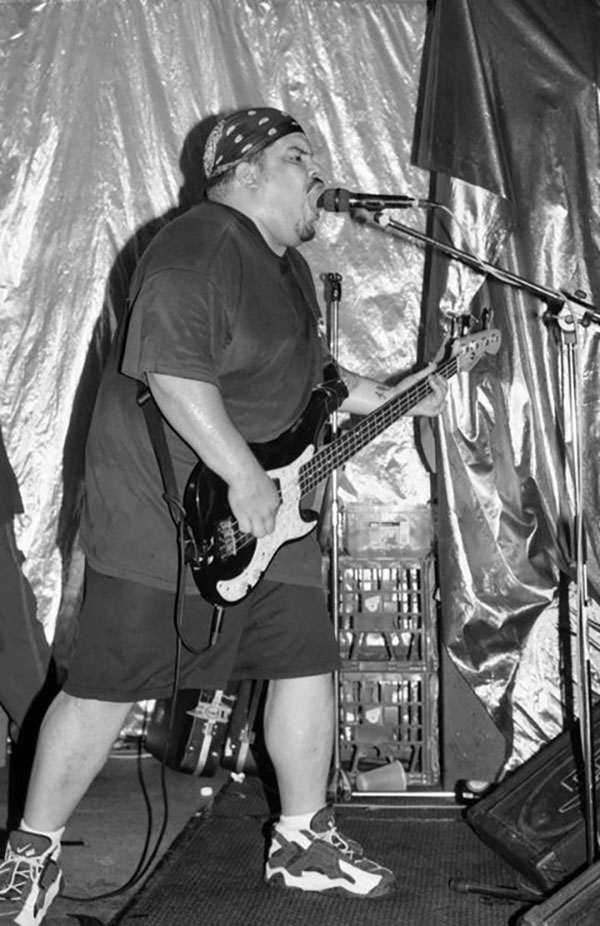 Relive Madball live at the Iron Duke below. This footage was shot on the second night, the Wednesday October 21, 1998. The first minute is a bit dodgy, bare with it or fast forward.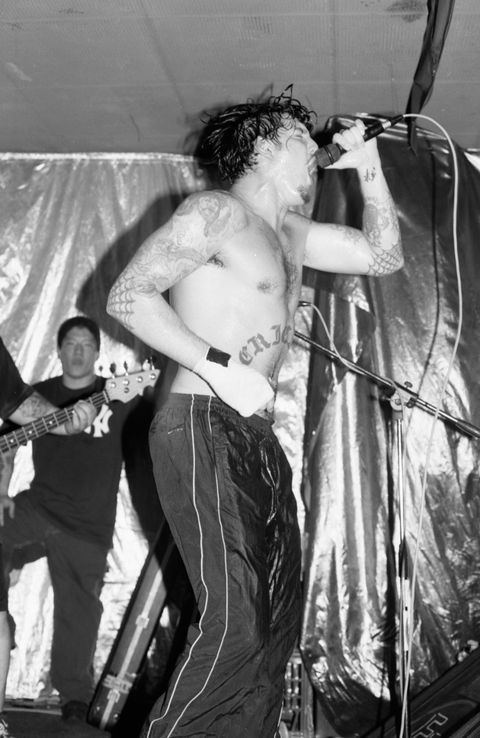 Photo by Elissa Fletcher