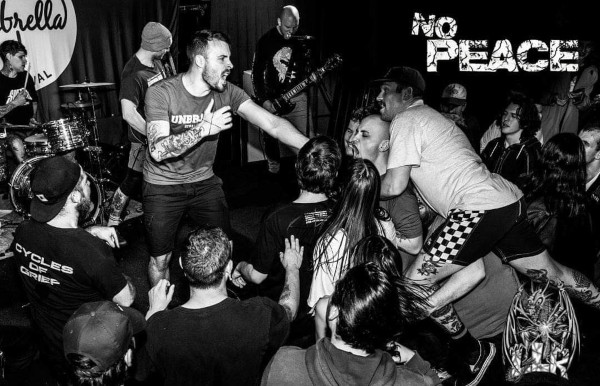 Adelaide's NO PEACE will release their debut LP "Something More" through Life Lair Regret Records and Set The Fire Records, so we caught up with singer Jesse Conte for a chat.
To begin with can you give readers a brief history of the band and how it all came together?
The latest Rotting Out record had just dropped (Ronin) and our drummer Jeremy was tattooing the RO logo on my arm as we were listening to that record. He said lets do a Hardcore band together, or maybe I annoyed him until he gave in and accepted he was in the band.
No Peace writing kicked off during the first nationwide lockdown we had at the start of the covid pandemic, March 2020. Those tracks would eventually become our 6 track demo/EP 7" that we released financially off our own backs at the end of 2020, with the help of STF Records Aus/Indo/Japan (shoutout to Brendan and Muppy, Widi and Eddy, and of course Zumi).
Since then we have had a rocky journey, I think No Peace has had to cancel or pull out of as many shows as we have played. Which sucks, but you cant control what's happening around the world. Adapt or die. I will always have the mindset of push on until you cant any further, because if not us; who? And if not now; when?
Would readers recognize the members from any other bands?
Some of our ex members are in Brainfreeze & Tunnel Vision. While current ones were in some older bands, Armoury, Craterface, Powerxchuck. A few of us play for All In too, would be sick to see All In finish that album they recorded in 2020.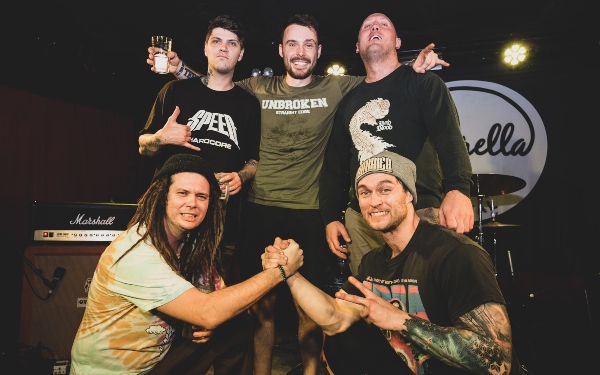 Personally, how would you describe the sound of the band to someone that's never heard No Peace?
We are a rip off/worship of 2000s style Hardcore. Early Terror, Allegiance, Down To Nothing, Cruel Hand, early No Warning, Carry On (A Life Less Plagued is the record I'll take to my grave). I take a lot of inspiration lyrically from all those bands but also bands like Go It Alone, Internal Affairs, Have Heart.
How do you think the band has changed in sound since the debut release in 2020?
I think we have leant into our sound harder, I wouldn't say changed. We definitely have loads of fast parts and two steps, sing alongs and parts you want to see people pile on for the mic. I think my song writing (riffs and lyrics) has sharpened up and gotten better. With Something More it's felt like the next step along our sounds progression.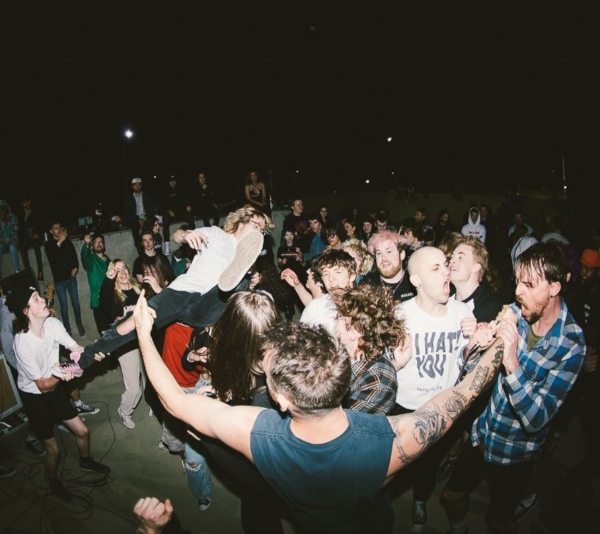 You're about to release a new album titled "Something More", how was the recording process and how did it all come together?
I love recording and being in the studio, working with Jack Hartley is so much fun. He is one of the few people I've met that truly shares the passion and energy I give to music. We talked before recording about what we both wanted and expected going into this long process. Being on the same page is so important. We wanted raw and aggressive guitars and the drums to sound big and wide. Vocals at the forefront. Every aspect of a Hardcore band needs to be as strong as possible and stand on its own in my opinion. So the bass didn't get left behind either.
We spent 3 days doing drums, which was fucking tiring. Jack and I punished Jeremy in that time to keep doing more takes. Poor guy, he's still recovering. Guitars and bass I did over the space of a 11 hour day, which was fun, I think, or maybe that's Stockholm Syndrome speaking.
Vocals were done over a two week period, half hour every week day. Then we got to do the fun stuff and record gang vocals, which is always a laugh. Thanks to Jack, Max, Brendan and Jeremy for yelling their hearts out. The vast majority of the work then fell to Jack to edit, mix and master everything. He is the true hero here. I hope to record many more times with him over my band career.
Got a fave track on "Something More"? Why that one in particular?
I am so shit at picking favourites. It changes based on how I'm feeling, and favourite riffs is a whole other argument. Every Word is a pretty important song to me. Lyrically it's a reflection on how crushing life can be. But then we all come together at a Hardcore show; every chord and every word means something more.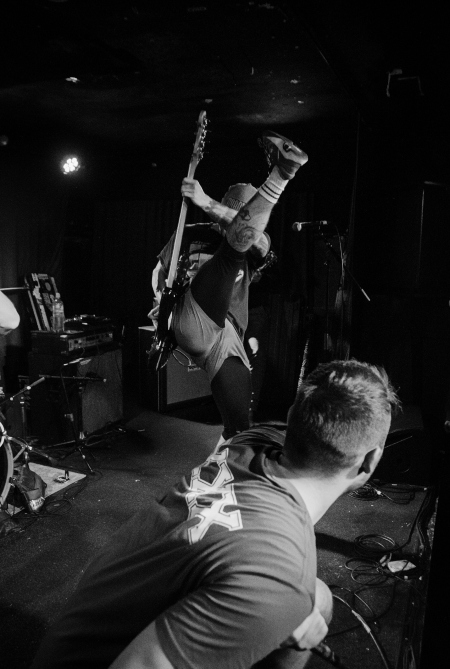 The album features guest vocals on six different tracks, who's lending a hand and from what bands on each track?
Hardcore to me is community, it's all about building friendships and sharing in emotions creatively. Going into this record I wanted to include as many people's voices as I could. In record appearance order we have:
Jacob Millman of Fever Shack on Cut Ties
Imogen Penna of Devoidance on Incel
Blake Jones of Two Faced on Outlive
Kynan Malia of Signvls on Better Off Alone
Dewey Zei of No Other Way on Better Off Alone
Odei Arrizabalaga of Worth It on Every Word
Prior to the release of the new album, you released the track "Live With The Pain". Lyrically what is the song about?
Live With The Pain is a reflection on the things we go through, the set backs we live with, fucked up shit we carry, use your adversities to find strength and ultimately overcome or learn to live with them.
You're teaming up with Life Lair Regret for this release shared with Set The Fire, how did the partnership coming about?
I have always been a staunch supporter of LLR Records and STF Records. I hassled Brendan and Muppy at STF into getting on board for Something More. They are amazing and so supportive of everything No Peace related. The big roll of the dice was approaching LLR, I had worked with them a bit on HumanxError (my old band I played guitar in). So the relationship was solid from the start. All 3 of the Lair crew are beautiful people and super down to earth. They're relentlessly hard workers too. Something the rest of Australian HC should take note of.
Will the LP be getting a USA release through Safe Inside Records as well. Fill us in on how that all came about as well?
Safe Inside Records is by far my favourite current USA based label. They put out such amazing bands. Helped us create some good relationships and potentially in the future could lead to some big opportunities. Unfortunately the logistics killed working together this time around. Burt is a great guy though, admire and respect how he runs things.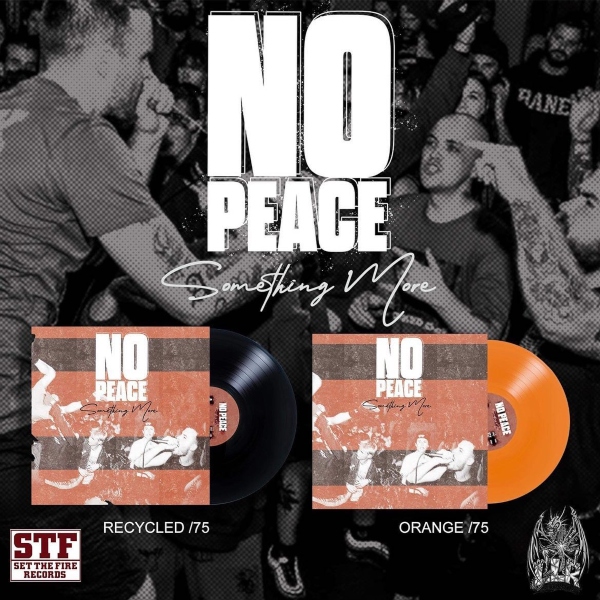 Being an Adelaide band, give us your top 5 releases of all time out of Adelaide?
This was hard for me to narrow down. I'm going to go pretty obscure here (with some but not all choices), these releases helped shape my tastes in hardcore at a pivotal time in my life:
Stolen Youth - Dark Century
Armoury - Fear None
The Weight - Prisoners Of The Flock
Rain City - Self Titled
Can't Relate - Demo
Special mentions: Trolleypole, Stronghold, Shotpointblank, Reactions, God So Loved The World, Starvation, Jungle Fever.
What's a band from Adelaide that should be on everyone's radar and why?
I think Winnzer Circle will start to get some big heat, Devoidance is a newer band coming up, ScratchxLines too! Stabbith And The Knifey Wifeys! The Munch (more punk leaning).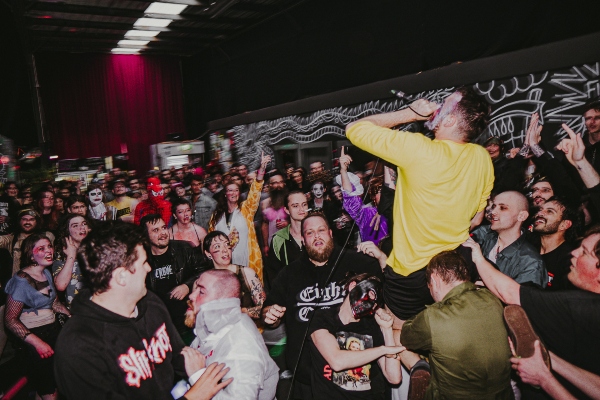 Is it true you recorded vocals for a track on the new Stolen Youth record and when is that coming out?
Stolen Youth? Never heard of them sorry.
What's the future hold for No PEACE and how can people grab a copy of the new album?
Our immediate future we are playing two shows in Melbourne, followed by a show down in Adelaide with Outright. Then we will be announcing our record release show for early December! Early 2023 we are recording some new music and a cover for a split, very excited for this!
If you want to grab a copy of Something More hitup either Life.Lair.Regret Records or Set The Fire Records and chuck down a pre order. Would mean a lot to us.
Any last words / thanks / shout outs?
I recently toured Indonesia with Fever Shack. Shoutout to those guys for giving me memories and laughs that I will value forever. Indonesia, Singapore, Malaysia, Japan, and all of Asia have an incredible Hardcore scene that is absolutely huge. Australians need to start taking notice. Lets bring their bands out here! It's not all about fucking America, or Western Hardcore scenes.
On that note, if you play in a band and ever get the chance to tour outside of Australia... fucking do it! You will experience shit and grow in ways you cant imagine.
Preorder here:
https://lifelairregretrecords.bigcartel.com/product/llr096-no-peace-something-more-lp
Listen below.