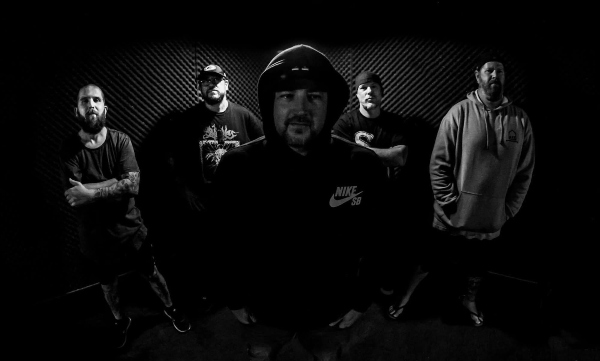 Sydney band TWO FACED are set to drop a new album titled "Everlasting Pain", so we caught up with singer Blake Jones for a chat.
To begin with, can you give the readers a brief history of the band and how it all came together?
Early 2007, I wrote and recorded (terribly, mind you) six tracks at home. Shane, whose actually my cousin listened to the same music and we'd often jam together. I passed them onto him and he added his flair and really refined the tracks and three of them ended up on our original 'Searching' Demo. We couldn't find a singer. so I moved from bass to vocals, roped in a couple of our mates at the time and off we went. Since then we've played across most of Oz, meeting a heap of great people in the process and managed to play with a couple of awesome international bands along the way. It's more than I'd ever imagined we would do as a band and I'm so grateful we're still here kicking on ten years later.
Would readers recognise the members from any other bands?
Matty our bassist played bass on Toe To Toe's Arturo Gatti and toured with them for a few years. Our drummer Dylan has played in a few different bands and filled in here and there in the hardcore and metal scenes and Tatts, one of our OG guitarists who has recently come back, played in As Silence Breaks and Daemon Pyre.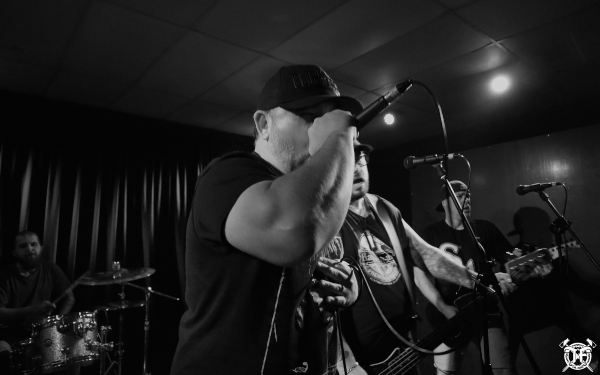 Personally, how would you describe the sound of the band to someone that's never heard you?
We're heavy, fast, full of bone rattling bass and hard hitting drums. Most of our music is straight to the point with no time for fucking about. It's kind of like NYHC styled riffs, energy and enthusiasm but with a bit of an Aussie twist. Imagine the angry lovechild of Aussie legends Mindsnare, Her Nightmare and Against with a bit of Raised Fist thrown in there too.
How do you think the band has changed in sound since the demo release?
I would say we have become a lot heavier. There's more depth to the writing musically and a lot more attitude and passion in both the lyrics and delivery. There's also a lot more gang and backing vocals on 'Everlasting Pain', compared to our previous recordings. Hardcore is all about the community we have through music and what better way to celebrate that than having friends be a part of the sound.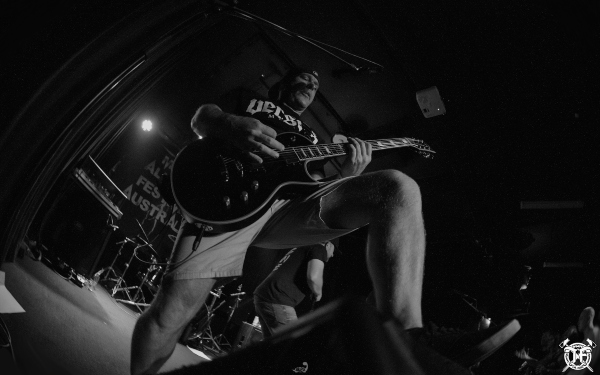 You're about to release a new album entitled 'Everlasting Pain', how was the recording process and how did it all come together?
We had always planned to do a full length, so we just knuckled down, saved and got into Main Street Studios in Wollongong. It was an absolute blast, Adam was fantastic and did a great job with us! We originally heard his work through our mates band Maggot, so naturally we had to get their singer Lowki in on the record too. Then the pandemic hit and it sort of put everything on hold. Parts had to be re-recorded but lockdowns definitely made that difficult. About two years later it was finally all done, so it was sent over to Audiosiege in the states for mastering. Shane and Dylan are fans of Inclination who have worked closely with Brad over there, so we went with him for mastering. All in all, we're really proud of how it's turned out.
Got a fave track on 'Everlasting Pain'? Why that one?
I'm going to cheat here, but I really like 'Force Fed'. It's short, fast and straight to the fucking point. There's a song in the middle of the album that breaks up the chaotic energy titled 'The Rain', which I love as a point of difference because it shows a more mellow side of the band.
Prior to the release of the new album, you released two tracks titled 'Slip', and 'Choice'. Lyrically what are these two songs about?
'Slip' is about those people that come into your life saying all the right things to hook you in, but their actions don't marry up to their words. Be alert, trust your instinct and if you come across those people cut them out. As the lyrics go, "The best way to kill a snake is to cut off its' head". As for 'Choice', it's basically a wake up call; a reminder that only you are in control of your own life and you need to choose your own path.
You also released the track 'Force Fed' with guest vocals from Jesse Conte of Adelaide band No Peace. How did that come about?
Jesse and I met when we shot down to Adelaide the first time to play with his band To Kill Or Capture. I found him to be a genuine thoughtful guy who also happened to be an immensely talented musician. He's the real deal! He has always been really supportive of us, so it was a no brainer to get him involved and we're all stoked on how good that track turned out.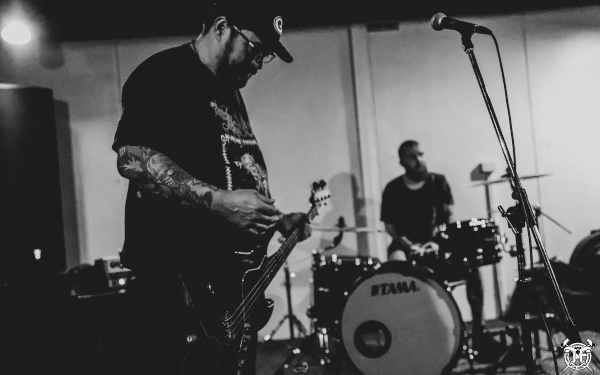 What's the future hold for Two Faced and how can people grab a copy of the new album?
We're working on a couple of shows in the immediate future in support of this album. If you want to keep track of us, you can follow us on our socials for all that information. We've got music and merch available at all of our shows and on our online shop, 'twofacedhc.bigcartel.com'. The album will be live on all streaming platforms at 7PM, Friday the 16th of September. Having recently had Dylan and Tatts join we're hoping to get back into the studio and lay down some more tracks for a 7". I'm really excited to see what those two legends can add to the mix. We're also planning on having a good mate of ours jump on as a guest spot for one of the songs, but I guess you'll just have to wait and see who it is!
Any last words / thanks / shout outs?
Shout outs? Man, there's so many but I'll hit a few if I can! The guys in Feskit, Southpaw, Jesse C, the Wollongong crew, all the boys that played in Two Faced, the fellas that were involved in Garbage Face music, Dave @ Jailhouse records (RIP), our families, mates
Grab a copy of "Everlasting Pain" at: https://twofacedhc.bigcartel.com/
Stream below: