Newcastle band BOUDICCA just released their debut LP "Tapestry", so we caught up with singer and self professed history nerd Madeline for a chat.
To begin with can you give readers a brief history of the band and how it all came together?
Boudicca formed sometime in early 2017- our first show was opening for our lovely friends from Lismore, Masochist in May (I also played in Rort Menace that same night.) I knew it was inevitable that Sam and I would start a band together- we had been friends for a number of years, Sam even recorded the first Rort Menace release. Tegan was once the frontperson of my favourite Newcastle band, Family Values. We became very good friends just before they joined Family Values and have been ever since. I wanted a bass player, Tegan didn't really play at that point but agreed that they would give it a go for me, I think I asked nicely. I wanted to speak my mind a bit more freely with a little more creative control, and go a little heavier too- so Boudicca happened! A couple of guitarists later we found our fit with Nic (also a long-time friend, formerly of Family Values) and I convinced my partner Jacob (of Dispossessed) to come to practice one day and now there are heaps of well-crafted solos.
Personally, how would you describe the sound of the band to someone that's never heard you?
I'm going to borrow a word used by a reviewer earlier this year- incendiary. We are a hardcore punk band at heart but are trying to bring something a little bit different when we can, too.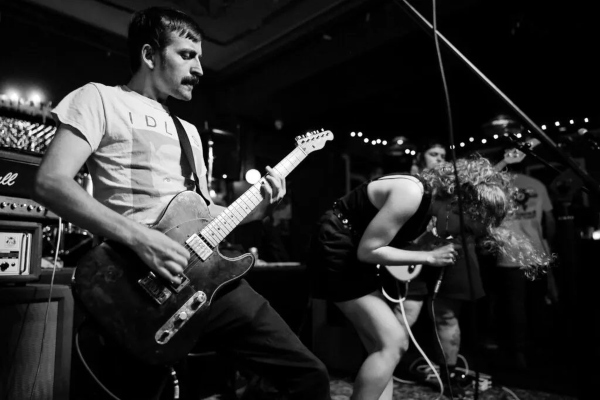 Can you fill people in on the inspiration behind the band name?
Using the name of Boudicca is an homage to Boudicca, the Iceni Warrior-Queen, who revolted against Roman occupation, against the assault of her daughters, and burned Colchester and Londinium (present-day London) to the ground.
You're about to release your debut LP titled "Tapestry", how was the recording process for the LP, how did it all come together?
The recording process was a long one, much longer than we ever could have anticipated. We recorded with Jay Whalley at the Pet Food Factory down on Gadigal Country in December 2020, then some back and forth tweaks at home through subsequent lockdowns, some more recording, then off to be sorted by Clem Bennett and Chameleon Studios. I had worked with Jay and Clem previous to Boudicca and really enjoy their insight, support, and kindness.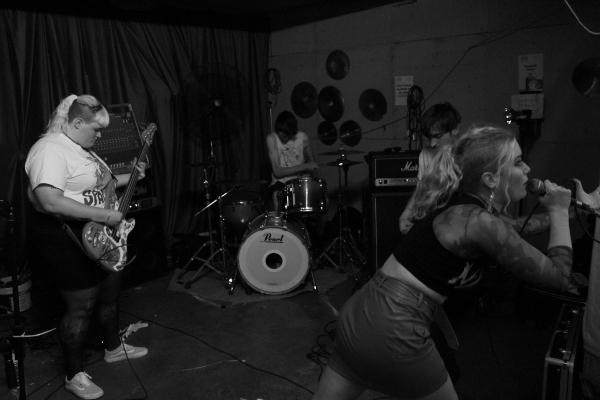 Got a fave track on the LP? Why that one?
I'm one of those terrible "it depends on my mood" people, right now, the night before our release, I'd say 'Aunty.' Jacob and I wrote the lyrics together for that one, and he even included some of his language (Gamilaraay) spoken at its closure. It is one of the two tracks on the LP we haven't played live yet and I'm really excited to bring it onstage.
Prior to the announcement of the new album, you released two tracks titled, "Ellen" and "Emma". Who in particular are these songs about?
Ellen is a cheeky little tribute to Ned and Dan Kelly's mum, Ellen Kelly. She was a pretty fierce woman who gained a reputation for herself even aside from her sons. She was even imprisoned at Old Melbourne Gaol the same time as Ned was hanged. Emma borrows the philosophies (and quotations) of anarchist feminist activist Emma Goldman, who is someone I have admired deeply since I was a teenager.
Lyrically what are some of the other songs about on the LP? Do they all have a historical focus?
Everything on the LP has roots in stories of women throughout history, some are quite broad and others incredibly specific to one little blip of an event and how that person behaved in that exact moment of time. Interpretations of historical events and historical figures evolve as is needed and according to context (and also societal needs.) My storytelling and mythologising possesses a clear bias as someone drawing parallels between the past and my concerns of the present, and I don't claim to be screaming straight facts all the time… that's for sure. I've got another job for that side of history!
You wake up tomorrow morning, and in the driveway is a DeLorean equipped with a flux capacitor with the keys in the ignition. What year is the first you type into the control panel and whereabouts are you heading and why?
This is a fantastic, but quite challenging question! Well, right now I'm trying to get some new material going and wouldn't mind paying a visit to the site of bj581/the Birka warrior in present-day Sweden in 1889- with the knowledge that we have now: that this impressive burial chamber fit for a warrior is not occupied by a "battle hardened man," instead, the skeleton is a woman's skeleton. I would have loved to tell the archaeologist at the site Hjalmar Stolpe that myself.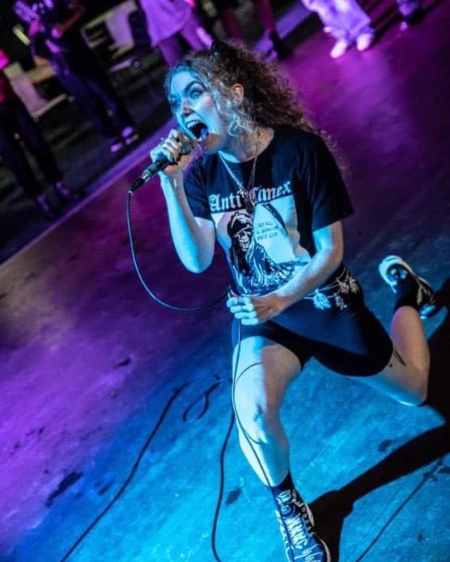 What's the future hold for BOUDICCA and how can people grab a copy of the LP?
Hopefully lots of fun with our friends, more music, and plenty of delicious vegan burgers! We're heading down south to celebrate the release shortly and have some awesome gigs lined up (including Geelong and Melbourne.) You can stream our music for free on all kinds of platforms, or head to our Bandcamp to secure yourself a copy of the 'Tapestry' 12" which should be ready to ship shortly.
Any last words / thanks / shout outs?
Thank you Ryan for having me write some words for Rest Assured Zine. Thank you also to everyone who gives it a listen: we really hope you enjoy what we've made. Hope to see you on the road soon.
Preorder a LP copy of "Tapestry" here: https://boudicca.bandcamp.com/