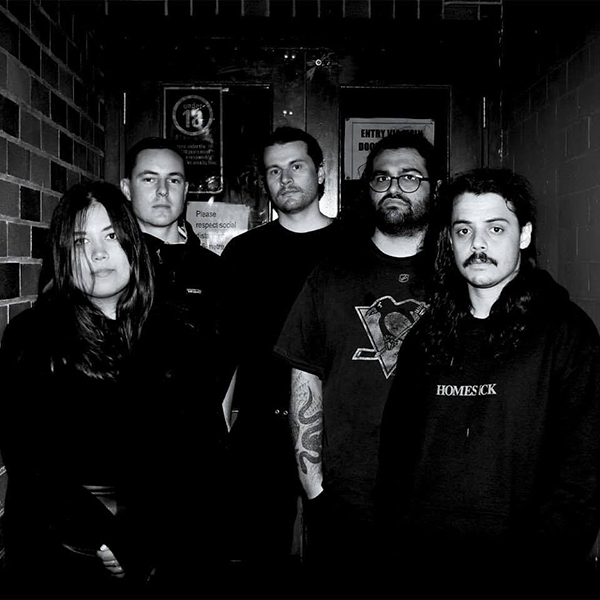 BURN IN HELL are set to release a new LP titled "Disavowal of the Creator God" through Reason and Rage. The East Coast five-piece are blasting through the Australian metal and hardcore scene as one of the most politically charged heavy acts around. We caught up with front man Marcus for a chat....
When did Burn In Hell come together and how did it all form?
Back in 2017 Jai, our drummer and myself were in band that was starting to implode. At the time we listened to a bullshit amount of Foundation and Harms Way so we figured rather than being bent out of shape about being in a band we were beginning to hate, we could just make a band that was fun and we loved. Jai has always been a far better drummer than me, so when floating the idea of the band, the plan was to have Jai drum which would somewhat force me onto vocals as I can't do anything else. At that point we just wanted to make a band with friends who loved the same music we did and were keen to make it have a message that had some meaning. We ended up recruiting Tom and Mitch, knowing them from their old bands from we used to play with a lot in Wollongong. Then soon after releasing our first EP we asked Eleanor to join on second guitar to help fill out the sound. We knew Eleanor from growing up on the south coast and her other band Mowgli. Even though it's a dramatically different sound for her, we still hit her up to join which she graciously said yes to.
What sort of bands are influencing the sound of Burn In Hell and was there an agreed sound to aim for when the band started?
Big metallic mosh was where it all started at for us, however for our new release we definitely pushed our sound further away from anything any of us have tried before. A lot of late 2000's Deathwish and Southern Lord bands played a huge part in what we have come to in our sound. We end up jacking a lot of ideas from bands like Converge, Cult Leader and Baptists, but ultimately we're not really good enough to pull that shit off so it ends up being a mix of bands like that and a more modern metallic hardcore sound, the likes of Harms Way, Foundation and Vein.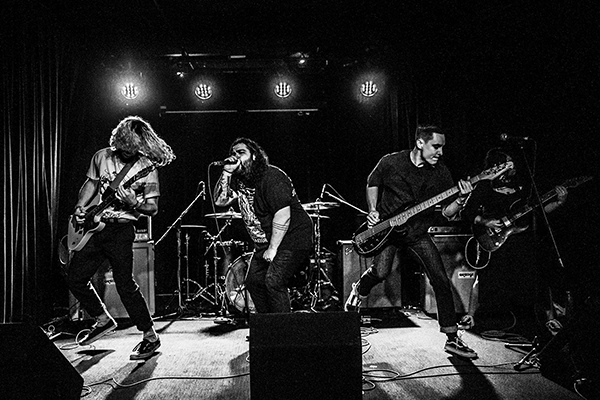 How would you describe the sound of the band to someone that has never heard Burn In Hell?
Very tough question cause ultimately we're just another shitty hardcore/metalcore band. But for anyone genuinely interested, we're a politically and socially charged "metallic-hardcore" band with influences ranging from Converge to Harms Way. Heavy shit with a purposeful message.
How does the song-writing process of Burn In Hell work?
Our first record was almost completely written by our drummer Jai with a few ideas presented by Tom. If you're not close to Jai you wouldn't be aware, but he's one of those musical freaks. He's the kind of person who writes whole songs in his head and then can record every instrument to it. This worked really well for our first EP as we were still finding our feet and getting used to playing with each other so to have someone with a clear vision helped move things along very quickly.
For our new record Jai made a very conscious decision to not write any of the guitar parts as he wanted to focus on his drumming, which meant we needed to start writing songs together while Tom picked up the extra slack. Most of this record was written as a collective which is definitely why it has taken as long as it has to come out. We'd each come with ideas, and sit in Tom's bedroom and force them together until it was something we were happy with. We then just build from that, writing bass and having our other guitarist Eleanor finishing off the record with adding leads on top. In terms of lyrics, I just write to vent. So whenever there's something taking up too much space in my head I write done what I'm angry about and then try and fit them to the songs we've written.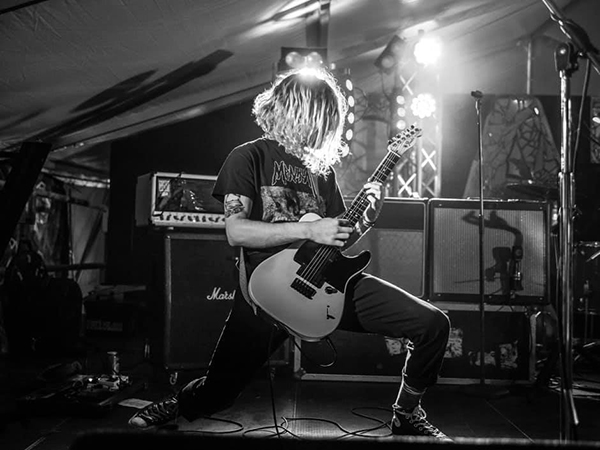 Is Burn In Hell the first band you've sung in and what prompted the move from drums to the mic?
I've got a big problem where I love the sound of my own voice, think I'm funny and I'm super lazy. The perfect mix for someone to become a front person. Haha
Playing drums in touring bands for almost 10 years is such a physical drain so when Jai told me he wanted to play drums in this project I jumped at the opportunity to not have to ruin my back in another band. Unfortunately I can't play anything else so I picked up the microphone. It's very evident in our first release that I was new to singing but I've definitely found a comfortable place with my voice coming into our new record.
Is playing drums in Amends your "I've had a Good Day" band and singing in Burn In Hell your "I've had a Bad Day" band?
I'd say it's almost the opposite. Burn In Hell is my "who gives a shit" kind of band. While we take the shit we talk about very seriously, we don't have any expectations or huge egos coming to this.
Amends on the other hand is an absolute fucking headache.. Haha. It's not at all. Both bands were created with friends and the understanding that all we're doing is making music and spending time with our friends. If anyone ends up giving a shit and wants to buy our records or shirts it's a plus, but ultimately both Amends and Burn In Hell are 'good day' bands.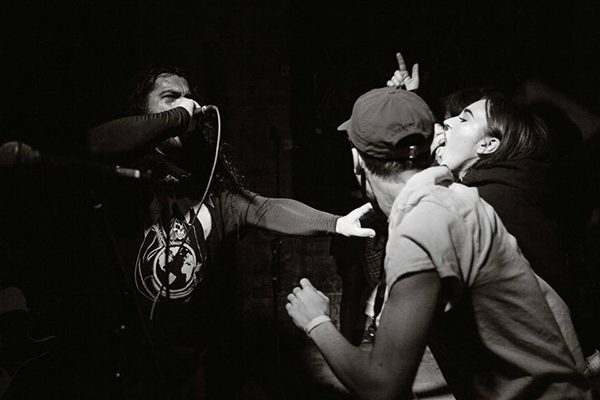 You've got a new LP, "Disavowal of the Creator God" due out soon, where was it recorded and how did it compare to your last trip to the studio?
The last time we recorded we did it completely DIY. Tom our guitarist produces all our music and in 2018 when we recorded our last EP, Tom wasn't working out of a studio. We ended up recording everything in our houses/apartments and we would have to wait till the neighbour's left for work each day.
For this record we were able to record at the Def Wolf Studios which Tom now works full time at. It was a treat being able to get in the "studio headspace" but ultimately it was pretty similar to last time. Recording is always fun. Just get to hang out and tell each other that we're not good enough to be in the band.
Reason and Rage will be releasing your new LP, how did the partnership come about?
We were super fortunate to be able to play our second show opening for Outright on their 'Holler' release tour. I'd previously met Yells through my old band and tour managing so when I saw they were coming to town I figured I'd reach out and see if they'd let us jump on. It was a super weird show but really incredible to be able to meet them properly and engage with them on a level I hadn't previously. Yells was super encouraging and supportive from the minute she knew who we were, sharing our posts and ordering shirts from us and shit.
We had plans to try and put out a 7inch in 2019 and with that we decided it might be a good idea to reach out to some labels. We started chatting about the kind of people we want to associate with and every time it would always come back to who has the most political and ethical charge and passion we align with, Yells and Brett's label Reason and Rage.
We ended up struggling a lot with the musical direction we wanted to take so the record took a lot longer than we expected but as soon as we were ready, Reason and Rage so graciously agreed to putting out 'Disavowal Of The Creator God' and all the bullshit specifics we asked for making it exactly what we wanted.
So far you released a song about racism in that of "Bleach" and the entanglement of church and state with "Cathedral" off the new LP, lyrically what other topics are covered?
We're a very 1 tone kind of band, lots of social justice shit and death to oppressors etc. We've tried to speak more specifically though in addressing the need for the liberation of Women, retaliations to police brutality/misuse of power and then more about the hypocrisy of the modern church and how it'll end up leading to certain death and destruction as it has in the past countless times. Just real casual weekend brunch kind of chat.
Got a favourite song on the release and why would you choose that one exactly?
DeadKKKop is an absolute cooker! I can't wait to start playing that one live. It's fast as shit, one of the heaviest on the record and so, so ignorant. The majority of my heavy music listening these days is dedicated to fastcore/powerviolence, and grind, so doing anything mildly quick, really gets me going.
How can people find out more about the band and keep in touch?
All our socials are super easy, just @burninhellau for everything. Also make sure you check out Reason and Rage Records and follow them for any updates on our shit.
We have some launch shows planned so keep an eye out if you like what we do.
To preorder the new Burn In Hell record, hit up the link below.
https://reasonandrage.bigcartel.com/product/burn-in-hell-disavowal-of-the-creator-god-12-inch