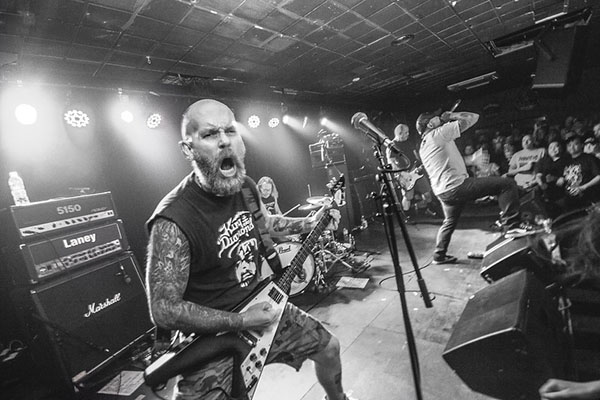 Despite Melbourne copping the longest lockdown due to COVID during 2020, they were still blessed with their annual Mindsnare show, leaving the rest of the country jealous.
Photo by Nicole Goodwin
Welcome to our annual end of year wrap up, as we celebrate and dissect 2020, the year that was in terms of music releases. While live music and touring ground to a halt, there was no shortage of quality releases being pumped out to keep everyone entertained.
Below is what a list of what impressed in 2020. You may or may not agree with the selections, but by all means do yourself a favour and click play on anything you've never heard before. Variety is the spice of life and you might just find your new favourite band while you're at it...
Top 12 Australian Hardcore Releases
1. No Brainer - Soul Step (Best Wishes)
2. Rage – I Will Not Give In (Resist) 3. Crush The Demoniac – Fugitive Soundz (LLR) 4. Shackles – Hatred's Reservoir (Resist) 5. Nosedive – Nice Way To Die (Best Wishes) 6. Post Truth – Response To Trauma (Resist) 7. Speed – 2020 Flex (Last Ride) 8. Geld – Beyond the Floor (Iron Lung) 9. Primitive Blast – Animalistic (Last Ride) 10. Crucial Times – Confuse Me (Cold Snap) 11. Entrapment – S/T EP (Team Glasses) 12. No Peace – S/T EP (Set The Fire)
Top 10 Australian Non-Hardcore Releases
1. Violent Soho – Everything is A-OK (I Oh You)
2. Swallow The Rat – Leaving Room (Shifting Sounds) Technically NZ but whatevs... 3. Idle Threat - 7 Year Plan (Team Glasses) 4. Ultra Material – EP3 (Self Released) 5. Private Function – Whose Line Is It Anyway? (Damaged) 6. Bitter Lakes – S/T EP (Team Glasses) 7. Hellebores - Hellemenopee (Stamp Out Disco) 8. Apparitions – Capacity (Team Glasses) 9. Pinwheel – S/T EP (Self Released) 10. The Hard Targets – Hard To Kill (Contra)
Top 3 Australian Demos
1. Psalm – Demo 2020 (Last Ride)
2. Mumbler – Demo (Self Released) 3. Persecutor – Demonstration 2020 (Ugly and Proud)
Top 15 International Hardcore Albums
1. Change – Closer Still (React / LLR)
2. Tuning – Defining the Purpose (Indecision) 3. Life Force – Hope and Defiance (New Age) 4. Mil-Spec "World House" (Lockin' Out) 5. Truth Cult – Off Fire (Pop Wig) 6. Ecostrike – A Truth We Still Believe (Triple B) 7. Chubby and the Gang – Speed Kills (Partisan) 8. Be Well – The Weight and the Cost (Equal Vision) 9. Struck Nerve – Rattle The Cage (Youngblood) 10. Gulch – Impenetrable Cerebral Fortress (Closed Casket Activities) 11. Seized Up – Brace Yourself (Pirates Press) 12. End – Splinters From An Ever-Changing Face (Closed Casket Activities) 13. Living In Fear – The Coward's Path Ends Here (Best Wishes) 14. Rat Cage – Screams From the Cage (La Vida Es Un Mus Discos) 15. Don't Sleep – Turn The Tide (Mission Two)
Top 12 International Hardcore EPs
1. Mindforce – Swingin Swords, Choppin Lords (Triple B)
2. Militarie Gun - My Life Is Over (Convulse)
3. Choice To Make – Vicious Existence (Flatspot) 4. Take Offense – Cause and Effect (Pure Noise) 5. Mutually Assured Destruction – Fever Dream (Edgewood) 6. Field Day – Opposite Land (Unity Worldwide) 7. World Be Free – One Time For Unity (Revelation) 8. Chain Reaction – Figurehead (LLR) 9. Life's Question - A Tale of Sudden Love & Unforgettable Heartbreak (Triple B) 10. Vision Quest – Bear Witness (Crew Cut) 11. End It – One Way Track (Flatspot) 12. Mindz Eye – True Blue
Top 3 International Demos
1. Bent Blue – Between Your and You're (War)
2. Last Straw (Youngblood) 3. World Demise – Demo 2020 (Flatspot)
Top 10 International Non-Hardcore Releases
1. Somerset Thrower – Paint My Memory (Triple B)
2. Moving Targets – Humbucker (Boss Tuneage) 3. Entropy – Liminal (Crazy Sane) 4. Coriky – S/T (Dischord) 5. War On Women – Wonderful Hell (Bridge 9) 6. Nothing – The Great Dismal (Relapse) 7. Bob Mould – Blue Hearts (Merge) 8. Spice – Spice (Dais) 9. Western Addiction – Frail Bray (Fat Wreck) 10. Descendents – Suffrage (Epitaph)
Favourite Reads of 2020
1. Do What You Want – The Story of Bad Religion
2. Healer – The Rise, Fall and Return of Tumbleweed
3. The Blood and the Sweat – The Story of Sick Of It All's Koller Brothers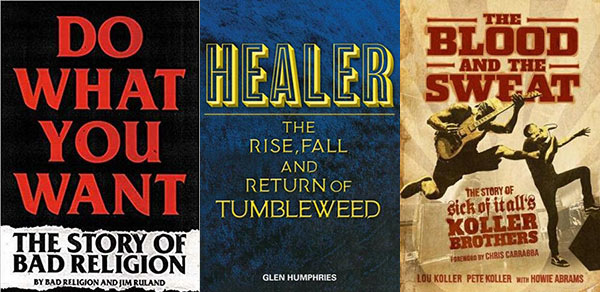 Favourite Watch of 2020
Bane – "Holding These Moments" Documentary