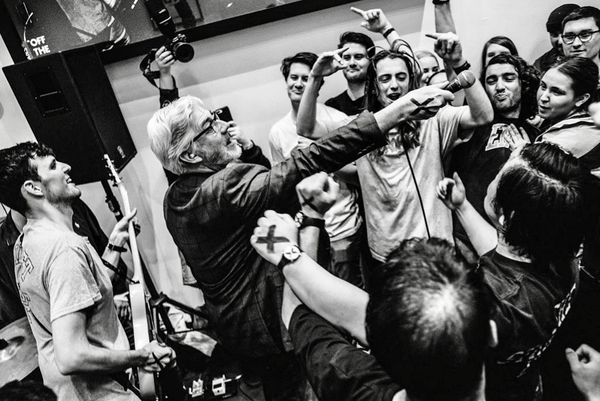 Is that Shaun Micallef fronting Sydney band Pure Instinct? Why yes it is. Full story over here.
Photo by Danielle Annetts: https://www.instagram.com/bitterxclarityphoto/
Welcome to our annual end of year wrap up, as we celebrate and dissect 2019, the year that was in terms of music releases. Below is what a list of what impressed in 2019. You may or may not agree with the selections or even the comparisons, but by all means do yourself a favour and click play on anything you've never heard before. Variety is the spice of life and you might just find your new favourite band while you're at it...
*** No this post doesn't mean Rest Assured is back unfortunately. Although currently on a break between studying, I had some free time to pull this together. If time permits I may post a few more articles over Summer, but the daily updates are well and truly a thing of the past. - Ryan Willmott ****
Top 12 Australian Releases
WORLD VIEW "What A Trip" (Last Ride Records)
Adelaide's answer to Title Fight offer up a new six song EP of their catchy brand of melodic fuzzed out tunes.
CHINESE BURNS UNIT "Cash In The Dull Days" (Bluish Greenish Records)
Think Lawnsmell meets Frenzal. May even feature members from both bands.
PORCELAIN "Selftitled" (Life Lair Regret)
Very promising three song debut release out of Melbourne that draws upon the classic sound of Turning Point.
PURE INSTINCT "Self Titled" (Life Lair Regret)
Formerly known as Sydney band, Fearless. Melodic youth crew for days mate!
PRIVATE FUNCTION "St. Anger" (Disdain Records)
Debut full length of LA styled punk out of Melbourne that even features a Night Bird. Also includes a Midnight Oil cover.
RAGE "Selftitled" (Resist Records)
Debut raging full length from this Central Coast traditional hardcore band that follows up their "Feel The Burn" 7 inch.
HARD ONS "So I Could Have Them Destroyed" (Farmer & The Owl)
Keish is back on vocals for a full album while Murray (Conation) still handles drum duties. Keish's addition also signals a return to the more melodic styled songs.
DICKIE BIRDS "Selftitled"(Beat On The Brat Records)
Real cool street punk styled band out of Canberra. Think H Block 101 meets Night Birds.
AMENDS "So Far From Home" (Resist Records)
Really well written and catchy folk country punk ala Lucero or Gaslight Anthem.
CANINE "In Dog Years You're Dead" (Blackwire Records)
D Beat hardcore / thrash out of Sydney ala From Ashes Rise or Tragedy.
BEERWOLF "Year Of The Dog" (Resist Records)
Melodic punk rock ala Lifetime's classic "Jersey's Best Dancers" out of Sydney.
CRUSH THE DEMONIAC "Celestial World Order" (Life Lair Regret)
Melbourne's answer to the Cro Mags, although maybe more Alpha Omega than Age Of Quarrel on this recording.
---
Top 10 International Hardcore LPs
ABUSE OF POWER "What On Earth Can We Do" (Triple B Records)
Incredible debut LP from this intelligent, melodic hardcore band. Think Chain of Strength meets Outspoken.
WILD SIDE "Who The Hell Is Wild Side" (Triple B Records)
Awesome LP out of Canada that had me asking the LP title question indeed. Think a modern day version of Warzone.
TAKE OFFENSE "Keep An Eye Out" (Pure Noise)
Long overdue new LP from Take Offense on a new label is worth the wait. Think Suicidal Tendencies meets Terror.
TUNING "Hanging Thread" (Unity World Wide)
This picks up where Modern Problems' singer Jeremy Smith's previous band left off. Awesome melodic hardcore ala Verbal Assault, Endpoint, Dag Nasty.
FRAME OF MIND "Irieshun" (Quality Control)
Debut full length out of the UK for this band who remind me a lot of Burn.
RESTRAINING ORDER "This World Is Too Much" (Triple B Records)
Debut LP for this Boston Hardcore influenced band. Think Slapshot meets SSD.
ENFORCED "At The Walls" (WAR Records)
Another debut LP that really delivers in 2019. Think Power Trip meets Sepultura.
TIME AND PRESSURE "The Gateway Sound" (Safe Inside Records)
impressive debut full length of sped up melodic hardcore. Think In My Eyes meets Comeback Kid.
DEFEATER "Self Titled" (Epitaph)
Can they perfect their song writing formula even more? Yes by adding Adam Crowe of Miles Away fame.
RINGWORM "Death Becomes My Voice" (Relapse)
New drummer brings a new intensity to the classic Ringworm sound.
---
TOP 10 International Punkish / Less Hardcore LPs
STAGES IN FAITH "Delside" (Quality Control)
Last year I wished this band would survive long enough to release a full length. This year my wish came true! Awesome melodic rocking tunes ala early Farside out of the UK.
GOOD RIDDANCE "Thoughts and Prayers" (Fat Wreck)
Consistently delivering thoughtful and well written melodic tunes for an entenity now.
MOVING TARGETS "Wires" (Boss Tuneage)
Really catchy comeback album from Boston punk faves. Think Husker Du meets Naked Raygun.
CEREMONY "In The Spirit World Now" (Relapse)
I much prefer Joy Division / New Order influenced Ceremony than angry Boston Hardcore Ceremony. Fight me!
BOB MOULD "Sunshine Rock" (Merge)
Hey look it's the guy from Husker Du writing those catchy songs again.
MEAN JEANS "Gigantic Sike" (Fat Wreck)
Ramones inspired punk ala Teenage BottleRocket or Screeching Weasel.
SUPERCHUNK "Acoustic Foolish" (Merge)
I'm generally not a big fan of acoustic albums, especially re-recordings of classic albums from a band's back catalog but Superchunk can do no wrong.
BAD RELIGION "Age Of Unreason" (Epitaph)
Does what is says on the tin. Ingredients haven't changed. Recipe is solid.
SUPERCRUSH "Never Let You Drift Away" (Debt Offensive Records)
Think Turnover meets Teengae Fanclub.
GLITTERER "Looking Through The Shades" (Anti Records)
Ned Russian from Title Fight goes electro /emo pop.
---
Top 15 EPs (International Punk / Hardcore)
FIDDLEHEAD "Get My Head Right" (Run For Cover)
Two new songs to tie you over until a follow up to the awesome "Springtime and Blind" LP. Features Pat Flynn of Have Heart / Sweet Jesus on vocals.
SUNSTROKE "Bloom At Night" (New Morality Zine)
Think As Friends Rust vocals over a Dag Nasty styled band.
HAMMERED HULLS "Selftitled" (Dischord Records)
Real cool melodic DC styled punk rock featuring Alex Mackaye (Faith / Ignition) on vocals.
VANTAGE POINT "An Answer You Won't Find" (Triple B Records)
Raging youth crew melodic hardcore ala Our Turn, Insist or Atari.
EKULU "Half Alive" (Triple B Records)
Two new songs of Cro Mags meets Leeway inspired NYHC.
BERTHOLD CITY "What Time Takes" (WAR Records)
Second EP of melodic youth crew styled hardcore featuring Andrew of Strife on vocals instead of guitar.
CRO-MAGS "Don't Give In" & "From The Grave"(Victory Records)
Two new EPs from the Harley Flanagan fronted version of the Cro Mags on Victory Records. What a weird world.
LIFE FORCE "The Impact" (Elimination Records)
Raging and fast melodic youth crew hardcore, classic sounding and really impressive. Features Matt Fletcher of Shai Hulud.
DOMINANT FORCE "Cosmic Denial" (Triple B Records)
Awesome EP of Leeway meets Ringworm metallic hardcore.
BYSTANDER "Where Did We Go Wrong" (Safe Inside Records)
Classic melodic youth crew old school styled band featuring Greg Bennick of Trial on vocals.
ONE STEP CLOSER "From Me To You" (Triple B Records)
Excellent six song EP release. Kind of like Have Heart crossed with Turning Point.
HOT WATER MUSIC "Shake Up The Shadows" (Epitaph)
Really catchy and well written EP with a lot less filler than their past couple of releases.
RULE THEM ALL "Dreams About..." (Flatspot Records)
Real cool and different melodic EP that is a mix of Swiz, Soulside and Capital.
MUTUALLY ASSURED DESTRUCTION "Selftitled" (Vinyl Conflict)
On this initial offering, M.A.D. offer up some Danzig meets Life Of Agony styled tunes.
BE WELL "Selftitled" (Equal Vision)
Brian from Battery returns on vocals with this melodic band featuring members of Bane and Fairweather.