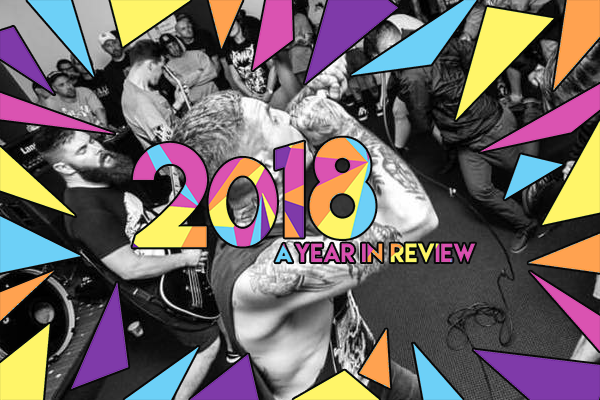 Welcome to our annual end of year wrap up, as we celebrate 2018, the year that was. Unfortunately, time constraints meant a more stream lined approach to our list collating than in years gone by.
Below is what we thought we're the 30 most impressive releases of 2018. You may or may not agree with our selections and comparisons, but by all means do yourself a favour and click play on anything you've never heard before. Variety is the spice of life and you might just find your new favourite band while you're at it...
Photo above by Nicole Goodwin.
30. Blind Justice - No Matter The Cost LP (Flatspot Records)
Second album of fast paced, melodic, uplifting, traditional hardcore from Blind Justice. Kind of like Shutdown meets Down To Nothing.
29. Morning Again - Survival Instinct 7" (Revelation Records)
Surprisingly good four song comeback EP for metalcore pioneers Morning Again. Think All Out War meets Earth Crisis.
28. Masochist - "Blinded" 7" (Life Lair Regret)
New six track EP for this Northern NSW band who offer up socially concious hardcore punk. Imagine Gouge Away meets Punch.
27. Tempest - "Selftitled" 7" (Resist Records)
Debut 5 track release for this global band who all met through volunteering for Sea Shepherd. A bit like Indecision meets Trial.
26. Bloom Parade - Sunblushed EP (Last Ride Records)
Debut four song EP out of Brisbane for this melodic, dream pop band complete with angelic harmonies and backing vocals. Think Toy Boats meet The Cure.
25. Bystander - S/T 7" (Safe Inside Records)
New band fronted by Greg Bennick of Trial, playing insightful, fast, melodic, old school hardcore and playing it well. Think Hands Tied meets Trial.
24. Judas Wolf - Snow Turns Red 7" (Reason and Rage)
Debut 4 song 7inch release out of Melbourne of insightful, melodic, heavy hitting hardcore. Think Walls Of Jericho meets Tragedy.
23. Nothing - Dance On The Blacktop LP (Relapse Records)
Third LP for shoegaze heroes Nothing, that is perhaps their least digestable yet, as in it takes a few bites. Think Smashing Pumpkins meets Swervedriver.
22. Fake News - Ewwwww! EP (Set The Fire)
Debut seven song EP for this Gold Coast punk rock group who channel the golden era of EpiFat bands. Think Stolen Youth meets 88 Fingers Louie.
21. Take Offense - Tensions On High 7" (Flatspot Records)
Long awaited and well overdue serving of five new songs from this Californian crossover outfit. Think Suicidal Tendencies meets Terror.
20. Night Birds - Roll Credits LP (Fat Wreck Chords)
Jersey's finest return with eight new tracks of furious and energetic surf punk. Think Adolescents meets OFF!
19. Culture Abuse - Bay Dream LP (Epitaph)
Second full length on a much bigger label for this garage pop band who have increased the dosage of melody and channel the sounds of Joyce Manor and Tigers Jaw.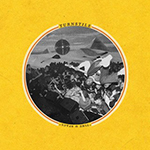 18. Turnstile - Time & Space LP (RoadRunner)
Second full length that ups the funky fresh vibe to their modern take on hardcore. Too cool for bandcamp, listen here. Think Rage Against The Machine meets Madball.
17. Berthold City - Moment Of Truth 7" (War Records)
Off the back of a cracking demo comes the debut EP for Berthold City. Traditional youth crew styled hardcore fronted by Andrew Kline, guitarist of Strife. Think Mouthpiece meets Insted.
16. Face to Face - Hold Fast LP (Fat Wreck Chords)
I had zero expectations for this LP. The last thing the world needs is another boring acoustic record. Wrong, this is great, as it's less of a Chuck Ragan approach to Face to Face songs, and more of a Nirvana MTV Unplugged approach.
15. Stages In Faith - Same Craic 7" (Short Fuse Records)
Easily my fave band out of the UK return with a new 2 song 7 inch put out on local label Shortfuse. If this band ever records an LP I may piss my pants. Think early Farside meets DC Revolution Summer.
14. Iron Chic - Toys That Kill Split LP (Recess Records)
These are leftover Iron Chic songs from their LP of last year, but by no means are they second rate. Think Hot Water Music meets Leatherface.
13. Engage - Sincerity 7" (Life Lair Regret)
Very impressive debut 5 song 7inch out of Perth of melodic youthcrew hardcore. Picture Floorpunch meets Fury.
12. Fireburn - Shine 7" (Closed Casket Activities)
What looks to perhaps be the final release for Fireburn with the passing of Todd Youth and the departure of Todd Jones. Think Bad Brains reincarnated.
11. Terra Pines - Selftitled LP (Self Released)
Awesome shoegaze / sludge pop debut full length out of Brisbane for this three piece featuring Kelly from Deafcult. Imagine mixing Nothing with Slowdive.
10. Superchunk - What A Time To Be Alive LP (Merge Records)
I love that Superchunk decided to reunite and keep making music, as they are definitely ageing like a fine wine. In their own quirky, poppy way this is a brilliant protest album. Think The Replacements meet Ted Leo.
9. Red Hare - Little Acts Of Destruction LP (Dischord)
The modern day Swiz made of 3 of the 4 former members drop their second full length and continue their upward trajectory. Think Swiz meets Dag Nasty.
8. Line Of Sight - Dissent 7" (Youngblood)
Raging debut 5 track 7 inch of youth crew melodic hardcore. Think Orange County Hardcore ala Uniform Choice.
7. Ultra Material - Cosmic Anti Stuff LP (Black Wire Records)
Has Brisbane become the shoe gaze capital of Australia? This is an amazing multilayered combination of atmospheric dream pop and driving post punk, with tips of the hat to the pioneering shoe gaze bands. Think synthesisers over fuzzed out bass, kinda like Ride meets Infinite Void.
6. Outright - Holler 7" (Reason And Rage)
Four new tracks make up this follow up EP for Melbourne's Outright delivered four years after their LP. Mixing anger and rage, with melody and power, this is by far the best output from the band yet. Think a much heavier version of War On Women.
5. Mindforce - Excalibur LP (Triple B Records)
Great throwback to the bouncey sound of late 90's era NYHC. Think Crown Of Thornz meets Burn.
4. Homesick - Terra Nullius LP (Resist Records)
Second full length from Sydney's Homesick follows up where their last release left off. A great socio-political appraisal of modern day Australia, delivered with ironic fury. Think Have Heart meets Verse.
3. Remission - Enemy of Silence LP (React Records)
Finally the debut LP for this very under rated and awesome melodic hardcore band out of Chile. The track "Voices" is easily my fave song of the year. Think Verbal Assault meets Dag Nasty.
2. Infinite Void - Endless Waves LP (Black Wire Records)
Shortly after recording this LP, Melbourne's Infinite Void decided to break up without releasing this record. Thanks to Black Wire Records, this LP has finally seen the light of day and is nothing short of amazing. The release includes their contributions to two previous splits with Moth and Arctic Flowers. "Face In The Window" is such a great track. I really struggle to draw comparisons to Infinite Void, I suggest you just listen to them.
1. Fiddlehead - Springtime And Blind LP (Run For Cover/Lockin Out)
I really don't think I've listened to an album that's topped our polls, as much as I've played this one since it was released. Fiddlehead features Pat Flynn on vocals who has been in some really interesting bands post the break up of Have Heart. Much like his Swiz styled band Sweet Jesus, Fiddlehead is heavily influenced by by the DC Revolution Summer, particularly bands like Embrace, Rites Of Spring and Gray Matter mixed with the more indie rock leanings of Superchunk, Archers Of Loaf and Samiam. However, what really sets this album apart is (1) the raw emotion to the lyrics, as Pat Flynn comes to terms with the passing of his father and it's far reaching effects along with and (2) the amazingly well structured delivery, coupled with the multiple-part choruses and harmonies. Hit play on the track above to see what I mean. Apparently the possibility of a tour has been investigated by an Australian promoter, but as the band shares a member with Basement, they have to work around their schedule. There has perhaps never been a better time to hope Basement break up again.
Right about here is where we usually have a bunch of people contribute their opinions on the year past and their predictions for the year ahead. Sadly this year it didn't happen, but we would like to mention that for the past 7 years Joel Attenborough's biggest dissapointment has been that Last Nerve haven't reunited. Last night Joel's wish came true, so we'd like to send out a special congratulations to Joel.