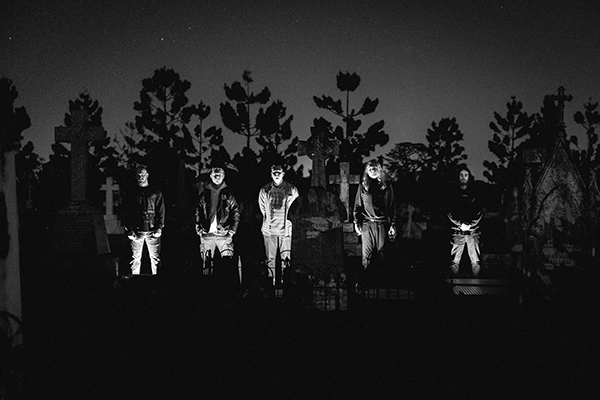 Newcastle's ILL NATURED are proudly flying the flag for one of the country's long admired hardcore scenes. Having just released a banger of a debut LP in "Twisted Visions", and fresh off the plane from a tour of South East Asia, we figured it was beyond time we had a chat to the band. We caught up with bassplayer and Last Ride Records head honcho, Tom Maddocks for a chat...
Let's start with a brief rundown of how the band came to be and how the lineup has been shaped over the band's existence?
I joined the band once the demo was probably about 75% written. The rest of them had been jamming for a bit and then got me involved towards the end of the writing process for that. I think the band was formed as an outlet for Posi as he hadn't been in a band in a few years. He started writing some songs with our guitarist Charlie and first drummer Hollins, and they had Sal lined up to sing. We recorded the demo and played our first couple of shows with that line up, before Hollins ended up leaving the band and we got Ricky to replace him. We've had that line up ever since and it is definitely solid.
When the band started, was there a particular style or sound you were aiming for?
I don't think so to be honest. That's one of the things that's been cool with this band, we've never tried to sound like anyone or anything in particular, we've just written songs and this is how they've turned out.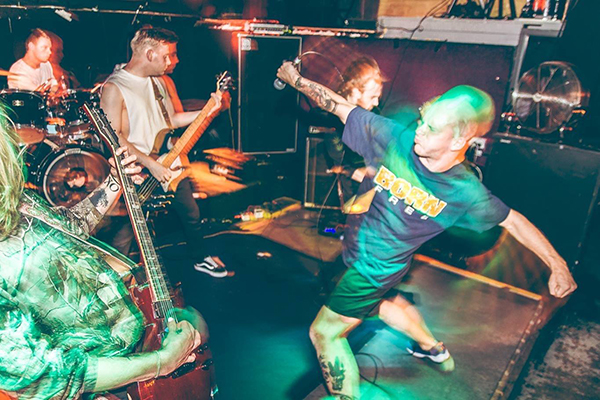 In your own words how would you describe the sound of Ill Natured?
Heavy metallic hardcore I guess. There's a bunch of different sounds that we incorporate into what we do, but I'd say that's the easiest way to describe it.
Got a favourite Newcastle band that got you into hardcore?
The main two for me when I first started getting involved with going to shows was The Dead Walk and Dropsaw. They were the two most active bands at the time and the ones I was seeing the most. From there I went backwards and discovered some of the older bands like Found My Direction, Life.Love.Regret, Arms Reach, Pitfall etc. Newcastle has always had a great collection of bands and we're hoping we can cement our place in that and inspire some younger bands to start and keep the cycle repeating.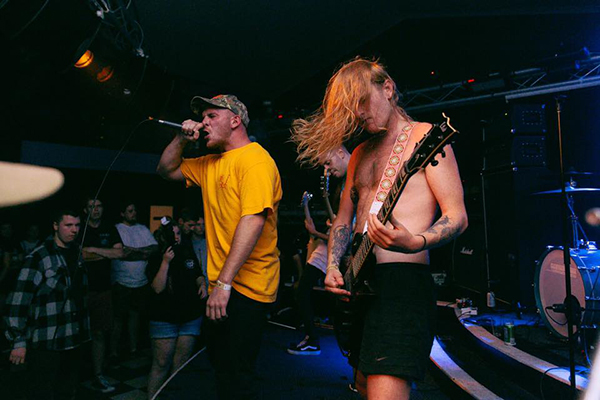 How is the hardcore scene in Newcastle these days?
Pretty dead to be honest with you. There aren't too many shows or new bands starting. When there's a good show in Newcastle, it's really good, but the periods in between those have become fewer and far between. I'd love to be proven wrong this year though and have a bunch of new bands start up and other people booking some shows and things start to become more active.
You've just released your debut full length, "Twisted Visions", through your label Last Ride Records, how did the record come together and where was it tracked?
We started writing the record in mid 2015, not long after the 7" was released. We've been playing some of these songs live since September 2015, so it's been a pretty long process. The record was tracked between September and December 2016 with Elliott Gallart at Chameleon Sound in Sydney. Elliott mixed the record as well, and then we sent it to Arthur Rizk in Philadelphia for the master.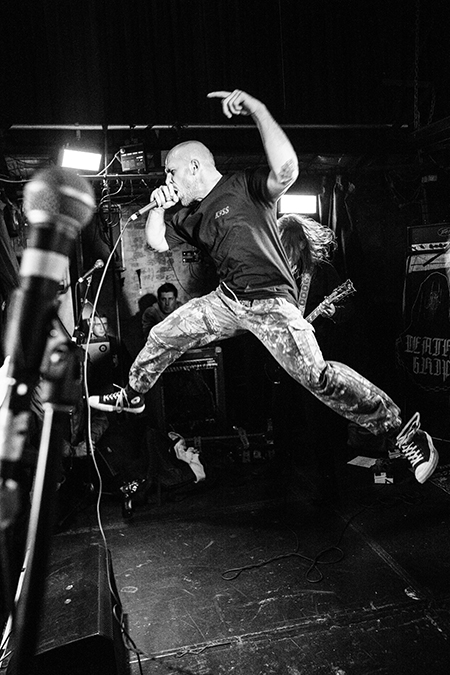 Any lessons learned from recording the "Depths of Despair" 7inch that shaped this recording session?
The tracking of the 7" wasn't the most productive recording sessions and took a lot longer than it should have, so we tried to be a lot more organised this time around to make the most of each day there, considering we had to travel to and from Newcastle for it. That went out the window though and a lot of things went wrong that delayed the tracking, but it got done in the end and that's the main thing.
Got a fave song on the new record? Why that one in particular?
At the moment I'll say track two, "Seal Your Fate". That one is fun to play and I think it'll be a cool one to play live once people know it. This answer changes quite often though, I'm proud of the entire record.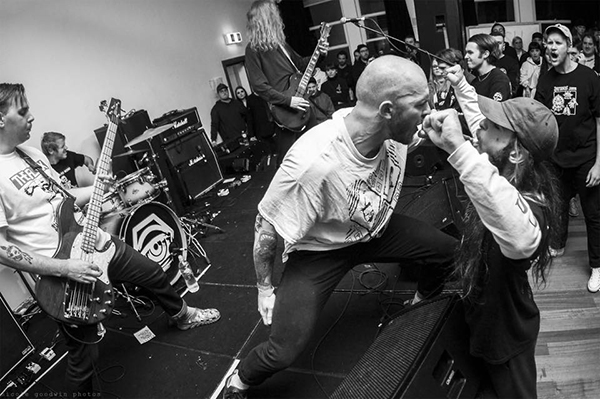 Grim Reality Records in Europe is also releasing your LP. How did the partnership come about?
Phillippe from Grim Reality had bought some merch from us in the past and the Bigcartel way overcharged him on postage, so I sent him a bunch of extra stuff along with what he ordered to try and make up for that, and he ended up getting in contact with me after that. A year or two later, just after we released that teaser tape, he messaged me again saying that him and a few of his friends in Europe were starting a label and asked if they could be a part of the release. We ended up sorting out an exclusive vinyl colour for them and it's been great. Seems that having those guys over there pushing the record has done a good job of building the band up there. We'd love to try and get over there later this year or at some stage next year.
I'm hoping the label is heavily influenced and named after the famous Broady band?
Haha I'm not sure about that. I'll have to send them over some stuff and find out.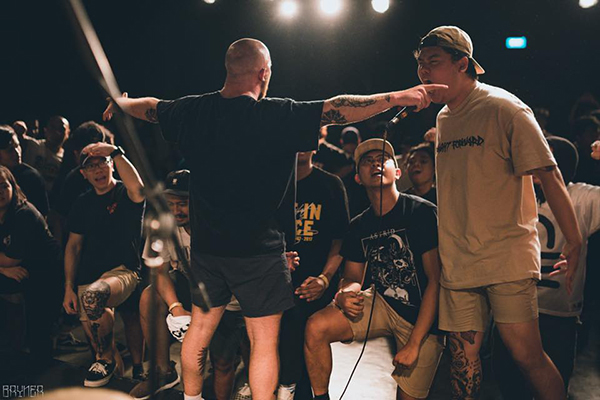 You guys just returned from your first South East Asia tour. How was the experience and how did the tour all come together?
It was wild. Everyone over there goes crazy for bands and has such a good time, and is so appreciative of bands since it's not all that regular for them to get an international band come over. It was a nice change to how things are here at the moment. The tour came together after we had Nick at ACPHC hit us up to play Dangerous Fest in Singapore. That got the ball rolling and he booked us a whole tour after that show. The tour nearly didn't happen a few times on our end, but I'm definitely glad it did.
How was the response to the band, did many people know your music?
The response was great at every show. Some shows were bigger than others, but every show still had people there who were into us and came to watch us play, and we can't ask for much more than that. It was mind blowing to me that we had any people at all in places like Bangkok and Manila that were aware of us, so we were very grateful the entire time.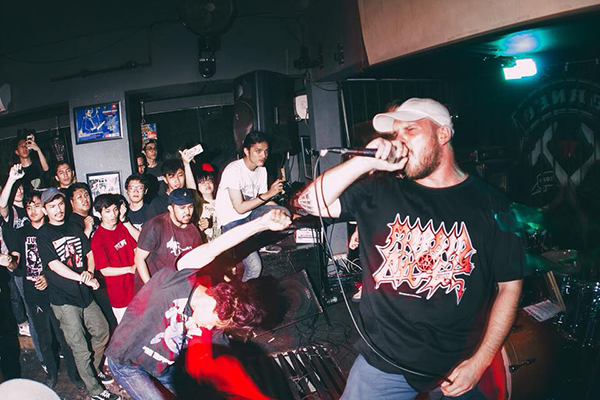 How were the different scenes in each country and how did they compare to Australia, got a fave show from the tour?
The scenes were all pretty similar in the sense that all the kids over there just go wild and have a great time, which isn't always the case here. Bangkok had the wildest mosh style for sure. Favourite show was probably Singapore because that was the first show we played and it set the standard for the rest of the tour, but every show was great.
Any bands in particular make an impression on you?
Triangle in Malaysia were awesome. Hollow Threat, State of Pain and Bruised Willies in Singapore. Clean Slate in Manila. I missed their set but all the boys said that Stomp Brigade in Jakarta were great too. Unfortunately I didn't get to watch every band we played with due to other things going on, but I can honestly say we didn't play with a bad band over there. Even the bands musically that weren't my taste were still tight and fun to watch live.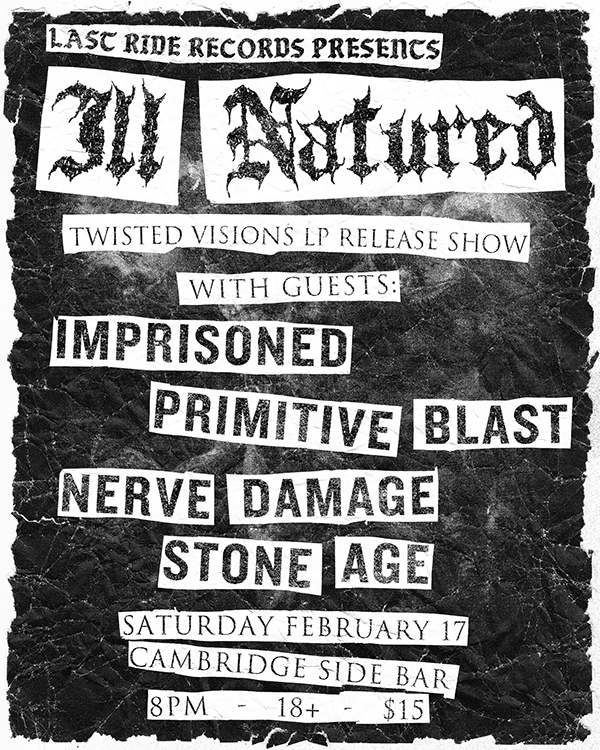 What's in store to launch the record now you're back on home turf?
We've got our Newcastle release show on Saturday February 17 at the Cambridge Side Bar, with Imprisoned, Primitive Blast, Nerve Damage and Stone Age. Other than that, we're booking some shows at the moment for April. As for the rest of the year, we'll just see what comes our way.
Are the Knights going to hand over the spoon to someone else this year? Any expectations and predictions for the upcoming NRL season?
Absolutely. As I said in my predictions for 2018 in the End of Year Wrap Up last month, they will make the top 8 this year. Can't wait for the season to start again. NSW will win State of Origin this year as well.
If asked, would you play the halftime show at McDonald Jones Stadium as a permanent residency?
Definitely, I'd imagine we'd get paid more for that than any other show we play, so I can't see how that would be a bad thing. We'd play to about the same amount of interested people as well. We've got a few tunes that would definitely fire the boys up.
How can people keep up with what's happening with the band?
I guess just follow the Instagram and Twitter accounts. Facebook as well if you want, but that one likes to pick and choose when people actually see the posts. Their usual method is if I post some garbage: show it to everyone. If I post something important I want people to actually see: show it to 100 people. Follow all the Last Ride accounts too because why not.
Any final words or shout outs?
Thank you so much for sending over the questions and the support of the band over the years. Rest Assured is probably the only site in Australia that constantly supports hardcore bands of all size, and is an important piece in documenting what is going on. It's much appreciated.
Come and check out our release show if you're in Newcastle or the surrounding areas. Other than that we'll have more tour dates in April that I think people will be quite excited about.
Listen to Born Free, The Chain, Paradise Club, Flowermouth, Endless Heights, Apollo Zen, Nerve Damage, World View, Facile, The Hard Word, Engage, The Others, Primitive Blast, Oily Boys, Controlled, Broken and any of the other great Australian bands going at the moment. The bands here are as good as everywhere else in the world, just underappreciated at times. Start a band, book a show, make things happen for yourself.
Stream the new record "Twisted Visions" below, grab a copy here and check out the launch show at the Cambridge Hotel on Saturday Feb 17.