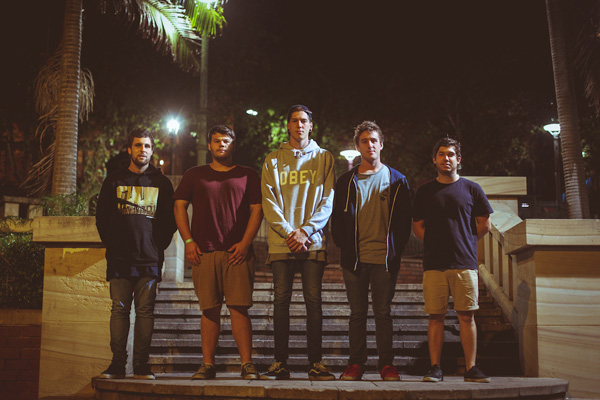 After just announcing their upcoming debut full-length, Mend, Move On, which will be released in Australia on October 31st, 2014 via Hopeless Records/Unified, the Newcastle lads in Trophy Eyes have announced they will be touring the nation with Endless Heights, Landscapes all the way from the UK and Columbus. We caught up with frontman John Floreani to find out more about the band...
To start off, can you give us a brief history of Trophy Eyes?
Trophy Eyes is a 5 piece punk band from Newcastle, Australia. The rest of the band already knew each other from school and previous local bands that they played in. I moved to Newcastle from Sydney in search of joining a band and writing music with someone, and with luck bumped in to Cal the drummer. I met them all at a train station in mid-2012. We practiced at Cal's house with a couple of New Found Glory covers and shortly after that we began writing.
In your own words how would you describe the sound of Trophy Eyes to someone?
I think Trophy Eyes is just a mash up of all the stuff you grew up listening to. But in the end, I'd just say we're a punk band. Fast, aggressive, and emotional punk.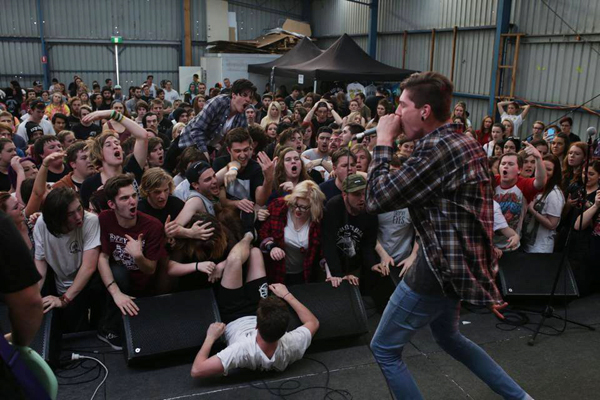 What sort of bands would you attribute the influence of Trophy Eye's sound to?
Blink 182 and Worthwhile are our biggest influences, but we draw musical influence from anything and everything. I think that's what makes our sound so different. We just play what we want to play.
Who is a band you have previously been compared to, but personally you think you sound nothing like them at all?
The Story So Far. We get that a lot because I think it's the closest thing people who have no idea can match us to. I don't think we sound anything like them, but I guess that's the way things are now. Some people are much more concerned trying to label a band and to figure out who they sound like then actually listening to the music.
Hopeless Records, home to bands like Cruel Hand, New Found Glory and Bayside is releasing your new album "Mend, Move On". How does a band from Newcastle end up on a label like Hopeless Records?
Well a lot of hard work, dumb luck and great management I guess. We never turned down a show, we practiced three times a week, and I've lost three jobs and a girlfriend to Trophy Eyes. I guess it's all about dedication and what you're willing to do to get to where you want.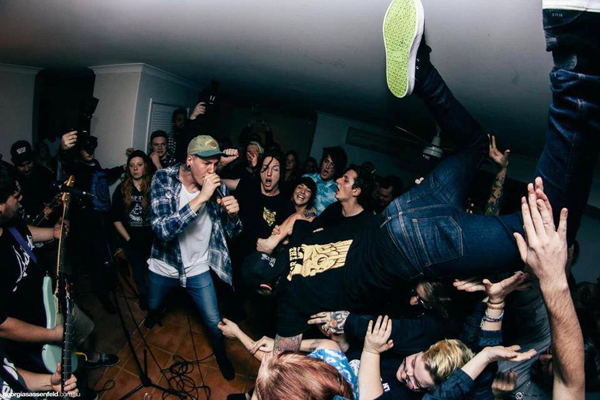 Got a fave track on the new record? Any reason why in particular?
Maybe Convalesce. I think it just means the most to me and is the most relevant in my life at the moment. That changes all the time though, so it'll be different next week.
Trophy Eyes only released their demo in April 2013 and the "Everything Goes Away" EP a year after that. Now you are set to release your debut full length 6 months later. You guys must be pretty productive when it comes to song writing?
We're not really, I prefer a lot of time and relaxed working space when writing 'cause deadlines bum me out. But, I guess at the time it was necessary to start writing again, and we didn't want to do EP's forever. I'm looking forward to writing the next album already.
How was the recording process for the new album? Any lessons learned the hard way?
I smoked a lot of cigarettes. That was pretty taxing on my voice; especially given they were so cheap in Thailand. Next time I think we'll be much better prepared and go in there knowing what we have to do, and I think that will benefit us sound wise. Otherwise, recording at Karma Studios with Shane Edwards was the beast three weeks of my life. The studio was like a resort, and we were treated like kings. I can't wait to go back.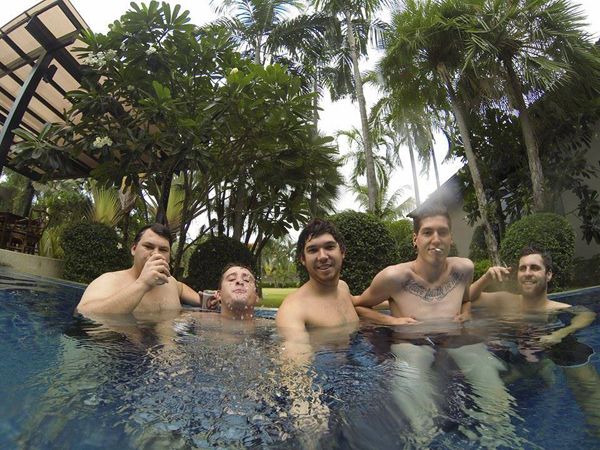 Top 3 bands of all time from Newcastle and you can't answer, Silverchair?
I'm going to have to just choose my three favorites, because I don't really know any bigger bands or anything that came from Newcastle. Maybe Safe Hands, Staunch and Dog Act.
Got a fave Trophy Eyes memory to date?
We were descending an escalator in Malaysia airport. Jeremy the bassist wasn't watching where he was going and ended up jammed between a guide post and the hand rail at the bottom. The hand rail kept moving in to him like escalators do, which had him pinned on his tummy. He couldn't reach the floor with his legs or his hands, so he was just stranded like a turtle. It was hilarious. Poor bugger.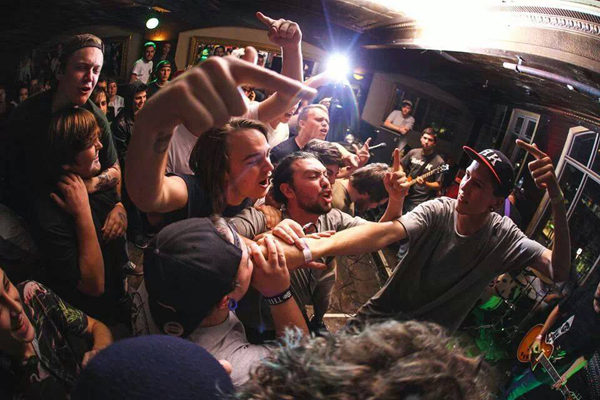 Complete the following sentences...
A year from now Trophy Eyes will
Be begging for change in Vegas and sleeping in our old instrument cases.
Three years from now Trophy Eyes will
Paint their faces and wear spikes to accommodate for their new found love of Norwegian Death Metal. Then they're going to steal Princess Peach and play the main antagonist in the next Mario game. We'll all be 5 different bosses and each have our own special moves that relate directly to our stage performance.
Five years from now Trophy Eyes will
Somehow age speedily to the later years of 40. They'll have beer guts, purple mowhawks, and heaps of piercings and shitty tattoos. We'll play for goon and beer at local pubs and cover Jimmy Barnes.
How can people listen to and keep up with the band?
Follow us on Facebook and keep up to date on our other social medias like twitter and instagram - trophyeyesmusic
Mend, Move On will be released in Australia October 31st, 2014. You can preorder Mend, Move On now at 24Hundred, or digitally on iTunes.
TROPHY EYES 'Mend, Move On' Album Tour

with
Endless Heights
Landscapes (UK)
Columbus
Thursday, 6th November, Last Night, Perth 18+*
Tickets available at the door only.

Friday, 7th November, YMCA HQ, Perth AA*
Tickets on sale Tuesday 23rd September, 9AM

Thursday, 13th November, The Brightside, Brisbane 18+
Tickets on sale Tuesday 23rd September, 9AM

Friday, 14th November, The Lab, Brisbane AA
Tickets on sale Tuesday 23rd September, 9AM

Saturday, 15th November, UnFun Festival, Sydney LIC AA
Tickets on sale now, http://tickets.oztix.com.au/default.aspx?Event=45973

Saturday, 15th November, Wasted Years, Sydney 18+
Tickets available at the door only.

Sunday, 16th November, The Lair, Sydney AA
Tickets on sale Tuesday 23rd September, 9AM

Monday, 17th November, Rad Bar, Wollongong AA
Tickets on sale Tuesday 23rd September, 9AM

Tuesday, 18th November, Hombre Records, Newcastle AA
Tickets on sale Tuesday 23rd September, 9AM

Wednesday, 19th November, Magpies City Club, Canberra AA
Tickets on sale Tuesday 23rd September, 9AM

Thursday, 20th November, Bang!, Melbourne 18+
Tickets available at the door only.

Friday, 21st November, Wrangler Studios, Melbourne AA
Tickets on sale Tuesday 23rd September, 9AM

Saturday, 22nd November, The Yacht Club, Portland AA
Tickets on sale Tuesday 23rd September, 9AM

Sunday, 23rd November, Fowlers Live, Adelaide LIC AA
Tickets on sale Tuesday 23rd September, 9AM

**Trophy Eyes only