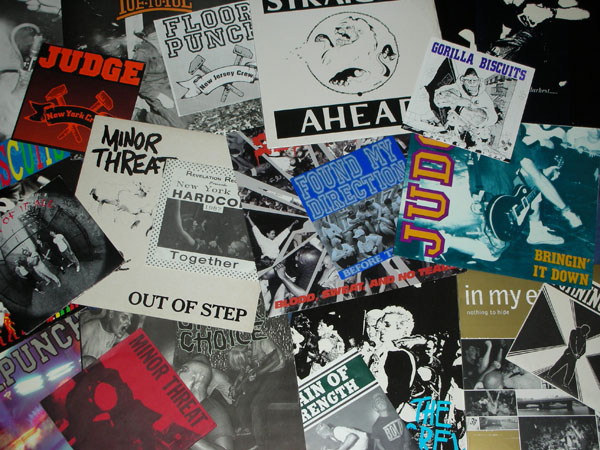 Name: Leigh Valler.

Current Population:
7"s: 284
10"s: 5
12"s: 310
Test Pressings: 2. Betrayed- Addiction 7" and Sinking Ships- Meridian 7".

First Born:
First record I got was a copy of Green Day's 39/Smooth for Christmas when I was a teenager.

Latest addition to the Family:
There's been a few this week. Betrayed- Addiction 7" on black, Backtrack- Darker Half LP, In My Eyes- Nothing to Hide "Rev can suck it" record release LP, which is very cool.

The Pride of the Fleet:
My copy of 7 Seconds "The Crew" on blue vinyl is probably my favorite. The record means a lot to me on a personal level, but also looks very cool. Also Turning Point's "Its Always Darkest Before the Dawn" on clear vinyl is up there too. On the Australian side of things, my copy of Found My Direction's "Before Their Time" on blue /100 and Toe To Toe's "Threats and Facts" on red vinyl.

The Hen's Tooth:
I own a Betrayed- Addiction 7" on green which is 1 of only 4 pressed. I don't even know if Aram has one.

Not Cheap:
My Minor Threat- S/T 7" 1st press cost me $700. It has a quote written in pen on the back of the lyric sheet that reads "Life is every day, death is only once. Henry X", very cool.

White Whale:
There's a few I'm chasing! Minor Threat S/T 7" 2nd and 3rd presses. The Promise- Believer test press. Turning Point- Hi Impact 7" on yellow or red. Green Day 1000 hours 7" on a few different colors, and a few In My Eyes records.

Why Did I Trade That:
My copy of In My Eyes- The Difference Between on red vinyl. There's only around 100 (104 to be anal about it) out there, so getting another will be difficult. But half the fun of collecting records is communicating with people from all around the world in search of an elusive record.

Bargain Buy:
A few years ago I purchased a Revelation Records- Together Comp 7". Jordan Cooper from Revelation Records back in the day would trade records in exchange for G.I Joe's and other action figurines. He would in turn stamp the records sleeve with a Batman or Superman stamp when making a trade. When my record arrived it had a Batman stamp on the sleeve that wasn't described when I bought it, making it very rare. One sold a few weeks ago for 3 times the price I won mine for. I could temporarily retire on that one.

Guilty pleasure or secret shame:
Definitely anything Green Day related between 1990 and 1994. I'm forever on eBay and message boards searching for different colour transitions and bootlegs of old 7"s and copies of their first 3 LP's. I'm an unashamed fan of Green Day.

What's the absolute limit you would ever pay for a record?
I'm afraid of the 4 figure mark when it comes to buying records. I don't think I will ever spend over several hundred on a record. I would have to justify spending that amount of money by getting a career.

Are record collectors all really pretentious arseholes?
There's definitely a few out there ha-ha. Sometimes I have to tell myself off when I'm starting to sound smug or arrogant when I'm talking about records.