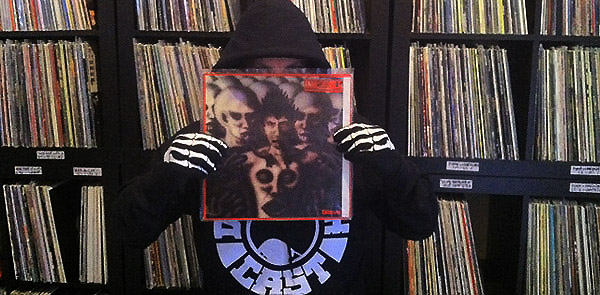 Name: Luke Dolan
Current Population
7"s: 1339
10"s: 29 plus 5 odd sized records (5"s, 6"s, 8"s)
12"s: 2167
Test Pressings:
12. I don't own many test pressings, apart from ones of bands I've been in like all the Arms Reach records and comps, the Elbow Deep / Three Found Dead split LP, the White Male Dumbinance 7"s, and The Dead Walk! 7". I've also got Minute Minder and Harmony As One 7" test presses. I did have a Crossed Out / Man Is The Bastard split test press but I gave that back to Clint Chapman who gave it to me in the first place. Oh yeah and one time a guy from England randomly sent me a Hard-Ons "Yummy" LP test press with a bunch of other records I ordered.
First Born:
This is hard to recall as I actually started collecting tapes first at about age 7 or 8. The first original cassette I bought was Iron Maiden "Number Of The Beast" which I still have. Pretty sure the first actual vinyl I bought was one of the Street Sounds Electro compilation LP's, good breakdancing music in 1984.
Latest addition to the Family:
I just got a bunch of records from this cool little shop in Newcastle called Antique Sounds. I bought greatest hits LP's by the Buzzcocks and Creedence Clearwater Revival plus a bunch of 60's & 70's soul, funk, and rock n roll 45's, which I'm collecting like mad at the moment. Stuff like Aretha Franklin, James Brown, Wilson Pickett, Rolling Stones, Parliament, etc. etc.
The Pride of the Fleet:
X Claim! Records 1-6, Revelation Records 1-10, and a few early 90's UK hip hop records. Oh and a Minor Threat LP I got signed by Ian Mackaye at a Fugazi show in 1993.
The Hen's Tooth:
Oh man, I don't know. I always get hit up to sell my Def Wish Cast "Mad As A Hatter" 12" by random dudes from Europe for like 400 Euros, but there's no way I'd ever sell it. Another, all-time fave.
Most expensive record you've paid for:
I bought a Minor Threat "Filler" 7" with the green cover like 15 years ago for 100 bucks and I always said I wouldn't pay any more than that for a record. However, in the last couple of years I've dropped about $150 on a few records like the "Together" comp 7" (Revelation # 2), a sealed Straight Ahead first press 12", and Hijack "The Original Horns Of Jericho" double LP, which is a rare old school UK hip hop record.
White Whale:
I've always wanted an original Negative Approach 7", but for some reason they always elude me. You see them around but they just keep getting more and more expensive.
Why Did I Trade That:
I'm always a real tight arse when it comes to giving up anything, but I did sell a whole bunch of HC stuff in the early 2000's when I retired from it for 2 months ha-ha. Nothing too great though, just bits and pieces that I'll occasionally try and find in my collection only to remember that I sold it when I can't find it ha-ha.
Bargain Buy:
The best scoop stories are always pre-internet era (showing my age here). I'll never forget the time me and Craig Edge walked into Waterfront Records and they had SSD "The Kids Will Have Their Say" on the wall for 50 bucks. I saw it first and the rest is history.
Guilty pleasure or secret shame:
I'm a part time DJ with my mate Dan Phelan and we do regular reggae / soul / funk nights. Towards the end of the night when I've had too many beers (and so has the crowd) I'll throw on 45's by Marky Mark & The Funky Bunch, Yazz & The Plastic Population, & Technotronic. The only person in the pub that's not having a bl'ast! at this point is Dan ha-ha-ha.
What's the absolute limit you would ever pay for a record?
For many years I had a $100 limit and I've only broken that in the last few years on about 3 or 4 records. I suppose I'd pay $200 for something like Negative Approach, The Abused, Teen Idles or something like that.
Are record collectors all really pretentious arseholes?
Yes we are, but still… Record Collectors Fucken' Rule!