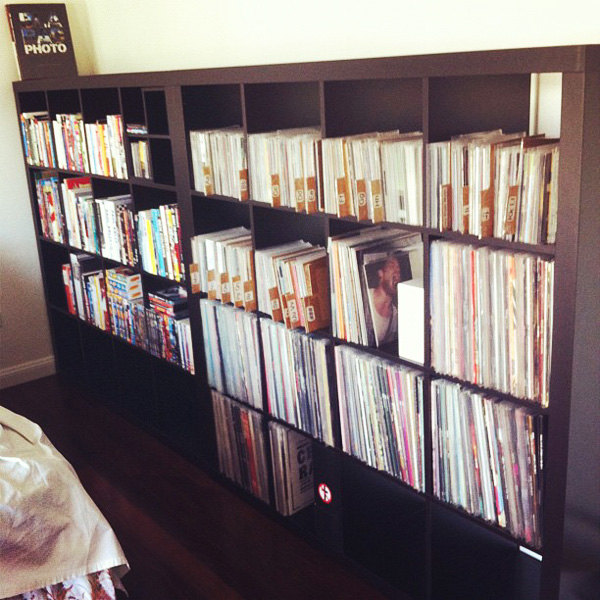 When it comes to being an obsessive collector of a single band, I really don't think I know of anyone who is so madly into one band as Mel Kraljevic is about Hot Water Music. She also has one of the most proficently catalogued 7 inch collections I have ever seen.
Name: Mel Kraljevic

Current Population
5"s: 1
6"s: 2
7"s: 809
8"s: 3
9"s: 1
10"s: 24
11"s: 3
12"s: 458
Total: 1301
Test Pressings: 4. I don't have many, in fact the only ones I have are Frenzal Rhomb – Smoko At The Pet Food Factory and the rest are Hot Water Music odds and ends. I'd only go for HWM or HWM related test presses, I have no desire to chase others.

First Born: New Order – Bizarre Love Triangle 7inch. That was technically the first record I got when I was a kid. The first record I bought though was Frenzal Rhomb – 4 litres 7inch when I was about 15 (which is ironic since I started working for them 3 years later).

Latest addition to the Family:
7inches:
Touche Amore / Pianos Become The Teeth
Braid / Balance & Composure
Lucero – Live
Alcoa – Drowned
Born Annoying - Living How You're Not

LP's:
Dad Punchers – Self titled
Hot Water Music – Live in Chicago

The Pride of the Fleet:
There's a few:
Hot water Music – Alachua / Never Ender 7inch with the blood splatter cover on silver vinyl.
Hot Water Music / Bouncing Souls – Split 7inch. This is not only a split from two of my favourite bands, but it was also an Australian tour that I worked on, so there's a bit of sentimental value for me.
Hot Water Music – Live in Chicago series
Chuck Ragan – No Idea singles club
Rival Schools – United By Fate. For the fact that it was given to me by Walter himself and the album has always been one of my favourites.
Jawbreaker / Samiam – Split 7inch that was apart of the No Idea fanzine.


The Hen's Tooth:
Either the new Frenzal album test press, only 5 made or the Hot Water Music – Fuel For The Hate Game (13th press pale swirly grey /10).

Not Cheap:
It would've been some Hot Water Music record, I'm just not sure which one. I've been lucky though, I haven't spent an entire paycheck on a record…. Yet!

White Whale:
There's a few…
Seaweed - Spanaway
Lucero – Tennessee
Hot Water Music / Muff Potter – split 7inch

Death Cab For Cutie - Transatlanticism

Why Did I Trade That:
I'm not really into the trading game. I don't think I've regretted selling any records so far and I sold a fair few at my flea market earlier in the year.


Bargain Buy:
Rival Schools – Used For Glue 7inch. I found this at I think it was Monster Session a few years ago at the Manning Bar in someone's record distro and it was only $6! Total bargain for a record that's out of print.


Guilty pleasure or secret shame:
Probably all the Coldplay or Oasis records I own which is actually everything they've ever released. I love them but I tend to always get paid out from my mates for liking them.


What's the absolute limit you would ever pay for a record?
Probably like $200 but even then it has to be something I'm really after. People can get pretty retarded on eBay, I know I did for the Resist QLD flood auction earlier this year.


Are record collectors all really pretentious arseholes?
Yes and no, I feel like it's kind of cool to be a record collector now then say 6 or 7 years ago. But on the upside there are far more records out there then ever before so that's always a positive.