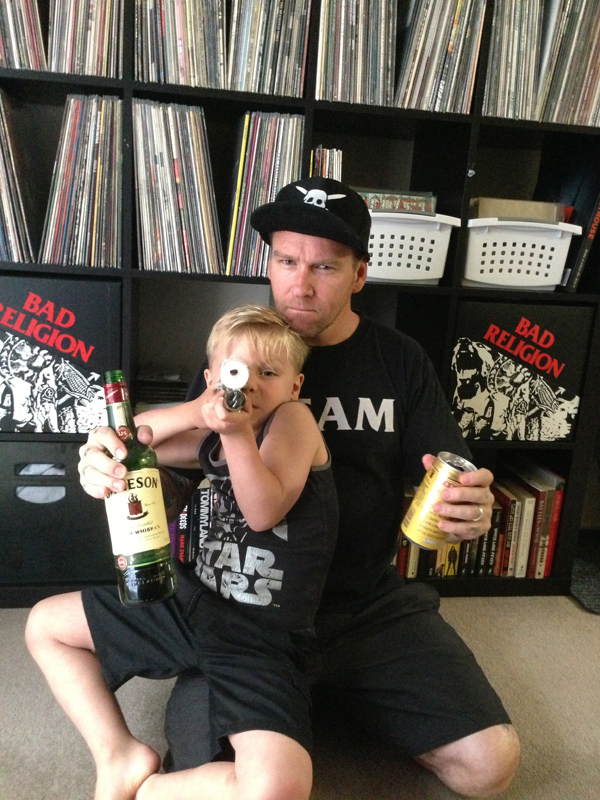 Mindsnare and Frenzal Rhomb drummer Gordy Forman gives us a look into his record collection. Just don't be foolish enough to go calling him a record collector. I think he likes Bad Religion a little.

Name: Gordy Forman

Current Population
7"s: 200 ish
10"s: 16. Cunts of things.
12"s: 500 or so
Test Pressings: 3. Frenzal Rhomb-Smoko, Mindsnare-The Death, In Name And Blood-Dead Water.

First Born:
I got given a James Bond soundtrack when I was 7. First record I bought with my own money was Morbid Angel – Altars Of Madness.

Latest addition to the Family:
A boxset of Creedence Clearwater Revival 7" represses, and Wayne Hancock – Ride.

The Pride of the Fleet:
Probably my original press of the Bad Religion "Back To The Known" EP. Brendan from The Lawrence Arms mailed me his beat up copy, and I got it signed when BR came out a few years ago. Half the dudes that signed it didn't play on it, but Brian Baker signed it and the sticker says "featuring Greg Hetson from The Circle Jerks and Tim Gallegos from Wasted Youth", so Baker wrote "and NOT Baker from. . ." and listed every band he's been in. It's dumb, but that band (and a few of Baker's bands) mean a lot to me, so it's kinda cool.

The Hen's Tooth:
Maybe the S.O.D.-Pussywhipped bootleg. Or Greg Graffin-American Legion, signed. I don't really give a fuck about rare shit and pressings etc., I buy stuff to listen to.

Not Cheap:
Probably the Bad Religion boxset my wife got me for my birthday. $380 or some shit? I've also been trying to give Bibs $200 for his copy of Bad Religion's "Into The Unknown" for a couple of years. If that ever happens, that'll be the most I've ever dropped.

White Whale:
Although I said I don't give a fuck about pressings, I would like a first press of the first Bad Religion 7", and maybe Government Issue-Legless Bull EP. Not gonna neck myself if I never get them though. It's just shit to hand on to my kids when they're old enough to appreciate it.

Why Did I Trade That?:
I sold so much shit as a teen to buy beer and cigarettes, it's sickening. I had a HEAP of rare Metallica shit that was UK only. I sold my signed copy of Morbid Angel - Altars Of Madness for $30. (Signed by Richard Brunelle too). Sold my first press of Autopsy – Severed Survival. Learned my lesson since.

Bargain Buy:
I buy a lot of jump blues and shit like that, so there's always best of records for $12 and what not.
How do you find your records? Shops, distros, internet, friends:
All of the above. I prefer rifling through a shop than the 'net, but both have their pros and cons. Clint Chapman has helped me a bit lately.
Are you a completist of any label or group?
Fuck no. I'd love to own more Bad Religion shit, but whatever.
Guilty pleasure or secret shame:
Don't have one. At 36, I could fucking care less what anyone thinks of my music taste. I'm sure the neighbours get confused when ELO is followed by In Cold Blood though.

What's the absolute limit you would ever pay for a record?
Never thought about it really. As I said, I buy records to listen to mostly, not for bragging rights, so if I want something, I'll buy it. Once it gets over the $100 mark, I start gagging. Must be the Scottish blood.

Are record collectors all really pretentious arseholes?
Generally, I can't stand the cunts. There's a few good eggs out there, but as soon as they start talking pressing numbers and labels and all that shit, I'm just like "fuck off dude, I just wanna take the cunt home and play it, I don't give a fuck how rare it is".