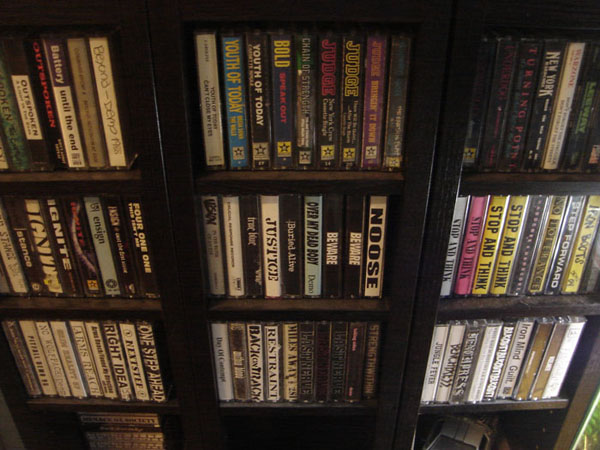 Perhaps best known for his graphic design skills, but soon to be known for his tape collection, Pawel Piotrowicz collects all formats of bands he loves. Take a peek inside Pawel's collection...

Name: Pawel Piotrowicz
Current Population
Tapes: 110
7"s: 250
10"s: 2
12"s: 90
Test Pressings: 3
I don't really buy that many records, I just try to slowly gather complete collections of bands I love or first presses of all my favorite albums..
First Born:
It was either the Snubfighter 7", or a Vanilla Pod 7" after they toured in Perth. It was in a little venue called the Pit Theatre in my hometown of midland, Mindsnare played there too, it was sick. I think you could fit about 30 kids in there. I don't have this record anymore and have no idea where or when it went. I didn't buy a record for about 5 years after that, until I picked up a copy of ten yard fight the only way 7"
Latest Addition to the Family:
I got Bodyjar - Rimshot cd in the mail today, but apart from that the last record I got was a couple months back, a Brotherhood 7" off a good guy from Sydney. I am waiting on a Mid Youth Crisis LP, the new pressing of the Chain of Strength LP, and a tape version of "Can I Say" by Dag Nasty.
The Pride of the Fleet:
I really rate the Zero Tolerance - Bad Blood 7", and I kind of like the fact none of my mates really care for them, ha-ha. Recently picked up another copy of it with the Hi-Impact logo stamped on the dust sleeve, those little odd variations are always cool, but in terms of records that might have some actual value behind them dollar wise, the clear Turning Point LP and also the FMD 7" on blue, fucken love that record start to finish, thanks Coyle. Also my whole Last Nerve collection, can't go past some Last Nerve. Beyond - Dew It demo on tape, it has an original sticker with it too, which is cool. Also Outspoken, Hardstance and Battery collections too.
The Hen's Tooth:
A Blkout record that is 1/1. No Apologies s/t test press /5 or a Blkout test /5 would be the runner-ups. There are a few color variations I have that aren't official colors that would probably be 1/? as well, but have no real idea and does that really count unless the band says it does?
Not Cheap:
I overpaid for a Warzone 7". I overpaid for it and I don't even like it, yeap I said it. I had never heard the tracks from the 7" and than I got it home and was pretty stoked, and I played it and I thought to myself, that was a dumb move. Shoot me for saying it, but I don't care for that 7" at all, "Don't Forget The Struggle" and "Open Your Eyes" are total bangers, maybe I just need to listen to it some more? I'm expecting some hardcore heroes to have a go at me, but who cares..
White Whale:
Zero Tolerance "Fall Brawl" cover. Def Wish Cast "Mad as a Hatter". Inside Out "No Spiritual Surrender" cassette. Plus some others to round out collections..
Why Did I Trade That:
I don't trade records very often, but I have sold a lot of my records in the past when I haven't had any work and needed money, and I regret every one of them. At the same time, they are all just possessions and I will be perfectly fine in life if I didn't have any.
Bargain Buy:
Judge - New York Crew on Schism for under $20, was a good score. I think I picked up a Turning Point first press 7" for about $20-$25, both of those came from eBay UK, that's my tip for the day. There were others like that along the way. I watch eBay items and sometimes pick up records as the only bidder really cheap.
Picked up a complete Murder Weapon 7"collection, 6 records minus tests, for under $20. That's just great value, and a ripper band..
Also spent $100 on a "Together" compilation, which to me was a bargain, probably not the biggest bargain, but I've seen that record go for a lot more..
Guilty pleasure or secret shame:
Sometimes when I'm in the shopping centre I will look at the female manikins a bit longer.
What's the absolute limit you would ever pay for a record?
Probably whatever I couldn't afford at the time. Money doesn't really mean a lot to me, I'll still survive with or without a record, I just buy on impulse than have instant buyers remorse, then about 5 minutes later am stoked again.
Are record collectors all really pretentious arseholes?
Record collectors in the hardcore scene seem to be like the kids that get tattoos, only difference is they can eBay all their records when they want out.
Honestly though I like all the history that goes with a record, the artwork, the back story, and I like to talk to like minded people who also have a passion for music.
Check out Pawel's FMD, Outspoken, Battery and Hardstance collections below.