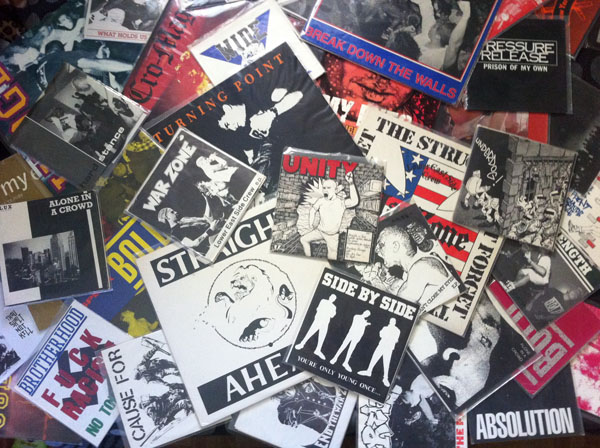 You might best know Felipe Gonzalez as the all round good guy wielding the axe in bands such as Persist, Ill Brigade and Vigilante. But what you might not know is that he is also a prolific record collector, having amassed a very respectable collection of records. Take a peek inside Felipe's collection...

Name: Felipe Gonzalez

Current Population
7"s: 310 give or take
10"s: 5
12"s: 200 give or take
Test Pressings: -2 Damage Control records

First Born:
To be honest I don't really recall my first born, I think it was a South American artist called Patricio Manns.

Latest addition to the Family:
I'm going to America for two and a half months soon, so I've been a little slack on buying records, but the last record I ordered was probably Take Offense's - Under The Same Shadow 12"

The Pride of the Fleet:
That's pretty hard to answer, maybe my Straight Ahead 12", Alone In A Crowd 7" or Side By Side 7"?

The Hen's Tooth:
I wouldn't have a clue to be honest

Not Cheap:
I've always been pretty lucky when getting more rarer records with not paying ridiculous amounts.
The most I paid was $200 for a Damage Control - What It Takes 12" test press that I sadly no longer own.

White Whale:
There's definitely a few I'd love to get my hands on, but my biggest chase is for a Together Comp 1st press and a copy of SSD - Get It Away on Xclaim. Anyone who is thinking of getting rid of these, let me know.

Why Did I Trade That:
I like being tight with getting rid of any of my records, but I do regret selling my Damage Control test presses (What It Takes 12", and 7" tour/test press). At the time I needed money and looking back now it was a pretty stupid move, but I did sell it to a good friend (Allan Reid) who definitely deserved it. I think Allan has all versions and test presses of the What It Takes 12".. Legend! I did score a 1st press Alone In A Crowd 7" on Flux as part of the trade though, which is definitely one of my all time favourites!

Bargain Buy:
Patience is a virtue! I see a lot of people freak out and pay ridiculous amounts on ebay for a record they can probably get a lot cheaper if they wait for it!
Just looking around emailing a few people I scored a Underdog 7" on New Beginnings for $50 and Warzone - Lower East Side Crew 7" 1st press for $70. Great buys in my opinion for timeless records!
Also just through friends, Billy (old Homewrecker bass player) was selling his collection and might I add he had pretty amazing stuff, he's one of these down to earth, really awesome guys who aren't trying to rip you off. I scored many great records for really cheap. It's great when you find friends like this..

Guilty pleasure or secret shame:
None, no shame!

What's the absolute limit you would ever pay for a record?
I think the max I'd pay for a record that I'm really after would be about the $250 mark.

Are record collectors all really pretentious arseholes?
I'd like to think of myself the opposite, but most of them are yes! Haha