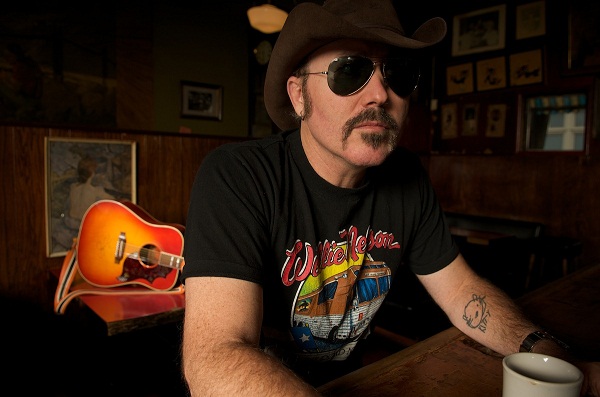 Rock and roll wildman Eddie Spaghetti from The Supersuckers is bringing his long awaited solo show to Australia on the last weekend of June.

Eddie Spaghetti grew up in Tucson, Arizona trying desperately to ignore the country music that floated all around him. Seems like every pick-up truck and storefront speaker was cranking out the syrupy wails of some heartbroken hick and he just wasn't having it. So, as a kid, he turned to Heavy Metal, then Punk Rock, to block out the noise and that's how his band, "The Greatest Rock'n'Roll Band In The World", The Supersuckers, was born.

Formed in late '88, The Supersuckers aim was to strip away some of the pretense of late '80's Heavy Metal and put a little showmanship into the Punk scene. It was a tightrope act few bands could achieve but, by the beginning of '89, not only had the band done it, they were ready to make a move away from the dirt roads, dead ends and dust of their hometown.

Heads was New Orleans, tails Seattle.

Tails.

And, in May of 1989, off they went.

Having no clue that Seattle was about to become "Rock City, U.S.A." for a few great years, Eddie and his grimy gang jumped blindly into a scene that had been thriving unrecognized for years. It didn't take long however for them to find Seattle to be the perfect place to "not fit in".

The Supersuckers put out a few singles, then signed to Sub-Pop and began what has been over two decades of ass kicking, ground pounding hemi-hogging punk-n-roll.

It didn't take too long, however, for the country music that he tried so hard to avoid in his youth to start surfacing in the music Eddie was making as a young man. The foray back to the country began in 1993 with the Supersuckers side project, The Junkyard Dogs and the rare, hard to find and out of print recording, "Good Livin' Platter" (Sympathy For The Record Industry). It wasn't county per-se, but it was close and the seed was planted.

Fast forward to 2012 and Eddie, who has now released three solo albums, is set to make his first solo trip to Australia in June to play four shows in three days in Brisbane, Sydney and Melbourne on THU 28 JUN, FRI 29 JUN and SAT 30 JUN respectively.

The Brisbane show is at The Beetle Bar, the Sydney show is at The Sando in Newtown and Saturday sees a massive double bill, double header with Tim Rogers (You Am I) and Eddie Spaghetti tearing it up with two shows (afternoon and evening) at The Cherry Bar in Melbourne.

Just remember to wear your clean underwear, because Eddie Spaghetti is gonna rock your pants right off of you.
EDDIE SPAGHETTI AUSTRALIAN TOUR 2012
Thursday 28th June – The Beetle Bar, Brisbane (support from Jud Campbell)
Friday 29th June – The Sando, Newton (support from Johnny Casio and Chopper & The Honeyhog)
Saturday 30th June – Cherry Bar, Melbourne (with special guest Tim Rogers and Fred Negro)
All tickets on sale May 8