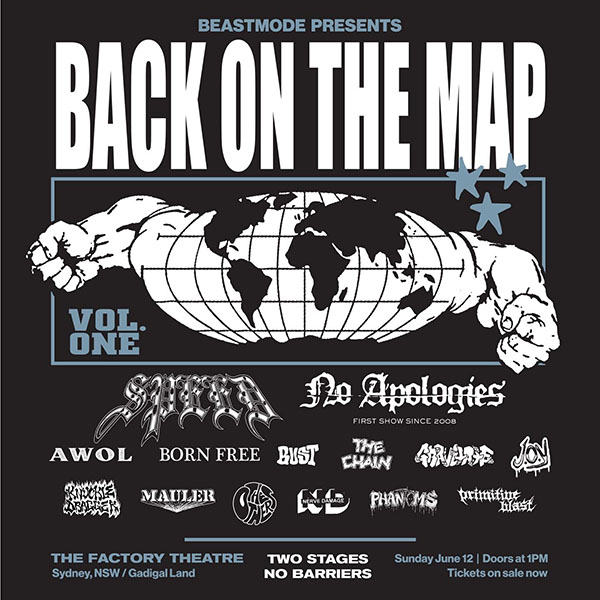 NO APOLOGIES reunite for their first show since 2008 to co-headline Back On The Map with SPEED.
Not content with solely launching a new creative business, beastmode announce 'BACK ON THE MAP, VOL. 1' - a hardcore festival for the history books to be held at The Factory Theatre in Sydney, Australia on Sunday, June 12.

The festival features some of Australia's biggest and best hardcore acts including headline sets from Speed and No Apologies, who will be playing their first show since 2008. Back On The Map will span across two stages with no barriers to celebrate the launch of beastmode and the resurgence of Australian hardcore.

Full Line Up (Alphabetical Order):
AWOL (VIC)
Born Free (VIC)
Bust (NSW)
The Chain (WA)
Gravitate (VIC)
Jokes On You (NSW)
Knuckledragger (QLD)
Mauler (NSW)
The Others (WA)
Nerve Damage (QLD)
No Apologies (SA/NSW)
Phantoms (NSW)
Primitive Blast (NSW)
Speed (NSW)