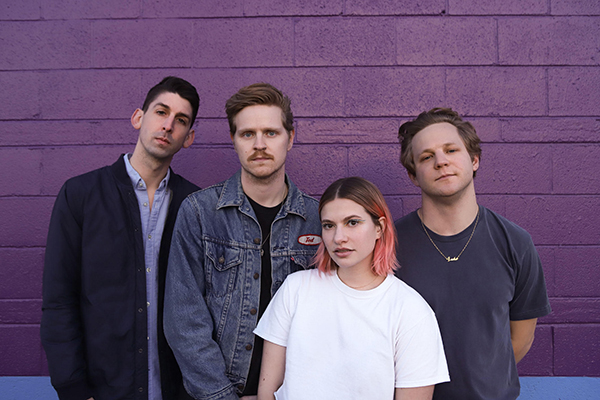 Resist Presents:
TIGERS JAW AUSTRALIAN TOUR NOVEMBER 2018
Comprised of Ben Walsh and Brianna Collins, Tigers Jaw has gripped listeners and press across the globe with their candid compositions and alluring harmonies. spin sees Walsh and Collins trading off lead vocals which glow with sincerity on this collection of incredibly understated indie-pop classics. Their fifth full length marks a new chapter for the Scranton, Pennsylvania-based indie rock band for many reasons: Not only is it the first collection of songs that was completely written and recorded solely by Ben Walsh and Brianna Collins, but it was also the first time they had a full month in the studio without having to worry about outside responsibilities. Furthermore it's the inaugural release on Atlantic Records' new imprint Black Cement, a label spearheaded by the band's longtime collaborator Will Yip who returned to the production helm for spin.
Tracks such as "Guardian," "June," and "Escape Plan" shine on spin, which follows Tigers Jaw's 2014 critically adored LP, Charmer. "...The sound of a band bravely moving forward," declared Pitchfork while Stereogum applauded Walsh and Collins', "…soul-baring lyrical honesty," adding, "Tigers Jaw are a revelation…" Profoundly personal and vibrantly textured, spin exhibits Walsh and Collins' remarkable ability to capture the sentiments and complexities of a moment through melody and introspection.
Local supports have been announced for the upcoming Tigers Jaw Australian Tour. Melbourne's Jess Locke joins the tour excluding the Perth and Adelaide dates. Locke's sophomore album 'Universe' was released on Pool House / Remote Control in 2017. It received a four-star review in Rolling Stone, was longlisted for the Australian Music Prize and was a triple j feature album. Following a national headline album tour, Locke finished off the year playing at Falls Festival in Lorne.

TIGERS JAW AUSTRALIAN TOUR NOVEMBER 2018
Wed Nov 7 The Brightside, Brisbane
w/ Apparitions
Tickets from Oztix outlets and www.oztix.com.au

Thur Nov 8 Small Ballroom, Newcastle
w/ Paper Thin
Tickets from Oztix outlets and www.oztix.com.au

Fri Nov 9 Wollongong Youth Centre, Wollongong AA
w/ Jacob, Spit Chewy
Tickets from Moshtix outlets and www.moshtix.com.au

Sat Nov 10 Oxford Art Factory, Sydney
w/ Recovery Room
Tickets from Moshtix outlets and www.moshtix.com.au

Sun Nov 11 Red Rattler, Sydney AA
w/ Zen Haircuts
Tickets from Oztix outlets and www.oztix.com.au

Wed Nov 14 Amplifier, Perth *
w/ Sly Withers, Glossy
Tickets from Oztix outlets and www.oztix.com.au

Thu Nov 15 Enigma Bar, Adelaide *
w/ Horror My Friend, Superdose Gangway
Tickets from Moshtix outlets and www.moshtix.com.au

Fri Nov 16 Phoenix Youth Centre, Melbourne AA
w/ World Sick
Tickets from Oztix outlets and www.oztix.com.au

Sat Nov 17 Corner Hotel, Melbourne
w/ Antonia & The Lazy Susans
Tickets from cornerhotel.com

* Jess Locke not appearing