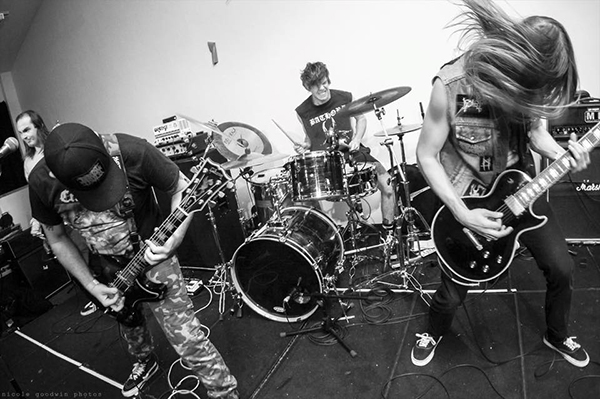 Another year rolls around which means another year for Total Attack Festival, a massive weekend of punk, metal, rock 'n' roll and everything in between, a celebration of the underground to raise money for a good cause, the Asylum Seeker Resource Centre in Melbourne as we've done for the previous 3 years.
The festival will run from Thursday the 3rd until Sunday the 6th of May, so that's 4 whole days of debauchery and madness (for a good cause!) for you to get up to. Here's how the shows will run, there may be after parties and extra shows but that will come closer to the festival.
May 3rd - Rixe, Shackles, No Future & more @ The Coronation Hotel, West Ipswich
May 4th - Chardons Corner Hotel, Annerley (2 Stages)
May 5th - Chardons Corner Hotel, Annerley (2 Stages)
May 6th - Brisbane City Boat Cruise (Afternoon Matinee) Ltd. 90 CAPACITY - Tickets available NOW
May 6th - East Brisbane Bowls Club (Night Gig)
We've continued with the previous years traditions of diversification, trying to bring as many new people into the fold without alienating those who've given the festival lots of support in the past.
So below is the initial list of all the bands performing across the weekend with more to come.
International
RIXE (FR) French Oi! Punks on La Vida Es Un Mus.
Victoria
ENZYME - Kyushu worshipping acid-pogo-noise-punk from Melbourne
WILD SPEARS - Political hardcore / street punk from Melbourne. Akin to 80's Melbourne bands i.e. G.A.S.H. / Arm The Insane / Depression / Bastard Squad.
DEFENESTRATION - Solo soaked sledgehammer early 90's styled death metal.
RELIGIOUS OBSERVANCE - Noise-riddled sludge / doom metal from Melbourne. Heavy as all hell, fans of Corrupted, Whitehorse, Godflesh.
PISSBOLT - Blazing unhinged edge your seat grindcore.
CREEP DIETS - Fudge Tunnel groovin' sludge worship.
SYNTHETICS - Unique melbourne noise-rock outfit featuring members of Useless Children, UBIK and more.
THE SLIT THROATS - Street level beer swillin' rock 'n' roll from Melbourne.
South Australia / A.C.T. / Tasmania
SPITEWARD - Sadistic hardcore punk ex-Suffer, Blood Sucking Freaks, Grimalkin.
SHADOWOLF - Crusty black metal from Adelaide. No polish, perhaps a spit shine.
THE VEE BEE'S - Canberra's most loved yobbo rock outfit. Ex-Forward Defence, Mugshot etc.
IRONHAWK - Tasmanian motorpunks from HELL.
THE BIGOTS - Canberra's bodgecore bandits since the late 90's.
Western Australia
RABIT ABBOTT - Extreme Noise Terror meets early Napalm Death with a dash of Doom.
WARCYCLE - Earsplitting crasher-crust!
TERRITORY - Melodic metallic d-beat like Neurosis in a blender with Tragedy
UNRAVEL - Perth's own Swedish death metal worshippers.
HEXX - Imagine if Bolt Thrower were a hardcore band. Crushing!
New South Wales
OBAT BATUK - Newcastle's pride and joy.
CREAM SODA - 3 piece Japanese hardcore onslaught!! Ex-Stanley Knife, Redstain, Spoonfed
D.W.A - Ex members of Unclean, Persecution, Bastard Squad and more continue on with their legacy of heavy political hardcore punk.
ROBBER - The most cretinous blackened hardcore fiends.
BODY MELT
BOUDICCA - Very 90's styled Aussie hardcore punk, a mix of many sounds but undeniably so!
MAGGOT CAVE - New Sydney grindcore outfit influenced FFO: Warsore, Assuck, Undinism.
FRAME 313 - Powerviolence outfit with noise and experimental elements.
QUICK FIX - Very new hardcore punk band from Sydney ffo: Exit Order, Firewalker, Omegas.
JOHN HOWARD - Rupture reborn in the dirty streets of Newcastle. Everyone's a hypocrite.
CRUST FUND KIDS - Dual vocal hardcore crust 90's style. Members of Ether Rag, Omnicide, Playground Of Hate, Hate Is Enough, Forakt, Black Rats and more.
CONTAMINATED - First QLD show since the release of the FINAL MAN LP, one of 2017's stand out death-metal records, a crushing piece of finnish-styled death metal. Now with new vocalist Mark Boulton of Shackles.
MORTE LENTA - Calling it a day over a year ago, Morte Lenta are back for a short time. The band have raised their own funds to bring singer Luda back from Brazil to play Total Attack and tour their upcoming 7"! Do not miss them!
SUMMONUS - Sydney based doom-death metal outfit comprised of current and ex-Shagnum, Hostile Objects, Persecution and many more.
Queensland
BUDD - Long standing Brisbane legends of noise-rock since 1991.
TERRA MATER - Epic stringed d-beat crust with a metallic edge.
BATTERY HUMANS - Heavy mid 90's style metallic crust.
ASCOT STABBER - Extraterrestrial Oi! influenced garage punk.
UNBOUND - Astral travellin' punk metal
GRIEG - Abstract noise-rock from current and ex-Dick Nasty, HITS, Noose, Hateman, John Lee Spider.
LEXICON - Late 70's / early 80's styled bratty punk
FROWN - Brisbane's kings of narcotic doom. First gig in over a year.
MOSQUITO - One of the most promising new Brisbane bands, like 90's japanese hardcore crust with a slight metal edge. Members from Shitgrinder, Frown, Shackles, Gruel.
SICKLE - Brand new Brisbane band, you will recognise members from TVSTD, Shackles, Shitgrinder, Coffin Birth and more. Hardcore crustin' black metal.
Full line up and gig details below.
Limited 100x $75 weekend passes and individual show tickets available at the following link:
https://ngmrecords.com.au/products/total-attack-festival-8-advance-tickets
THURSDAY 3RD MAY @ CORONATION HOTEL, WEST IPSWICH
RIXE (Fr)
ENZYME (Vic)
SHACKLES (NSW / QLD)
NO FUTURE (W.A.)
Event: Rixe France , Shackles, No Future Perth, Enzyme Melb
FRIDAY 4TH MAY @ CHARDONS CORNER, ANNERLEY
18+ - 2 STAGES - $35 ENTRY - 5PM
RIXE (FRANCE)
MOSQUITO (QLD)
ENZYME (VIC)
D.W.A. (NSW)
WARCYCLE (W.A.)
UNRAVEL (W.A.)
ROBBER (NSW)
BATTERY HUMANS (QLD)
ASCOT STABBER (QLD)
RELIGIOUS OBSERVANCE (VIC)
SPITEWARD (S.A.)
THE VEE BEE'S (A.C.T / NSW)
BODY MELT (NSW)
SATURDAY 5TH MAY @ CHARDONS CORNER, ANNERLEY
18+ - 2 STAGES - $35 ENTRY - 12PM
SHADOWOLF (S.A.)
HEXX (W.A.)
MORTE LENTA (BR / NSW)
CREAM SODA (NSW)
THE BIGOTS (A.C.T / VIC)
CONTAMINATED (VIC / NSW)
IRONHAWK (TAS)
SUMMONUS (NSW)
CRUST FUND KIDS (NSW)
BUDD (QLD)
TERRA MATER (QLD)
RABID ABBOTT (W.A.)
SYNTHETICS (VIC)
TERRITORY (W.A.)
MAGGOT CAVE (NSW)
WILD SPEARS (VIC)
BOUDICCA (NSW)
PISSBOLT (VIC)
UNBOUND (QLD)
DEFENESTRATION (VIC)
SUNDAY 6TH MAY @ BOAT CRUISE
DEPARTING AT 2PM SHARP FROM MOWBRAY PARK (Arvo)
LTD. 90 CAP PRE-PURCHASED
ROBBER (NSW)
JOHN HOWARD (NSW)
FROWN (QLD)
OBAT BATUK (NSW)
Tickets available here: https://ngmrecords.com.au/collections/all/products/total-attack-8-sunday-boat-cruise-gig
SUNDAY 6TH MAY @ EAST BRISBANE BOWLS CLUB
ALL AGES / LIC - $20 ENTRY - 5PM
DECAPITATED MUM (QLD)
BERZERKER BOYZ (NSW)
FRAME 313 (NSW)
LEXICON (QLD)
SICKLE (QLD)
GRIEG (QLD)
CREEP DIETS (VIC)
DEFENESTRATION (VIC)