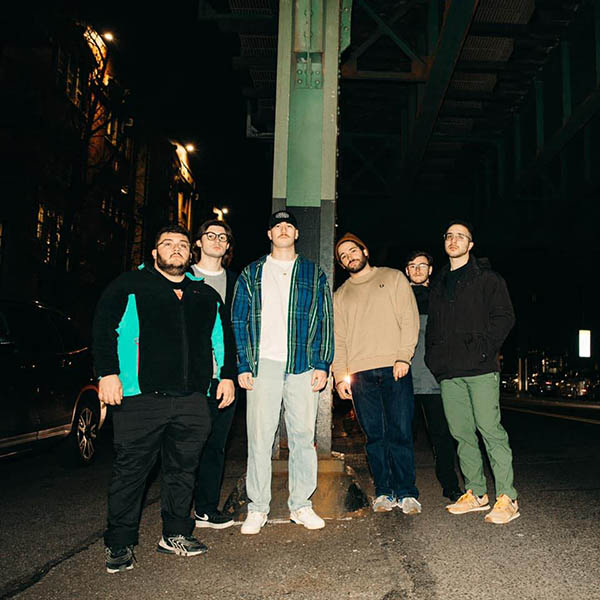 Long Island upstarts Koyo have announced their debut full-length, Would You Miss It?, due out September 29th from Pure Noise Records. In just a few short years the band have been turning heads with their unabashedly heart-on-sleeve blend of punk, hardcore, and emo, and now Would You Miss It? makes good on that early promise with their most satisfying release to date.
To mark the announcement, Koyo have shared the album's first single "You're On The List (Minus One)." Driven by huge guitars and a heavyweight chorus, the track is a perfect introduction to Koyo's hyper-anthemic sound. The song's accompanying music video is a tongue-in-cheek testament to the Koyo's ability to tie together different generations of East Coast punk and hardcore, featuring winking appearances from Frank Iero of My Chemical Romance, modern hc favs Regulate, photographer Michael Dubin, and producer Jon Markson.
Emerging from the Long Island underground with members of Typecaste, Hangman, and Rain of Salvation, Koyo hit the ground running with a sonic style that fully embraces the sound of their legendary scene. Drawing on elements like the widescreen melodies of Taking Back Sunday or the tuneful grit of Silent Majority, the band have managed to wear their influences proudly while cultivating songwriting chops that speak for themselves. Would You Miss Is? was recorded by Markson (Drug Church, Taking Meds, One Step Closer) and his deft production sounds gigantic without sacrificing the basement show rawness of Koyo's sound. It's an album that figuratively and literally brings together the past and present of East Coast punk, with appearances from Glassjaw's Daryl Palumbo, The Movielife's Vinnie Caruana, and Vein.FM's Anthony DiDio. The result is a modern coming-of-age classic that's fit for any generation of listeners.
The band has already released the first single "You're On The List (Minus One)", and now they have dropped another track "Anthem". The song is a nod towards the past generations of emo and melodic hardcore, particularly Long Island's music scene at the end of the century.
The track "Anthem" is about the need for something that will make you feel alive. According to vocalist Joey Chiaramonte, the song is not just about personal nostalgia or-of-age show-going experiences, but more of an open letter to everyone who can understand what he means.
The video features footage from a November show in Long Island.
Chiaramonte says:
I feel like so many of the bands we love had songs that celebrate the world they come from — songs about finding music, hardcore, being inspired to create, those tangible moments that change your life when you're young and just create an obsession with playing and going to shows. "Anthem" is our stab at adding to that greater catalog. Specifically, "Anthem" is more than just addressing personal nostalgia or coming-of-age show-going experiences. It's an open letter to everyone out there right now, listening, understanding what I mean and say in that song without having to be walked through it. If you understand it immediately, the song is written about you
New York melodic post-hardcore unit Koyo has invited fellow New Yorker Daryl Palumbo of Glassjaw/Head Automatica to guest on their latest single from the band's upcoming debut release Would You Miss It? set for release on September 29 through Pure Noise Records.
"Message Like A Bomb" is the third single released but is the first of three tracks on the album that features a guest. As reported earlier in the year, the debut album also will feature guests Vinnie Caruana from The Movielife and Anthony Didio of Vein.fm.
"Life's A Pill" is the fourth single released.