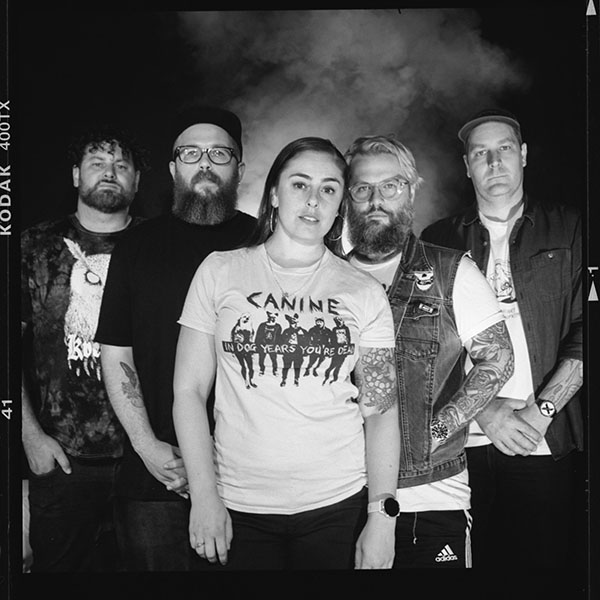 In hot pursuit of their breakneck single release of 'The Hammer' – the opening cut taken from their long-awaited forthcoming LP Keep You Warm out Friday 15 July – Australia's ferocious hardcore act Outright have today shared the single's riveting visual accompaniment.
Directed and produced by ARIA nominated photographer and filmmaker Ian Ritter, 'The Hammer' video follows the song's narrative thread where the notion of a witch hunt is embraced by an abuser when they're held to account for their actions. Like the song, the clip references Malleus Maleficarum – 'The Hammer of Witches' – a text widely acknowledged as the almanac of witchcraft.
"In 'The Hammer' video we wanted to make a point of showing how the concept of a "witch hunt" has been co-opted by abusers who see accountability as an attack - when the real attack is centuries of murder, exclusion and control they commit against people who challenge the status quo, show strength and independence, or literally just dare to exist," says songwriter and frontwoman Jelena Goluza.
"What starts with a faceless man in a suit chasing a woman to her death at the pyre he has built, ends in her turning around to tie him to it instead. A consequence of the pain his own behaviour has caused. The microphone that represents speaking our truth is lit to become a torch for justice and the flame to burn it all down."
The Hammer' is the first single from Outright's forthcoming record, Keep You Warm released by the band's own label, Reason and Rage Records. Ferocious, unapologetic and entirely uncompromising, Keep You Warm is a record that maintains the band's tradition of using reflection, defiance and empowerment to navigate and improve the world around us.
Discussing decolonisation, mental health, environmental destruction, exploitation and injustice, Keep You Warm is catharsis for the weight of the world, and an appeal for change through honesty.
Preorder here: https://reasonandrage.bigcartel.com/