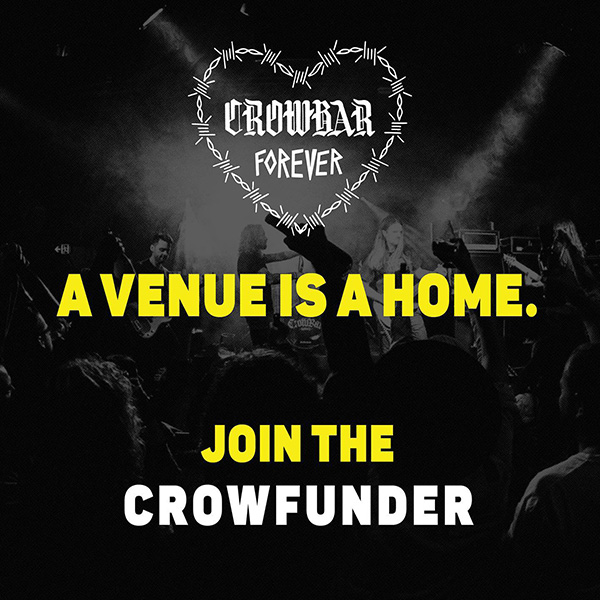 Crowbar Sydney is in danger of closing unless it can raise enough funds to survive.
From the venue...
Closure has become a very real risk for Crowbar Sydney, and the time has come to call on our supporters to survive.
After 12 months of lockdowns and restrictions, live music venues around the country are closing down or just holding on by a thread - but we refuse to become a statistic of this pandemic. We ask you to help us fight the good fight into 2022.
Crowbar is an independent, family operated business, built on 9 years of blood, sweat, tears, and 20 years experience in the music industry. Supporting live music in Australia and nurturing our once thriving music scene has stood at the forefront of everything we do, and despite this massive hurdle of COVID-19 recovery, we aren't going to lay down and die. We are overwhelmed by the tremendous support from our friends, bands and industry colleagues who have donated some amazing prizes and rewards for this crowdfunding campaign.
We are all battling negotiations with landlords, restrictions and reduced income, facing the end of JobKeeper and struggling to pay ongoing fixed costs and debt that keeps piling up. As one of the first industries to close and the last to re-open, we've been hoping that State and Federal Governments might come to our aid, but we're no longer in a position to patiently wait. And so, we need your help. Without it, we face making the gut wrenching decision of having to stop the music and close our doors permanently.
In March 2020 COVID-19 restrictions forced us to close our doors and stand down staff while we cancelled months of shows and events. We spoke to our landlords regarding rent and came to some arrangements, and are continuing to negotiate with them. We managed to trade at 1-3% of regular turnover with takeaway sales for the next few months until we were able to open the bar again for a much smaller crowd in mid June. We were eventually able to put on shows again in late August, returning to 20-30% of trade, dropping from 28,441 ticketed attendees in 2019 to just 8,336 in 2020. With restrictions slowly easing we are now returning to 30-40% of trade.
There are two ways you can help:
Head here and pick up some merch - https://www.pozible.com/profile/crowbar-sydney
Or
Head here and bid on some amazing items like a Mindsnare Credulity Test Press, The Death skateboard, Frenzal Gold Records and even Lindsay's guitar.
https://crowbarsyd.com/crowfunder/