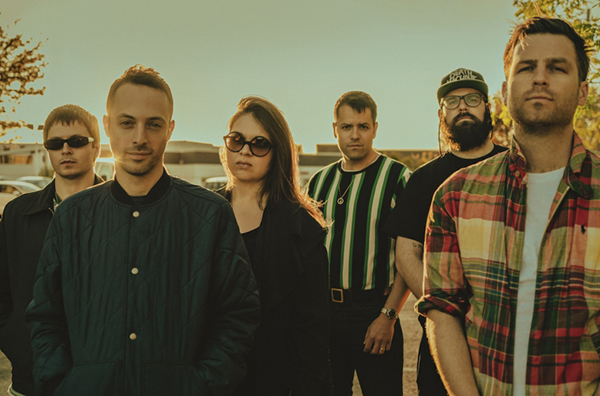 FUCKED UP have released a live set recorded at New York's famous CBGBs in 2006.
We've all got to believe in "2006" at some point or another in our lives. I thought it might have simply come and gone, but it turns out the bottomless vaults of our archive have provided a brief wormhole into its existence. In this version you could find remarkable feats of analogue musical participation flowing freely through space in the big wide cities of the big wide world. It was the land before guitar tuners, tempo checks, backing vocals, or monitor mixes. It was the time in which we all etched one phrase into our minds as young impressionable musicians finding their way on this earth: "Nice set dude, can we borrow your amps."
We were on "tour" -- whatever that is -- and had a few gigs under our belt on the East Coast before we met up with what was THE tour to meet up with that spring: The Forward/Warhead/Tragedy "Burning Against Spirits" Tour. Titans of hardcore punk in 2006 collided across the US and for one last waltz, with us as well.
We waited patiently as Mind Eraser tore a hole through the fabric of the universe; while Kill your Idols created a brickwall of human bodies; while Forward tantalized and impressed with otherworldly precision; while Warhead left a scorch mark where the stage at CBGBs was; while Tragedy provided their indelible mark on that moment...and somewhere in the evening there was Fucked Up. That's what you're listening to. That's what you get. This is what we were capable of in the flesh in 2006, our 2006. That moment in time with its open doors and new pathways, all its ear piercing hearing loss perfection, all its potential, and it's absurd amount of nacho chips.
Fan's Notes:
-We played 57 gigs in 2006
-We played in Boston the night before with OUT COLD
-Pretty sure we drove home overnight to Toronto instead of hanging out in NY and basking in our CBs debut.
-Was this the first Storied *Monday* HC Matinee at CBGB of the era
-Two days prior, we played in PIttsfield, MA where we probably met Jaybo who drew the cover of Hidden World.
-Hidden World came out on October 9, 2006
-CBGBs closed its doors to the public on Oct 15, 2006.
-Thank you Ian Dickson for giving us the show.