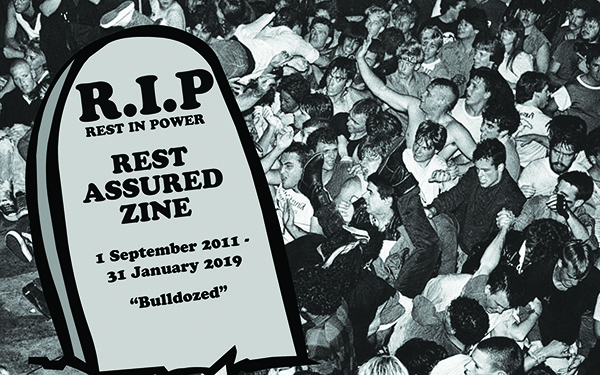 ***JAN 2020 UPDATE***
Whilst currently on a break from Uni, I decided to update a few articles and put together a few more to keep myself occupied. Check out the Best of 2019 list, the recently updated MINDSNARE discography article and keep an eye out for a feature on the 1994 Bad Brains tour of Australia currently in the works. The site is not completely dead, just a bit dormant in comparison to what it used to be.
***FEB 2019 UPDATE****
Thanks to the kind and generous work of Adrian Griffin (who drums in Lo!), Rest Assured now has a new low cost home and will remain online for the time being.
Unfortunately there will be little to no updating of the site as previously stated. In the future we may throw up the odd interview or historical piece, but for now it remains dead.
Thank you for all the kind words and gratitude about the website drawing to a close. It was most appreciated and meant a lot.
Big thanks to Adrian for all of his hard work and efforts. If you're in need of some website assistance, check out https://abepe.com.au/
Do us a favour please and go and check out LO! on the links below...
Website: http://www.lookandbehold.net/ and on Spotify here and on Bandcamp here.
And you can watch Adrian's amazing drumming talents below...
Hi all, bit of sad news to start off the new year I'm afraid. At the end of January 2019, Rest Assured Zine will no longer exist.
The site first launched in September of 2011 and this is the 6225th article published on the website. In that time the site has covered literally thousands of bands, thousands of releases and thousands of tours.
As you can imagine, the decision to bring the site to a close was not made lightly. Below is a more comprehensive explanation of why the site is ending exactly?
Why is the website ending?
Firstly and foremostly, the main reason is time. Next month I will be returning to full time study, while juggling part time work, as I finish a teaching degree. What ever free time I have, will be minimal at best and I feel could perhaps be better spent doing something else. Currently I spend around roughly 8 hours a week on the website, and it's social media and email accounts. No one is paying me to post about tour and release news every day, I do it simply for the love of wanting to stay in the loop and hear new music. Would you spend a day out of your week for the past 7 years, working on a website for free? I didn't think so.
Secondly the other main reason is cost. Based on 2018 analytics, the site attracts around 50,000 users a year, which is roughly around 4,000 - 4,500 people a month in terms of website traffic, from all corners of the globe, but mainly Australia, NZ and the USA. The site has been live since September 2011 and updated almost daily since then, so you can imagine that is a lot of storage space required. In order to host the website adequately, it costs around $50 a month in hosting fees, so roughly $600 a year is spent ensuring it doesn't crash under the traffic strain. Would you pay $600 a year out of your own pocket to host the website? I didn't think so.
Once upon a time the site covered it's hosting fees with banner ads, however for the past 4-5 years it's made zero income, as labels and tour companies prefer to advertise via Facebook or Google. From a business point of view this makes perfect sense, as these advertisers provide a bigger reach and more bang for your buck. They don't exactly support the scene, but hey who does right? Now if every one of the 50,000 people who visited the site in the past year, paid a dollar to do so, it would be a completely different story. Would you have paid to visit the website? I didn't think so.
But surely you must get a lot of freebies I hear you ask? You'd think so right, but sadly no. If promotional emails were financially worth anything however, I would be a very rich man, as I throw them away by the hundreds most weeks. Most labels these days might send you a stream of a release if you're lucky, rarely a download of a complete album, which is not so handy when you listen to the majority of new music on your phone on your commute to work. I think this year I have been sent 1 x tape, 1 x CD and 1 x 7inch in the mail for promoting releases. Total retail value of perhaps $30 - $40. Every show and tour I attended in the past couple of years I have also paid for to do so, as I know the costs that are associated with touring bands, so I like to support financially as international tours are tenfold the cost of releases and a local band is usually always operating at a loss. It's not like I'm turning down door spot requests on the reg from tour promoters either though. Sounds totally worth it right? I didn't think so.
So will the website dissappear completely?
In a perfect world I'd like it to exist in a diminished online capacity to some extent, as I feel there are a few articles of historical significance. What I will try and do is find some dirt cheap hosting to keep a revised version of the website live. This might mean having to delete all the articles under the News and Tours tabs for instance, to get the size down. If you have any suggestions for cheap web hosting, please get in touch via our Facebook messaging or by emailing This email address is being protected from spambots. You need JavaScript enabled to view it. If I can't find a cheap or free web hosting solution, then yes the content will probably dissappear forever. One day I may collate it all into a book, I'm expecting to this to happen once my money tree blossoms and is ripe for the harvesting. Would you buy a book of Rest Assured articles and interviews you've already read? I didn't think so.
Are you open to someone else taking over the website and keeping it alive?
Again ideally I'd love to see this happen. Over the seven plus years the site has been live, less than a handful of people have hit me up about contributing to the site. Usually they start off psyched and amped, but after a few articles they lose interest, and I can't blame them for doing so. Perhaps I could have paid contributors with promotional emails? Sound like a deal to you? I didn't think so.
Huge thank you to the few people who did contribute articles and interviews, I hope you felt appreciated. The reality is that it's hard to stay motivated when essentially you're doing volunteer work. Even harder to stay motivated, when at times you send a band an interview or drop them a line and they don't bother replying or write back thoughtless one line answers. If you'd love to take over financing and running the website, please do get in touch via our Facebook messaging or by emailing This email address is being protected from spambots. You need JavaScript enabled to view it.. Bet you think I'll be fielding dozens of emails right about now hey? I didn't think so.
So what happens next?
Well as of February 1 2019, the site will probably no longer be live. This will most likely be the last published article on the website and the news and tours will no longer be updated in the days to follow. As I've outlined above, there is a small glimmer of hope and the chance a white knight will ride in to save the day. Will you be that person? Yeah, I didn't think so either.
Thank you to everyone who did contribute to the website and let us use your photos or paid to advertise and keep the site alive.
Also big thanks to everyone who ever checked out the website, offered some words of support and encouragement and even perhaps shared a link or recommended it to a friend.
Most appreciated - Ryan Willmott