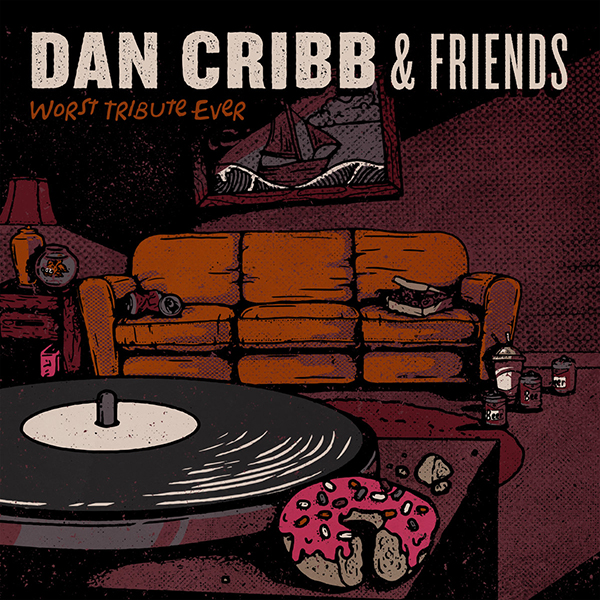 To paraphrase the immortal words of Superintendent Gary Chalmers: it's been a hell of a toboggan ride.
After almost two years to the day, 30 star-powered covers and a whole mess of Skittlebrau, left-coast punk prince Dan Cribb has reached the end of the road for Worst Tribute Ever, his mammoth collection of reimagined tunes from The Simpsons.
Over the past 24 months – aided by his trusty Milhouse, Troy Nababan – Cribb has teamed up with some of the best and brightest names in Australian music to deliver his spirited Springfieldian covers, from Guy Sebastian and Kram (Spiderbait) to Jen Boyce (Ball Park Music), Hanny J (Clowns), and more.
Now, to celebrate the project's end, he's called back a number of his Worst Tribute Ever collaborators to compile his most ambitious composition yet: a medley titled So Long, Stinktown! A Simpsons Medley tying together all the B-sides, jingles, catchcries, theme songs and Yoko Ono parodies still left untouched into one triumphant, fist-pumping farewell to the people of Springfield.
Opening with Guy Sebastian's soulful take on Send In The Clowns, this musical Frankenstein's monster tears through classics and cult favourites alike, including Kamp Krusty, Gabbo, Under The Sea, Mr Plow, Max Power and the Itchy & Scratchy theme song, among several others.
Along with Sebastian, Kram, Boyce and Hanny J have all returned to the fold for the farewell, as have fellow previous collaborators Tyler Richardson (Luca Brasi), David Novak (Polish Club), Montaigne, Taj Ralph, Mark Stewart (Jonesez), Johann Beardraven (The Beards), Emmy Hour (The Cutaways), Declan Melia (British India) Bram Presser (ex-Yidcore), Otto Green-Wicks (sleepmakeswaves), Scott Connor (Dan Cribb & The Isolated), Benny Davis (Axis Of Awesome), Will Erimya and Andy & Gav McDougalls (Ebolagoldfish).
Joining the ranks for the first time are acclaimed Sydney rapper L-FRESH The LION, who contributes a hat-trick of hip hop-flavoured ditties to the smorgasbord, and Oz-punk vet Jay Whalley (Frenzal Rhomb).
The medley is accompanied by a splendid video cataloguing Cribb's cavalcade of co-stars, featuring footage taken from his live outing during BIGSOUND 2017 in Brisbane.

Suffice to say, all of this isn't exactly what Cribb had in mind when he launched Worst Tribute Ever in October 2016, intending at the time for it to be a year-long hat-tip to a dearly loved TV show.

Instead, he's gone on to rub shoulders with the Australian music community's finest, from DIY darlings to pop powerhouses – an opportunity for which the Perth-based musician is extremely grateful.

"This project has evolved into more than I could have imagined," Cribb said. "Not only have I had the opportunity to work alongside some of my musical heroes, I've also made a stack of new friends and learnt a lot about songwriting, performance and collaboration.

"I can't thank everyone involved enough, especially Troy Nababan, who played about half the record's instrumentation and mixed and mastered each song to perfection."

Of course, no experience as all-encompassing as Worst Tribute Ever passes by without imparting a few crucial life lessons along the way, and Cribb says that his little project that could has been responsible for some serious revelations that he'll take with himself into his next project and beyond.

"It seriously blows my mind how something so simple and fun became such a life-changing experience for me," he said.

"I've learnt that life is one crushing defeat after another until you just wish Flanders was dead. So long, Stinktown!"