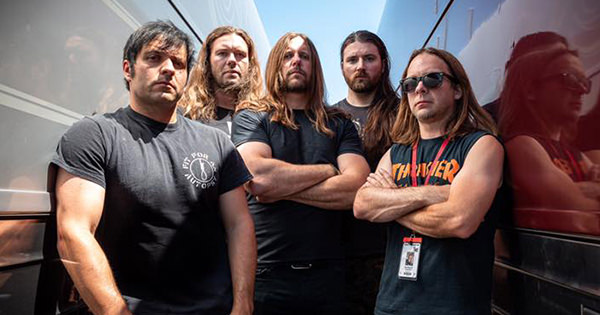 Earlier this year it was announced that Boston's UNEARTH had signed with Century Media Records and were working on a new album. The band has completed work on the album entitled "Extinction(s)" which is set for a November 23rd release.
For their seventh release and Century Media Records debut, the band worked with Will Putney (Every Time I Die, Body Count, Gojira, Thy Art Is Murder, Silent Planet) at Graphic Nature Studios on the release. Additionally, Killswitch Engage's Adam D. recorded drums for the effort.
After an awe-inspiring 20 years of blazing trails and dominating stages, UNEARTH is now institutionalized as a relentless force in heavy metal, standing the test of time with consistently triumphant creative output, tireless road warrior resilience, Blue Collar style workmanship and a resolute determination to deliver the goods.
With over 500,000 in worldwide album sales, UNEARTH's continued staying power has also hinged on their highly interactive and toweringly heavy live performances.
Today the band has unleashed the video for the third single from the album titled "One With The Sun." You can watch the video below.

"We chose 'One With the Sun'as the first video off 'Extinction(s)' because we feel it's one of the hardest hitting tracks in our entire catalog. Musically it's everything Unearth is about and lyrically it deals with the effects of climate change we are feeling today as well as the bleakness of our future unless we make drastic changes now. Tim Dennesen and the guys at Punchdance, inc did a great job capturing the imagery needed to get the message across. You'll be sure to hear this one at our live shows as it's already become a staple in our set. See you out there," says frontman Trevor Phipps.
"'Survivalist' is a song written from the perspective of someone battling a potentially terminal illness. It covers the hopelessness, desperation and devastation to the inner strength and determination one can find from the desire to live on for themselves and those around them. Musically it's a song that is closely tied to our roots with raw aggression, melody and pure heaviness ", says frontman Trevor Phipps.
The band comments: "'Incinerate' brings the raw aggression and heaviness of our early material while also showcasing elements of where we've gone as a band since. Lyrically it is meant to be a song of unity in a time of great polarization around the world. We are constantly being told to not like our neighbor because they might have different views. The theme is a faith in humanity to come together and combat and rid the world of those that are intentionally dividing us."