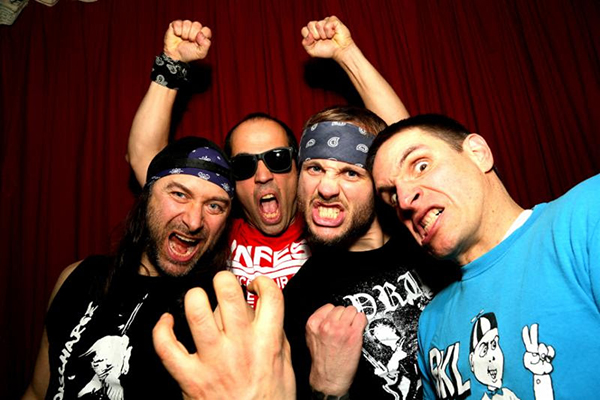 Southern Lord will issue the Age Of Paranoia LP by Dutch hardcore punk kingpins VITAMIN X in less than a month, the band's first title for the label. As the release date closes in, the newest single has been released in the form of a Revolver Magazine premiere of "Flip The Switch," which features guest guitar work by J Mascis.

The newest chapter in the VITAMIN X lineage, Age Of Paranoia, was recorded by Igor Wouters at ARC Studios in Amsterdam. Packing sixteen volatile tracks into a white-knuckled twenty-eight minutes, Age Of Paranoia surges with rapid-fire punk angst packed with ripping rock leads and raised-fist gang-chant anthems. The album includes several special guest guitar solos by J Mascis (Dinosaur Jr., Witch) and Bubba Dupree (Void, Soundgarden, Dave Grohl's Probot, Brant Bjork), and is completed with cover artwork by Marald (Baroness, Kylesa, High On Fire).

New single "Flip The Switch" features an empowering solo by J Mascis which spans the entire track. Revolver states of the song, "It's a very Annihilation Time, mid-period Black Flag-y ripper that's perfect for the pit or washing down a cold one with another cold one (sorry, straight-edge homies). Either way, don't miss Mascis tearing a hole in the universe with a solo over the entire thing."
VITAMIN X guitarist Marc Emmerik recounts the experience: "We had this song with a Dinosaur Jr. type of intro. I thought it'd be perfect to let J Mascis do the solo. My friends Graham Clise (Witch, Lecherous Gaze, Annihilation Time) and Dave Sweetapple (Teepee, Witch) got in touch with him and he agreed to do it, he actually had one of our albums because John Brannon (Negative Approach) sang on it.

When J passed through Amsterdam he played the solo on my 1980 Gibson SG. He said he never plays Gibson but it has J Mascis all over it and it's one of his most furious solos ever in which he seems to revisit his hardcore roots, as he was in hardcore punk band Deep Wound before Dinosaur Jr.

The funny thing is, J's solo runs from beginning to end, more than two minutes! When he started he didn't stop and ran his solo through the entire song, even over the vocals. After that first take I told him, 'You only have to do the intro,' to which he replied, 'No, I'll do the whole song; just take out whatever you want.' When I came home and listened, we didn't take out anything and kept his whole original solo since it's insane and rips so much! I think this is the only song in hardcore punk with a two-minute solo from start to end!"
Age Of Paranoia will be released on LP, CD, and digital formats May 18th through Southern Lord.