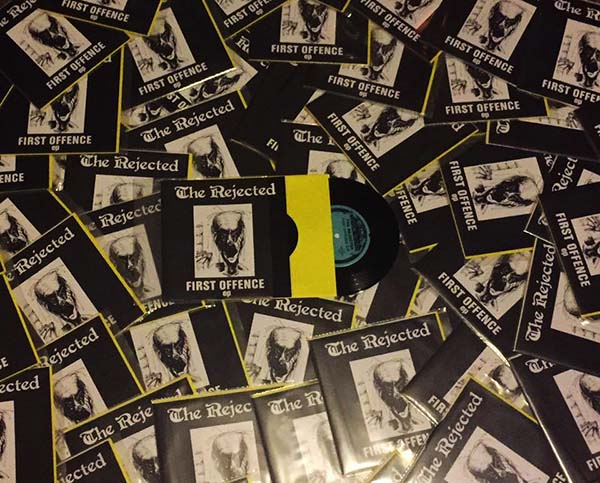 The Rejected "First Offence 7" E.P." UK '82 from Sydney '85.
The Rejected are a three-piece punk band that formed with their first line up back in January 1985. The band originated ironically in the quiet, leafy suburb of Heathcote in the Southern Outskirts of Sydney bordering on the Royal National Park, with all members going to the same High School. The band was heavily influenced by U.K. bands such as Discharge, The Exploited, U.K. Subs, Chaos U.K., GBH, The Varukers, Disorder and others.
For their debut release, the band went to Fatboy Recording Studios in Rozelle on 7th July 1985 and recorded the "First Offence" - a five song, 7-inch EP. Soon after it was cut and pressed by EMI Custom Records.
The original Rejected line up ended in Dec 1985 but was followed by three more line ups with a lot more musical talent. The Rejected shared the stage with the likes of World War XXIV, Death Mission, My Heart Bleeds For You, Gravel Rash, Southern Fried Kidneys, Candy Harlots, Asylum, Pupils Of Love, Love Shark, Bits Of Kids, Massive Appendage, Victims Of Birth, Voodoo Lust and Aggressa.
A limited quantity (120) of unearthed "dead stock" original EMI Custom 1985 pressing 7 inches are being re-released, courtesy of Clint Chapman of Shortfuse Records.
These original 7 inch records come repackaged with newly printed sleeves that retain the original aesthetic of the release, but with with the addition of photographs and notes from the era the 7" was recorded / released.
You can grab a copy for $15 plus $3 postage within Australia. Contact Clinton Chapman via This email address is being protected from spambots. You need JavaScript enabled to view it. to order.
Stream the release below.