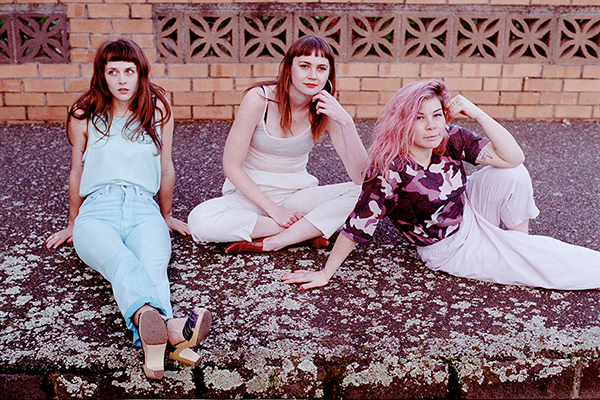 Introducing MOD CON (all caps, all the time), the new collaborative project of Erica Dunn, Sara Retallick and Raquel Solier. MOD CON share debut single, "Do It Right Margo" off a limited split 7-inch with Fair Maiden, out digitally Oct 27 and physically Nov 10 on Poison City Records and available for pre-order now via poisoncityrecords.com
The three members of MOD CON had been playing together as Palm Springs; the best alt-country band you may never have heard of. However, when they began writing collaboratively for a new album, the project lent itself to different kinds of writing styles and consequently, MOD CON was formed. Palm Springs will continue as a solo project for Dunn, whereas MOD CON will be the only incarnation of the trio's creative force with angular guitar solos, duo vocals and syncopated rhythms at the core.
Their new single, "Do It Right Margo" and the first release under this new moniker sees them take an exciting new direction. When asked about the lyrical content of the track Erica explains:
"it contemplates the many hoops we have to jump through to 'fit in'. I worked for years with newly arrived refugees, and this is a response to the lengths i observed them going to try and get their heads around what 'being normal' in Australia was. It's a call and response between someone who is dictating terms and someone who is asking for acceptance."
Fully entrenched in the vibrant Melbourne DIY community MOD CON are the newest product of the thriving local music community showing through in each members' other creative projects: Harmony, TFS, Golden Syrup and Various Asses
MOD CON and Fair Maiden launch the new split 7-inch at The Tote Hotel, November 10.