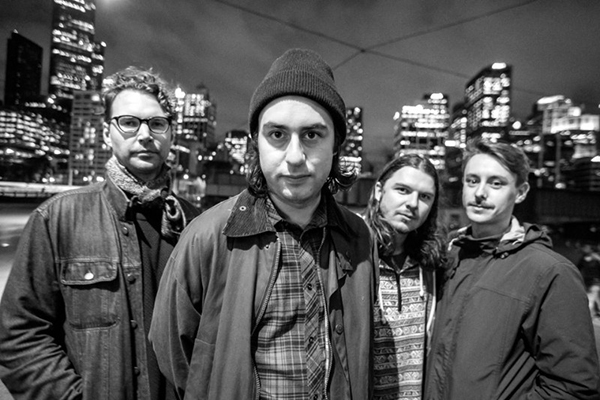 Continuing a run of top notch recent releases from Batpiss, Cable Ties, TV Haze and Mere Women, Melbourne's cult Poison City label is stoked to welcome Melbourne post-punk quartet BENCH PRESS to the family. The likeable foursome have a debut LP in the works, but for now they've drip-fed us a video for their single 'Group Anxiety' and a nice Melbourne launch show.

'Group Anxiety' chugs along with vibrant bass tones and bright, clean guitar sounds. Brash and brittle vocals. Propelled forward by a constant rhythmic groove, 'Group Anxiety' lurches between cool, simplistic restraint and an explosive chorus, with guitarist Morgan Griffiths injecting the perfect amount of chiming, loud-quiet-loud dynamic. "Hand in hand, back and forth, worse and worse." This is a cathartic exercise. Lyrically, it revolves around the simultaneous surrendering and enabling of anxieties through the dynamics of share-house living. This microcosm extends to the increasingly claustrophobic, rapidly-expanding experience of modern urban living. This is reflected in the busy imagery of the video which premiered today.
The band have not been together as long as the slack, easy confidence they project via their single might suggest. Only since March 2016 have Bench Press been doing the live thing, back when they commanded only twenty minutes of material to bash out. Since then, Guitarist Morgan Griffiths, bassist Lewis Waite and drummer Jordan Hicks have achieved perfect easygoing unity, resulting in their dynamic, to-the-point post-punk, propelled by Jack Stavrakis's vocals venting on the frustrations of modern life. Snarling, angular and loud, Bench Press invoke the old while pushing something that feels very new.
Don't miss them in the close confines of Melbourne's Grace Darling Hotel, giving 'Group Anxiety' a more literal meaning, with Moody Beaches and Loobs. Thursday June 29 is the date. Ten buckeroos entry. Or catch them at Footscray's legendary Reverence Hotel's 5th birthday party alongside The Bennies and Mere Women on July 23. Or, on Poison City's characteristically huge Weekender Fest line-up.
Bench Press are into recording live. Quick-fire style. No nonsense. And that is expertly reflected in this ripping new track. There's an album coming soon, too.