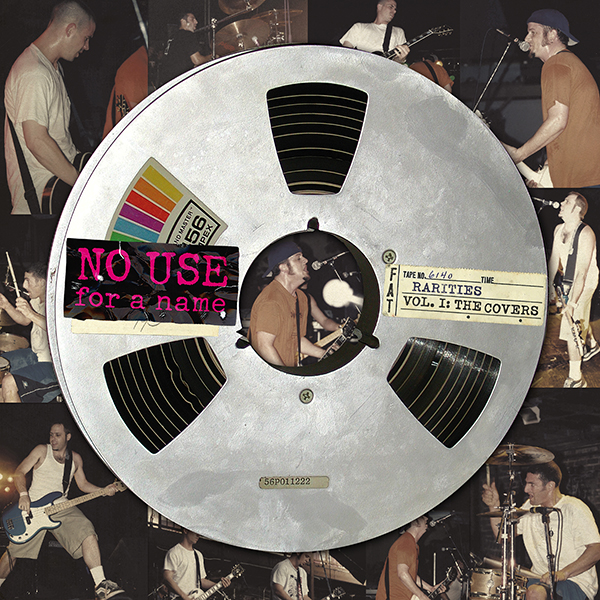 Fat Wreck Chords are streaming a compilation of covers from NO USE FOR A NAME titled "Rarities Vol.1: The Covers" released yesterday.
From Fat...
As you all know, we love a good cover song. Our bands have recorded plenty of them over the years. Me First and the Gimme Gimmes even made a career out of it. Today, we are excited to share that we've combed No Use for a Name's entire recording archive and collected each and every non-album cover song that they ever recorded. Out August 11th, Rarities Vol.1: The Covers, is the second No Use archive release this year…and as you may have guessed, there will be a Volume 2 sometime in the near future.
The songs on this compilation were recorded between 1996 and 2005, and include some well-known covers (from comps), along with a few pretty rare ones. The album features their take on songs by The Vapors, The Misfits, Social Distortion, and even the classic theme song from Laverne & Shirley, ''Making Our Dreams Come True.'' Check out the full track listing here!
Read what longtime drummer Rory Koff had to say about some of their song choices...
Over the years, No Use always had a fun time recording a great cover song. A few of these are masterpieces, with the studio magic of Ryan Greene, such as "Dream Police" by Cheap Trick. Of course, every California punk band

MUST

do a Misfits cover to honor their roots. We were huge fans and here, we laid down our version of "Hybrid Moments." The song "Selwyn's Got a Problem" was for a not-so-major movie—produced by Joe Escalante of The Vandals—called Cake Boy. It was our take on D.I.'s "Johnny's Got a Problem," strangely, with Matt Riddle singing instead of Tony Sly.
After Bradley Nowell of Sublime passed away, we were asked to do a cover for a tribute comp honoring him. We had a long history of touring and friendship with Sublime and were honored to do the classic song, "Badfish." The song "Fairytale of New York" is the original version we recorded with Meegan Lair (singer of the San Jose band Soda) on guest vocals. Tony and Chris Shiflett were massive Pogues fans and insisted on recording this song as our tribute to them. We played it all over the world and it became a fan favorite because we always had guest singers. One track in particular was done in one take with no practice: "Beth" by Kiss. You also get to hear two great guitarists in Chris Shiflett and Dave Nassie on this release, along with rare vocals by Matt Riddle. Most importantly, of course, is more Tony Sly! So here you are, the No Use for a Name covers album. Enjoy! – Rory Koff