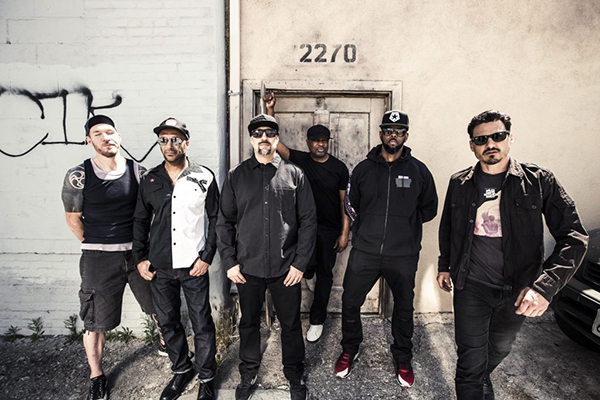 PROPHETS OF RAGE have released a new track titled "Radical Eyes".
At its core, Prophets Of Rage functions not only on a love of music, but a deep belief in its power as a tool, and a weapon. Woven into the band's DNA are influences as varied as The Clash, KRS-One, and Johnny Cash, as well as the undeniable ideals and aesthetics of its predecessors: Public Enemy's frenzied, racing textures, Rage's jaw-melting riffs, Cypress Hill's manically playful party energy. "The music is the passport to the world," Chuck D says, describing the unique bond the group shares. "It's not always a given to have members who want to go where few have gone."
The band features Rage Against The Machine's Tom Morello, Tim Commerford and Brad Wilk, with B-Real of Cypress Hill and Public Enemy's Chuck D and DJ Lord.
The band will release their self titled debut LP Prophets Of Rage in Australia on Friday 15 September, via Sony Music Australia.
In true guerrilla, grassroots fashion – a Prophets Of Rage trademark – the band secretly showcased the provocative new clip earlier this week projecting it across dozens of specially chosen locations in L.A. and New York that illustrate the underreported crisis of homelessness, hunger, poverty and inequality that are devastating populations across America. In Los Angeles, some of the sites included the 110 Freeway Underpass, Skid Row and Rodeo Drive. In New York, the video was transmitted onto Trump International Hotel & Tower, the Federal Reserve Bank of New York and the site of the Occupy Wall Street protests, among many others. For a clip chronicling the events along with the Living On The 110 video, visit the band's Facebook page here.
Further, Prophets Of Rage have partnered with WhyHunger, a leading global hunger organization dedicated to building the movement to end hunger and poverty by connecting people to nutritious, affordable food and by supporting grassroots solutions that inspire self-reliance and community empowerment. Fans can contribute to WhyHunger via a link located on the band's Facebook page where the video is available.
Living On The 110 reflects Prophets Of Rage's preferred method of addressing social issues from the ground up. Last July, the band performed a surprise show on a Skid Row rooftop in downtown L.A., raising awareness of the homelessness issue in the heart of one of the country's largest dispossessed populations. The group took their message of activism and grassroots change to 35 cities last summer during their "Make America Rage Again Tour," with a portion of proceeds from each show benefitting local homelessness charities.
"In today's world of cute, mindless computerized jingles about how great we have it, making heavy music with real instruments and addressing an important injustice like homelessness is more than a choice for me- it's an obligation," stated Tim Commerford. "This video is a banger all about this, turn it up if you're not ignorant."
Tom Morello added: "In our video for Living On The 110 homeless people get their say. The homeless are not some sub species of humanity as they are often portrayed in the media (when they are portrayed at all) but PEOPLE, no different from you or I. They deserve to be heard and we intend to amplify their voices."