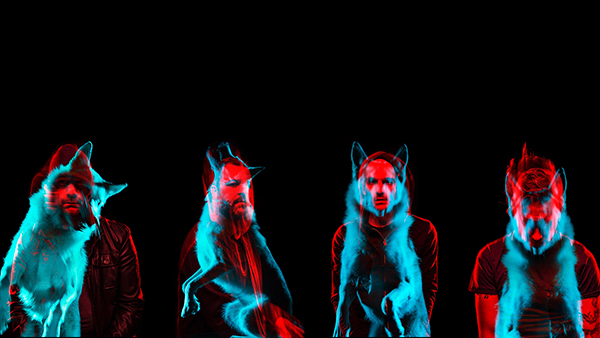 WOLVES, the new album from Rise Against, will be released on June 9 via EMI Australia. Today, the band unveiled the first single, "The Violence".

The pre-order for WOLVES begins today - PRE-ORDER HERE. Fans who pre-order the digital album will instantly receive "The Violence." See below for the full track listing.

Throughout its career, Rise Against has kept its moral compass steady, using its international punk platform to speak out for social justice. With WOLVES, the band challenges fans to join them in creating a bold new identity together. The album is about recognizing the power within; it's a primal call for the prey to become the hunters.
"In many ways, a Rise Against show is a safe space for our fans," lead singer Tim McIlrath says. "But I realized that I don't only want to create safe spaces, I want to create dangerous spaces where misogyny can't exist, where xenophobia can't exist. I want to create spaces where those sentiments don't have any air, and they suffocate: where those ideas die. WOLVES isn't about creating a safe space, it's about creating a space that's dangerous for injustice."
Rise Against chose to record its eighth studio album, WOLVES, with GRAMMY®-winning producer Nick Raskulinecz (Foo Fighters, Alice in Chains, Deftones). Recording with Raskulinecz meant moving to Nashville, TN – far from the band's familiar worlds of Chicago and Los Angeles, and a state where Rise Against has rarely played. The setting had a clear impact on the album.
"Living in Nashville drove home that we can't just focus on our differences," McIlrath says. "If we can stop and talk to each other, face to face, we might realize our common ground. We are all wolves in the same pack, circling at the gates."
WOLVES is the follow up to 2014's The Black Market, which hit No. 1 on the Alternative, Top Rock and Hard Rock albums charts in the U.S. and topped album charts in Argentina, Brazil, Canada and Germany.
Rise Against is Tim McIlrath (lead vocals/rhythm guitar), Zach Blair (lead guitar), Joe Principe (bass) and Brandon Barnes (drums).
Track Listing – WOLVES
1. Wolves
2. House On Fire
3. The Violence
4. Welcome To The Breakdown
5. Far From Perfect
6. Bulls***
7. Politics of Love
8. Parts Per Million
9. Mourning in Amerika
10. How Many Walls
11. Miracle