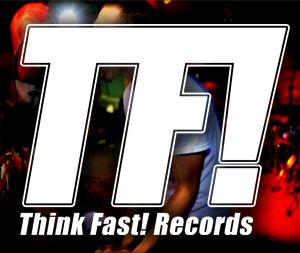 It's been exactly 10 years since Think Fast! Records was born. We've come a long way since handcut layouts from Kinko's and have had the honor of working with some of our favorite bands of all time. To tell us 10 years ago that we'd be working with bands like Sick of it All and Ignite, we probably wouldn't have believed you. But here we are. Despite the ever-declining music industry and despite the worst economy our generation has ever seen, we're still here weathering the storm.
To celebrate 10 years, we've compiled our first 10" vinyl record (picture disc), complete with 10 exclusive songs and artwork created by celebrated punk/hardcore artist, Ryan Eyestone. We wish we could fit songs from every band we've ever worked with, but that would be nearly impossible. Appropriately titled "10 Years of Think Fast! Records", here's the track listing below.
01. Ambitions "Lines I've Drawn" (new)
02. This Is Hell "Rat Race" (new)
03. Bullet Treatment "Devils" (new)
04. Mountain Man "Grief" (new)
05. Have Heart "Dig Somewhere Else" (never been released on vinyl)
06. The Geeks "I Still Believe" (new)
07. No Turning Back "Bitter Forever" (new)
08. Esteem "Taken For All I Had" (never been released on vinyl)
09. Outbreak "Fuck Armageddon...This Is Hell" (new, Bad Religion cover)
10. Far From Finished "Treasure In The Trash" (new)
The album will be released on 10" vinyl and digital formats on November 22, 2011. All vinyl orders will come with a digital download coupon and exclusive poster featuring the album's artwork. Look out for pre-orders in the very near future from the Think Fast! website, as well as updates on exclusive streams.