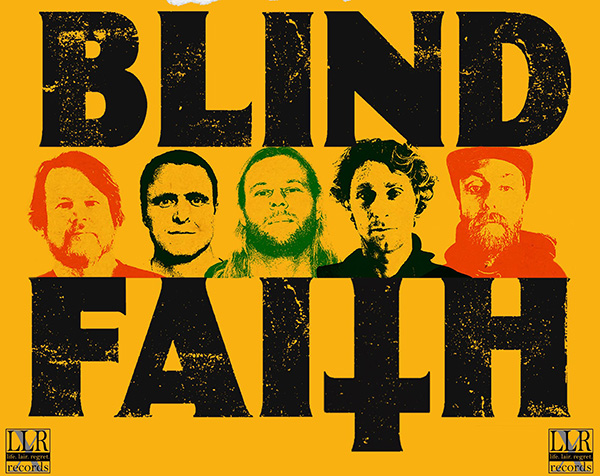 Sydney band BLIND FAITH are about to release their debut 7inch titled "Ignorance Plague In The Information Age", so we caught up with guitarist Wazza and singer Willy for a chat.
At what point did BLIND FAITH form and how did it all come together?
Wazza: Blind Faith was originally an idea for a vegan melodic hardcore band between Willy, Doddo, Larter and Wazza. It was probably more an excuse for some old friends who don't get to see each other often enough, to hang out eat pizza and play a few jams. A little later, Touty stepped up to handle bass duties and to complete the current Blind Faith line up. Blind Faith has been a bit of a stop start affair due to our members raising young families and having other 'adult responsibilities', but we are stoked to gather some momentum getting our EP recorded and it's pending release.
Would readers recognize the members from any other bands?
Wazza: Willy and Doddo both played in early 2000's Sydney melodic hardcore band Perish the Thought then later the Avail / face to face tribute band The Chunks! Doddo also ripped on the drums for the seriously underrated hardcore band Boneless. Larter recently played guitar in heavy hitters Naplam and previously in Deadly Visions where Touty played bass. While I played guitar in Stepping Stone and later was part of Homeward Bound.
In your own words how would you describe the sound of your band?
Wazza: Our take on classic melodic hardcore. The style never grows old. Lyrically our songs cover various topics on the Australian social & political landscape.
What bands are influencing the sound of your band?
Wazza: The classic melodic hardcore bands that we grew up listening to and still love today, Gorilla Biscuits & Dag Nasty, modern bands like Praise & Capital and Australian favourites like MYC and Miles Away. The band name comes from the title of a Capital 7inch actually.

What would be a dream line up of bands to play with?
Wazza: I'll try to answer this question with a line up featuring a band picked by each Blind Faith member.
Gorilla Biscuits, Propagandhi, Mindsnare, Dag Nasty & Capital.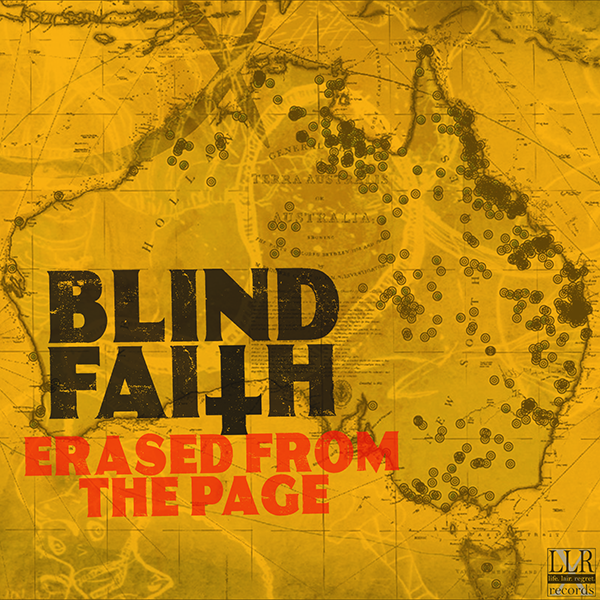 You've just released a new track titled "Erased From The Page". Lyrically what's the song about?
Willy: Erased From The Page is about the omission of all the atrocities committed against Aboriginal people that are repeatedly and conveniently left out of Australia's history. As a history teacher by trade, I make sure the kids I teach 100% know the real history of Australia. This song was written years ago but even recently education minister, Alan Tudge called for a dumbing down of Australia's history taught in our schools as it presents an "overly negative view of Australia". In doing so he is totally turning a blind eye to the systematic racism and disadvantage in this country that he has benefitted from and continues to do so. This doesn't help in any way shape or form to reconcile Australia and validate the trauma and pain Australia's history has created.
The artwork used for the song shows a map of all the massacres of indigenous people in Australia's history that are often unspoken and neglected in Australia's history telling. Sure you might have heard about the more publicised events at Myall Creek, Appin or Coniston, but there are literally a hundred others that should be common knowledge.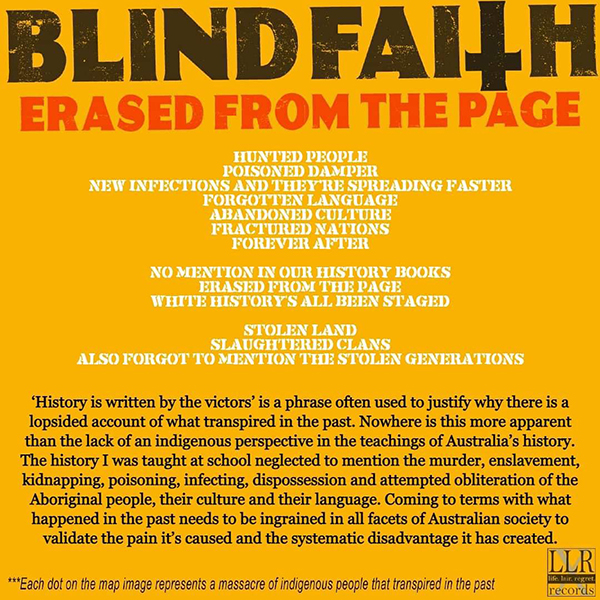 Life Lair Regret Records will be releasing your 7 inch, "Ignorance Plague In The Information Age" on November 15th, how did the partnership with LLR come about?
Willy: We've all been big fans and supporters of LLR for a while now and as a label they just seemed like the most logical fit, as the roster of bands is diverse in sound, but yet similar in message. They were keen to hear the recording and agreed to release it as a 7 inch. We couldn't have been more stoked, as LLR are the hardest working contributors to the Australian hardcore scene and such strong supporters of new bands all around the country. As a new band having a label agree to work with you is such a huge validation of your music. They're also massive hardcore nerds who are 100% in it for the love of music and our philosophies align in so many ways. Huge props to Nicole, Michael and Robert, getting to know them all better through this process has only increased the love for LLR even stronger.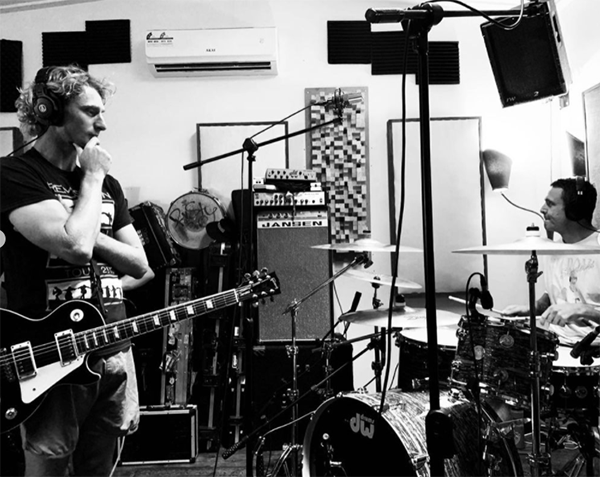 How was the recording process for the 7 inch? When and where did it happena nd what did you learn from the experience?
Willy: We recorded the EP at Pet Food Factory in Marrickville with Jay Whalley of Frenzal fame over four days at the start of the year. We've all had a fair bit of studio experience before and collectively agreed this was the smoothest and most relaxed recording we've all participated in. Jay has a great ear and is very easy going and insightful to work with. It was refreshing to be able to say to an engineer "oh this song has more of a Dag Nasty vibe to it and the next one is more upbeat Gorilla Biscuits style" and he'd know exactly what you are talking about. Not to mention he's quite the comedian and has some great stories to tell. After recording, Clem Benett mixed the tracks and Brad Boatright at Audisiege took care of the mastering. I guess the biggest lesson we all learned was just to trust in the process. Listen to the person at the controls who knows best, take their advice onboard as they want the best possible sounding recording as well.
What else is in store in the foreseeable future for your band?
Releasing our EP & hopefully having the opportunity to play some shows in 2022, along with writing some new jams and eating pizza.
How can people get in touch or keep up with what's happening in the band?
Via our Instagram - @blindfaithsyd or Facebook @blindfaithaus
Grab a copy of the 7 inch here:
https://lifelairregretrecords.bigcartel.com/product/llr085-blind-faith-ignorance-plague-in-the-information-age-7