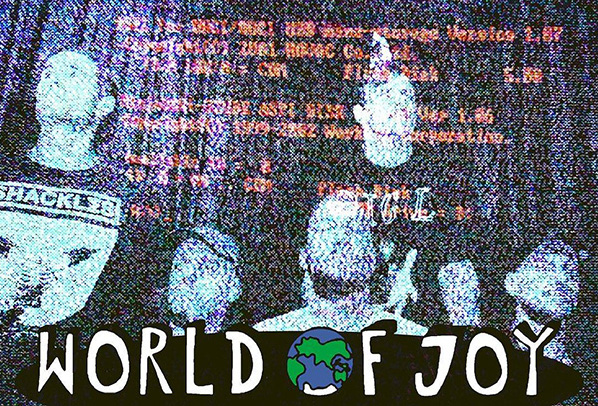 Brisbane band WORLD OF JOY will be releasing their debut selftitled 7inch soon, so we caught up with singer Liam and guitarist Mitch for a chat.
At what point did WORLD OF JOY form and how did it all come together?
In 2020 when Covid first hit and there wasn't much to do, Josh and Mitch caught up and started jamming some new music. After a few songs were down, Liam and Nath started getting involved (Nath's Creed tribute band just had a South American tour cancelled because of covid, so we were lucky to snag him). We then recorded some demos and needed a second guitarist, which is when Jake joined the party. A year later and here we are, still waiting to play a show.
Would readers recognize the members from any other bands?
Yeah probably just our bass player, Nath. He was the lead singer of a Creed tribute band called "Arms Wide Open". They toured Europe extensively in the late 2000's.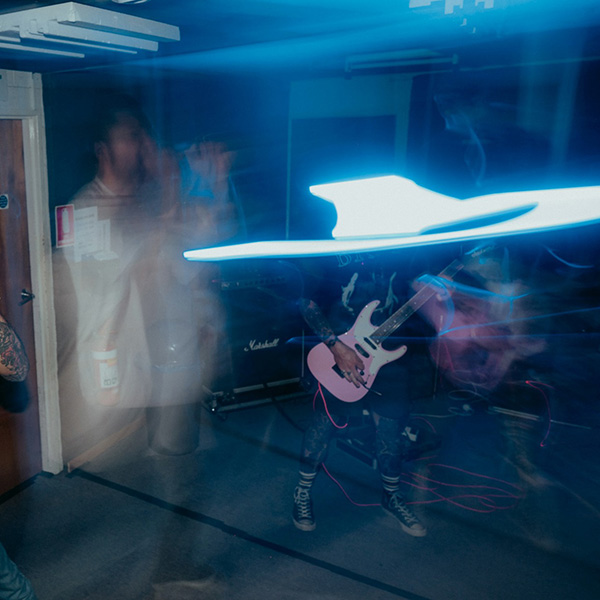 In your own words how would you describe the sound of WORLD OF JOY?
Raw, fast hardcore punk with a cool mix of patting dogs and Creed.
What bands are influencing the sound of WORLD OF JOY?
Candy, Primitive Blast, Talking Heads and Nath's Creed tribute band
What would be a dream line up of bands to play with?
Big L, Metallica, Parkway (playing Killing With a Smile in full), The Cure and Nath's Creed Tribute band.
You've just released a new track titled "Dead Dreams". Lyrically what's the song about?
I guess coming into my late 20's has really made me notice how much everyone else (especially in western culture) is looking over the fence at someone else and always comparing themselves. Being told that you need to have "this" or need to do "that" by a certain age in your life. I was like fuck that, I'm doing this whenever I feel it's time. It actually kinda makes me sad that people don't make these decisions for their own happiness but just because they're "supposed too"
Life Lair Regret Records will be releasing your selftitled 7 inch on November 15th, how did the partnership with LLR come about?
The LLR gang have always been good to us, putting us on shows and just being all round good guys. After we recorded the demos we sent them to LLR and we were stoked when they came back to us wanting to help us release it. We're so thankful for everything they do for us, and the hardcore community we live in.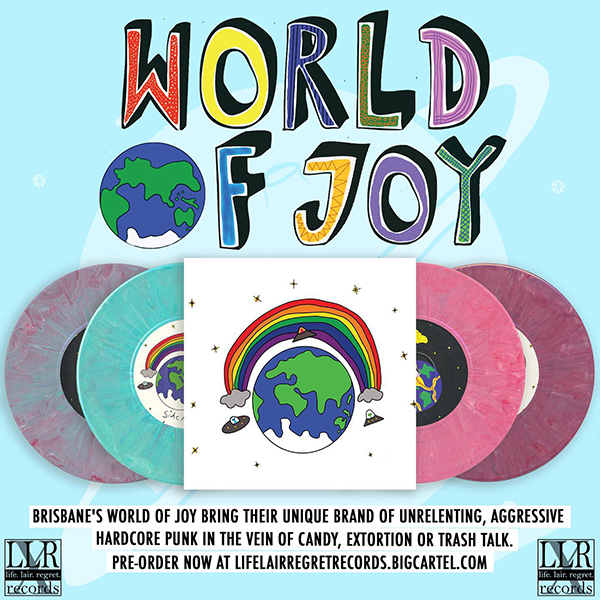 How was the recording process for the 7 inch, when and where did it happen and what did you learn from the experience?
Recording was super fun. We did the demos with Brendan Auld (descent/resin tomb/snorlax/feculant/78% of all Brisbane bands) at Blackblood Audio in the middle of 2020. Then we went back and tracked all of the EP with him in November 2020, before sending to Elliot at The Chameleon Studios to mix and master. We've been sitting on it for a while now. Definitely learned to take our time to do some demos so we can play around with extra ideas, made the final process a lot easier.
What else is in store in the foreseeable future for WORLD OF JOY?
Well, we have just announced the third attempt of a release show. So fingers crossed this one goes ahead. Trying to convince Nath to let us support his tribute band's Australian tour. Release the EP, and if people vibe it, may release some more stuff 👀
How can people get in touch or keep up with what's happening in WORLD OF JOY?
Unfortunately we don't have a landline…yet. So you can catch us on the usual interweb spots Instagram @worldoffvckingjoy, Twitter @fvckingwoj and Facebook.
Preorder the WORLD OF JOY selftitled 7inch at:
https://lifelairregretrecords.bigcartel.com/product/llr086-world-of-joy-self-titled