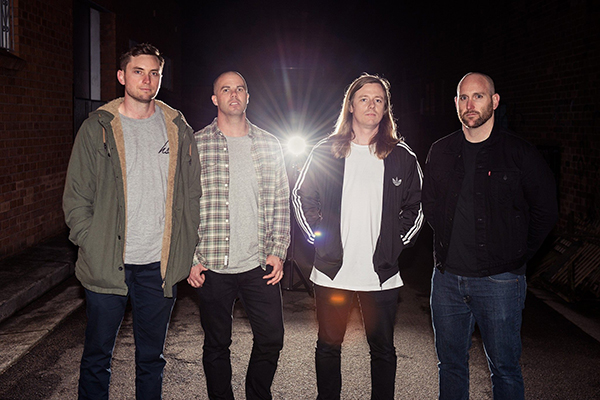 BARRIERS is a new Sydney band band made up of some older Sydney heads who have clocked up more than their fair share of years in hardcore bands. Now they've banded together for a different direction in sound and style.
We caught up with guitarist jake Johnston, for the full lowdown...
Photos and interview by Ryan Willmott
At what point did BARRIERS form and how did it all come together?
A couple of years ago I started to get the urge to start playing something completely different to what I'd been doing for so long. I was at a point where I wanted to express more through music than what I was able to do with hardcore. So I turned off the distortion and wrote a few songs. I showed my ideas to Adam and he was interested to get on board playing guitar also. I knew Mick was keen to play drums again and at that point Dean who played bass in my band Vigilante was also interested. And so we had our first jam sometime around mid 2015.
I knew Adam had a great voice and it was always my hope that he'd sing and play guitar, although he was hesitant at first. After a few jams though he started humming along with some melodies. This eventually developed over time with him settling into the role of vocals and guitar.
After a slow start it became apparent that Dean wasn't able to give the time to playing bass in a band any longer. He was rightly committed to being a loving husband and father. With his departure about a year ago came the addition of our good friend Matt on bass. There was no debate that he was the natural fit for the band. The line up was now solid and we got to work finishing the EP and working on a set to play live.
We've now played a couple of shows and the momentum is starting to roll.
Would readers recognize the members from any other bands?
We've all played in numerous bands over the years, mostly of the hardcore punk variety:
Mick Anderson (drums) - Last Nerve, Irrelevant
Matt Sourdin (bass) - Bad Blood, Boneless
Adam Lowe (vocals/guitar) - Boneless and his great solo acoustic project which you should check out
And me, Jake Johnston (guitar) - Bad Blood, Ill Brigade, Vigilante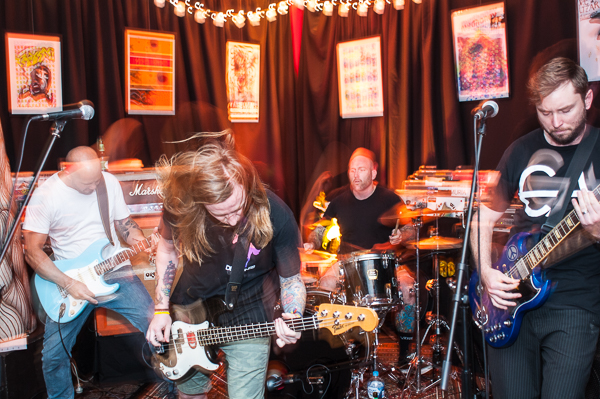 In your own words how would you describe the sound of BARRIERS?
We are, quite literally, post-hardcore, but really we are just a grunge band playing 90's sounding alternative music. Heavy dirty parts with soft clean melodies is what we are all about.
What's the strangest comparison you've heard so far to the sound of BARRIERS?
Quicksand in Chains is my favourite.
What bands are influencing the sound of BARRIERS?
Of course all the big grunge bands are too iconic to ignore as influencing our sound. Pumpkins, Nirvana, AIC, etc. Silversun Pickups is in there too and right now I'm listening to a lot of Sonic Youth. Other bands would include Memorial Day, Quicksand, Fade, Basement, Balance and Composure, Knapsack, Renee Heartfelt, Kill Holliday, Nothing, Radiohead, Placebo, Sigur Ros, Jawbreaker, Weezer to name a few. The list is large and varied.
What would be a dream line up of bands to play with?
Any local show where the crowd gets into all the bands would be enough for us. Oh, and playing with Basement and Violent Soho would also be pretty sick.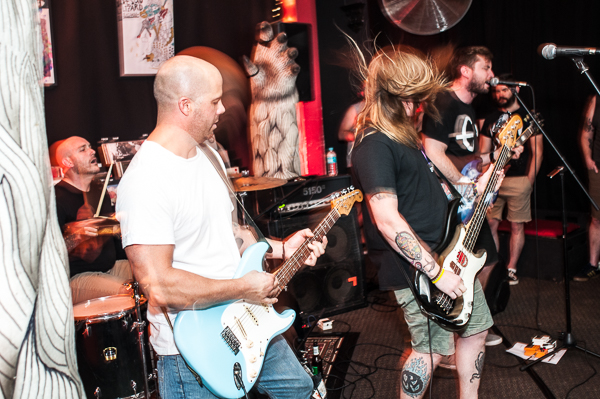 As guys who are more accustomed to playing shows in the hardcore scene, how have you found trying to start out afresh in a different scene? Any barriers to you've had to overcome?
It's been refreshing to start something new but difficult trying to find where our sound fits in the local music scene. In Sydney in particular at the moment there don't seem to be many bands around at all with a sound similar to ours, let alone any bands with a following. But we're used to this in the underground music scene. If we played for popularity we'd have all given up a long time ago. Hopefully people dig it though and we can keep on getting shows.
You have already released your debut self-titled EP, how did the recording come together and is the studio less daunting now that you've all done it quite regularly?
I love recording and the process of making music come together. And we have all had our fair share of studio time. So it is not at all daunting for us to be in the studio. That said, we definitely weren't fully prepared for recording our EP. It was really a kickstart for us to get our shit together. We recorded the music quickly but then took a bit of time to go back and finalise the vocals before laying them down as well. We worked with Dylan Adams at Mr Milk studios in Coogee, who has been doing great things lately. He totally understood where we were coming from which was fantastic. He also shared my love for good wine which helped the long nights.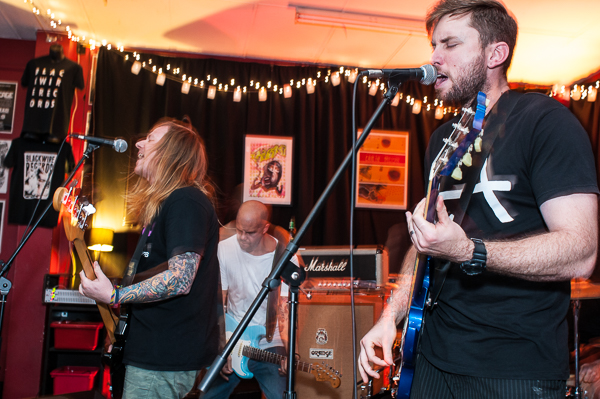 What else is in store in the foreseeable future for BARRIERS?

Aside from playing more shows, after this we are going to work on writing new material. We already have a few new songs finalised, so if all goes well we can record again in a few months time. Hopefully a 7 inch release to follow in the first half of 2017.
How can people get in touch or keep up with what's happening in the band?
Our bandcamp page is where you can stream or download our EP or even pick up a shirt and cd. Check it out at https://we-are-barriers.bandcamp.com
We also do the social media thing on Facebook at https://www.facebook.com/wearebarriers/ and Instagram as user name we.are.barriers.