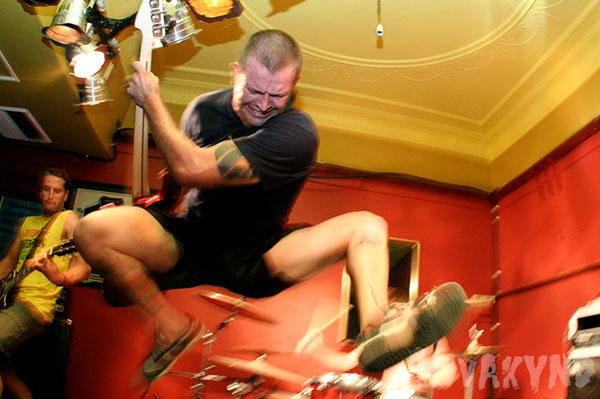 Sad news filtering through that former Miles Away bassplayer Steve HOPPO Hopperton passed away on Friday Jan 22, 2021.
Hoppo joined Miles Away shortly after the release of their demo, Armed With Hope in 2003 and was the driving force and a huge part of the band's success up until his departure some five years later.
While in Miles Away, Hoppo played on the Make It Count EP, Consequences LP, Brainwashed EP and the Rewind, Repeat LP before making the decision to leave the band.
Prior to joining Miles Away, Hoppo played in a band from his hometown of Albany called Inside Out, before eventually moving to Perth and joining PC Thug and later Burn For Me. Hoppo also had a stint in Battletruk around the Born to Kill era of the band.
Hoppo was also instrumental in the rise of the Perth hardcore scene, introducing the rest of Australia to a slew of bands including the likes of Break Even, Jaws, Battletruk, Something More and BLKOUT! when he took over Common Bond Records in 2005 - 2008. He also released music for Australian bands No Apologies, Extortion, 3 Days Grace, and Hard Luck while running the label and licensed the release of CDs for American bands Killing The Dream and Blacklisted.
Having known Hoppo closely as a friend and from a label and band perspective he was always very driven and passionate about what Miles Away were capable of acheiving. While many Perth bands succombed to the tyranny of distance and the high costs of touring the East Coast, Hoppo set about looking for ways to make it happen, applying for government grants to do so. For Hoppo, nothing was impossible or unattainable and it was this drive that resulted in the band blazing trails through the likes of Japan, Europe and the USA. Something the rest of the band always credit him for in helping their dreams become realities.
We'd like to pass on our deepest condolences to Hoppo's friends and family, the Perth Hardcore scene and Miles Away.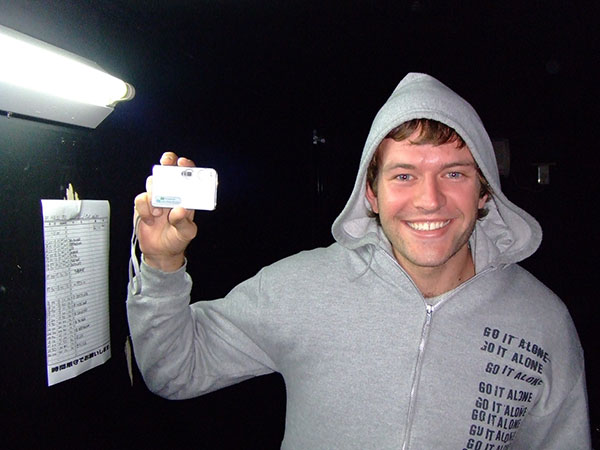 Tributes to Hoppo have been flowing in from his former band mates and close friends.
From Miles Away...
"With heavy hearts we would like to pass on the sad news that Steven "HOPPO" Hopperton passed away on the weekend.
Hoppo was the driving force behind MA from the very beginning, whether pushing us in the jam room, giving us confidence on the stage, or just planning and organising every little detail for us so we didn't have to worry. He helped us get to places and see things we never dreamed of through pure determination and an iron mind.
Although he finished up with the band around the time of "Rewind, repeat...", the time we spent together with Steve is something we will never forget. The massive impact he had on us individually as a mate and the legacy that lives on with the music we made together, as well his efforts with PC Thug, Burn For Me, Battletruk and Inside Out (Albany, WA!). Hoppo was instrumental in putting WA punk/hardcore on the map in the 2000's, booking shows, pushing young bands, and giving us all the belief that touring interstate and overseas was a possibility.
Many may not have had the chance to meet Steve, and those that were friends may not have seen him in some years. Today we see many of our friends struggling with life and the pressures that come with it as we grow up. Please spend some time to check in with your mates when you can, because you never know what is around the corner, and we just gotta be here and present for one another.
We will post up information about the funeral and wake for those who would like to pay their respects when everything comes to light.
Rest in peace mate. We love you and cherish the times we had."
From Cam (MA)...
"I will forever miss you brother. I will remember how excited you were every time me or Adam Crowe had a new riff, and you would uncontrollably punch one of us. I will remember the passion you brought, and a love for not only what we were doing but for each and every one of us. I will remember that a few years into touring constantly you told us you didn't like being called Hoppo, but just Steve, but we kept calling you Hoppo.
I will remember your cheeky smile and the joy that it brought me and everyone around you. I remember your presence on stage and how I had to always make sure the bass rig was set up on the other side of stage to me. I remember missing you every set once Ash Pederick and his left hand bass came along haha. I remember practicing stage moves with you and for some reason we got wireless systems so I could do some crazy leapfrog tumble thing over you. I will remember that you had to sit in the front of the van every tour (while Nick Horsnell had the cave up the back), not driving of course because you didn't have your license. You were the best wingman on those drives... always there.
I remember how emotional it was sitting at the table when you told us you needed to leave the band some 10+ years ago. I wish somehow things were different. I wish things were different for you, Steve. I wish you had of known all this.
May you get excited and punch someone, where ever you may be man. Rest in power Steve."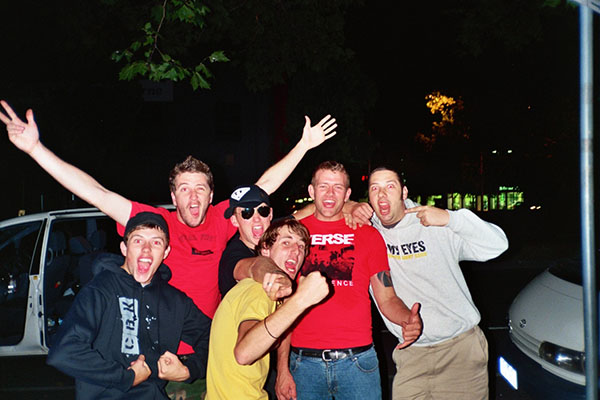 From Simon Walker (Sour Grapes Zine / Washed Up Records)...
"RIP Hoppo. I hope you are finally at peace. Thanks for all the great times you graced me and others with. Look out for your mates, check in, tell them you love them. Life's too short"
From J Rock (Dropsaw)...
"RIP Hoppo. Man we had some good times together over the years, and it won't be forgotten. Loved it every time you lads came over east, because I knew it would be an absolute rager, and it always was!
You'll be missed mate. Much love."
We all make bad decisions in our lives, some take longer to recover from than others. The worst decision you can make is one that you'll never be able to remedy.
If you're having trouble envisioning better days ahead, please reach out and talk to someone about how you feel, be it a friend, a family member or even a stranger on the end of a phone line.
Headspace 1800 650 890 Lifeline 13 11 14 beyondblue 1300 224 636