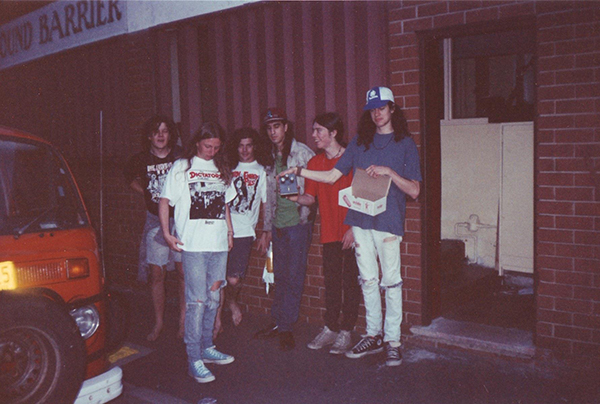 Proton Energy Pills with J.Mascis outside Sound Barrier Studios in Sydney


The second 7 inch from Wollongong's finest musical export, the Proton Energy Pills was produced by none other than J.Mascis of Dinosaur Jr fame and is truly a work of art.
The below story and photos come from Stewart Cunningham of the Proton Energy Pills and was lifted straight from the band's new Facebook page, which you should be following if you aren't already.
The following is some of my memories from around the time of us recording our second single Less Than I Spend, memories that I'm tired of carrying round in my head…
It all started when our manager Steve Pavlovic was able to get us a few support spots with Dinosaur Jr on their first Australian tour in October 1989. This was a time when not many alternative bands came to Australia, let alone in their prime (the Dinosaur Jr single Freak Scene was a pretty big underground hit at the time) so it was a big deal and on top of that we got to travel interstate for our first shows in Melbourne, home of many bands we admired and a place we'd dreamed about playing since we started a few years earlier.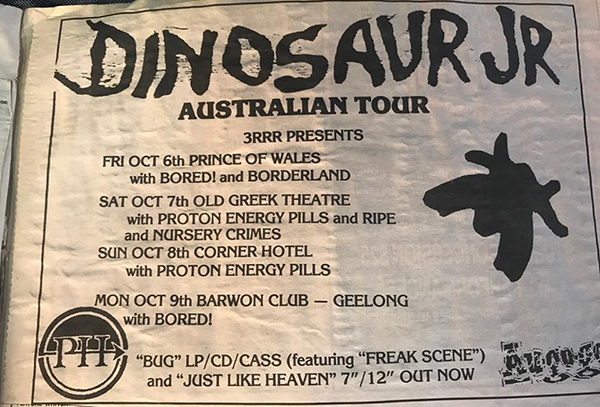 We drove down in Dave Curley's van and played our first away gig at the Barwon club in Geelong on Friday night (October 5th), then two shows with Dinosaur Jr - Saturday night at the Old Greek Theatre and Sunday night at the Corner Hotel. On the Saturday arvo we also played an in-store gig at Au-Go-Go record store in the city…my first visit to this amazing two storey record shop really blew me away as there was nothing like it in Sydney or Wollongong.
The Au-Go-Go gig was a pretty good but nervous set to a crowd of fresh and unknown faces, mostly under 18's - we barely knew anyone in the crowd - a strange and daunting feeling when you are young and playing for the first time outside your own backyard in such an intimate setting - you really feel like you are under the microscope. J.Mascis and drummer Murph from Dinosaur turned up for a while and I remember seeing them up the back. After the gig we hung around and met some folk then packed up our amps and headed straight over to the Old Greek Theatre in Richmond…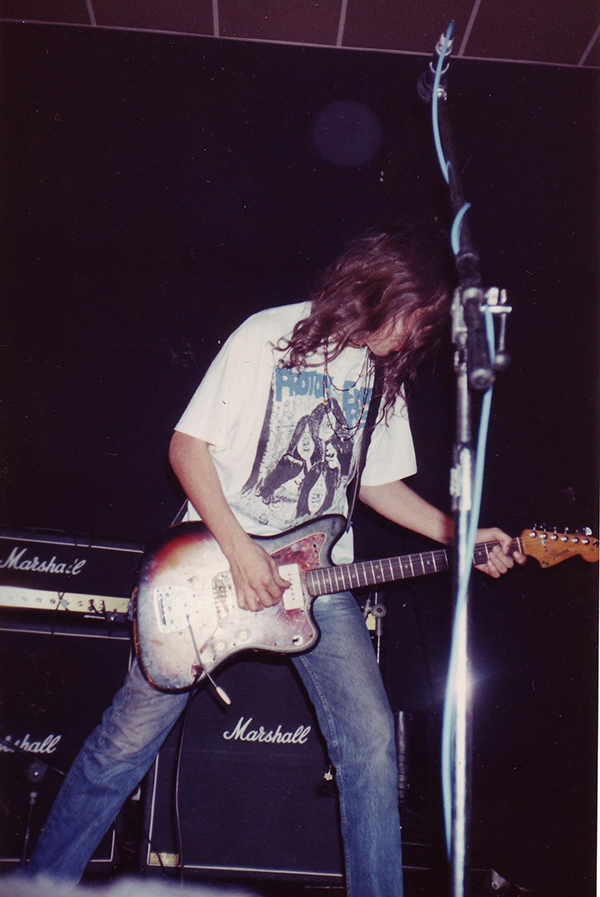 I still remember walking into this grand old theatre while Dinosaur Jr were mid song going through a sound check, it was totally mind-blowing!! The sound quality, the volume, the noise… I was stunned. I'd never heard anything so good and so huge, a lot of that down to J's twin Marshall guitar stacks and amazing use of dynamics and various effects. The theatre had a sloping wooden floor that ran down to the stage and an upstairs balcony level… lots of timber and ornate finishings, a big movie screen behind the band. Best venue ever and one of the most memorable gigs I ever experienced!! After the sound check finished J. Mascis and drummer Murph surprised us by coming over to the side of the stage where Jay Curley and I were standing, having just picked our jaws up off the floor. They introduced themselves and were really friendly…
I remember them both saying how they enjoyed our set at Au-Go-Go and then J.Mascis went on to say how he dug my guitar playing and that he knew a band back in America looking for a guitarist and that I'd be a perfect fit for them. I was kind of nervous and laughing in my head thinking he was joking around and asked what the name of the band was… he said they were called Nirvana and told how they had asked him to join and he couldn't do it but that I should, he would call them up for me and arrange it if I was interested. I think I laughed it off but it was only later I realised he was totally serious… but I was 20 years old and had heard Nirvana and liked em but I was having the time of my life and there was no way I could get my head round leaving my own band and mates that I loved to go and live in the USA. I hadn't even been on a plane before! Cool story though….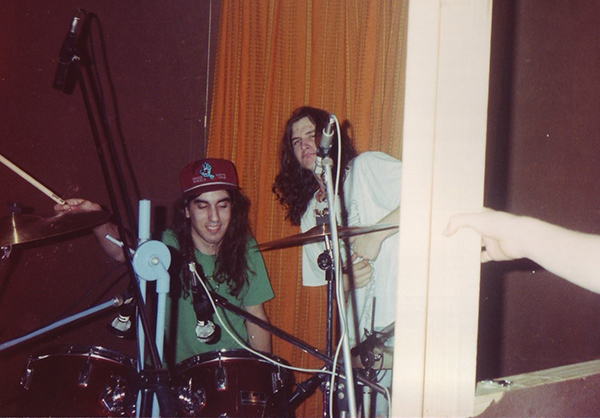 J.Mascis and Rich sorting out the drum sound


Anyway the gigs went pretty well and we got to meet heaps of Melburnians and hang out with Dinosaur Jr, we learnt a lot from seeing them and they became another influence on our own music - we ended up playing with them in our hometown of Wollongong and also at the Paddington Town Hall in Sydney - it was thrilling to watch and hear people's (especially our friends) reactions to them having never seen them before, safe to say that tour won them a lot of fans, they were brilliant. There had been a mention by Steve Pav that he was keen to try and tee up J.Masic to produce a single for us…that night at the Old Greek Theatre gig we had a quick talk and Steve Pav and Paul Tagg (our live mixer) and Marc Welsh (who had just moved to Melbourne from Sydney and was helping us get around town) were co-opted in to help pick a song from our set that would be the candidate, they watched the set and conferred and it was relayed back to us that Less Than I Spend (I don't think it even had a title at the time)was the one…except we had to halve the verses cos it was too long (I think that was Marc's suggestion and he was totally right - thanks buddy!)…thankfully Dave Curley was cool with splicing up his lyrics and so that's how the ball was set rolling for what is a real gem of a song and a brilliant recording to boot.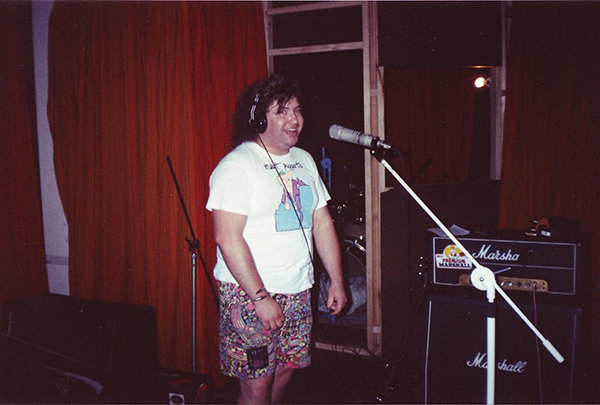 Bill Gibson adding some back ups 


Back in Sydney the session was booked for a Sunday (I think it may have been 15th or 22nd of October?) at Sound Barrier Studio in Glebe with John Hresc engineering, many Sydney underground bands recorded at this somewhat budget studio that had a very consistent output. The session went well as we had co-opted a few folk into help us…along with Paul Tagg, Bill Gibson came in to do some backing vocals and Peter Allen (later to be drummer for Massappeal) helped out with some extra drum stuff and tuning. It was a very easy going session just like J.Mascis I suppose...plenty of good vibes and everyone in the Protons performed great on the day - Less than I Spend is easily the best thing we ever recorded.
One of the highlights of the session was Bill doing his backing vocals…he was sent in there right at the end and pretty much did it in one take, we didn't have time to double it or experiment and I know Bill believes he could have done it better. But in the control booth we were all laughing our heads off and hi-fiving cos what Bill had come up with was so obviously fantastic but so out of the blue. We'd never rehearsed it with him or even had an inkling of what he was going to do in there - he just came up with it in his head through the course of the day and then put it down, it put everyone on a big high at the end of the day and you could tell that J Mascis was super impressed. The b-side, Strawberry Patch was recorded at the same studio the following weekend with our mixer Paul Tagg producing, it was great for us to see Paul be the boss and get this opportunity after all the great help and advice he had given us. After nailing the a-side the week before, we were much more relaxed at this session and it was a lot of fun, as you can hear at the end of the song which ends with us all having a big shout out with lots of laughing and yahooing.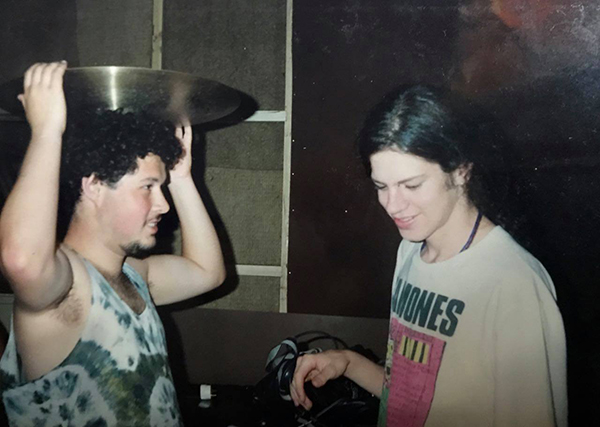 Peter Allen and Lenny


Fast forward to early 1990 and we were back in Melbourne to play with Mudhoney on their first Australian tour. We had just left that hotel in St Kilda that everyone stayed at back then (The Continental??) on our way to a soundcheck and one of Melbourne's great alternative radio stations was on in the Protons van…with great timing, our just released 7" single Less Than I Spend came on the radio as we were driving along and I remember listening to it in amazement (things do sound better on the radio for some reason) and with great pride driving through Melbourne going to The Old Greek Theatre again. After a few 'wows' and a bit of laughter it was pretty quiet in the van, I guess we were all taking it in, it's one thing to record a song and think it's pretty good - but hearing it on the radio out of the blue and still feeling that way is better. The world seemed like a pretty awesome place in those moments and I remember the rest of the drive just staring out the window in a day dream. The next song on the radio after ours was a brilliant song called Melt by a band called The Someloves, the perfect jingle jangle soundtrack for a summer afternoon drive through the city that went by like a beautiful dream.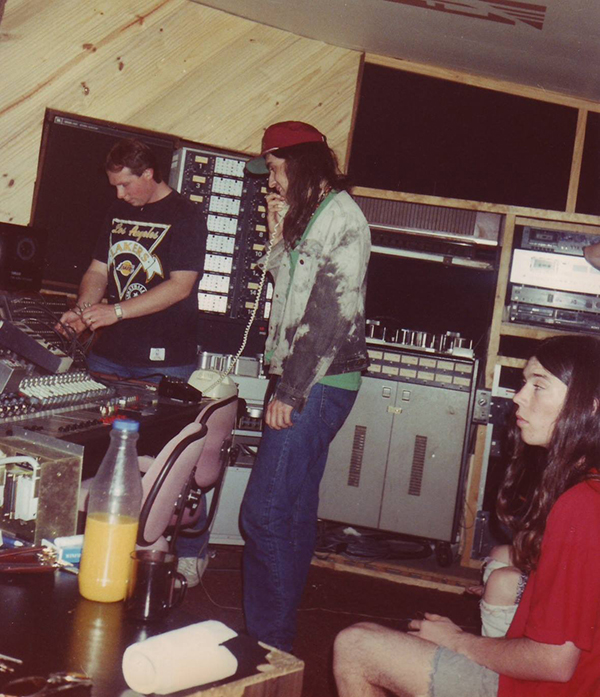 J. Mascis on the phone with John Hresc in the background and Jay in the foreground


Ok thanks for reading...I hope you enjoyed, go and track down Less than I Spend on youtube and have a listen...
cheers, Stew/Protons guitarist